Construction begins on Cambridge Road Estate regeneration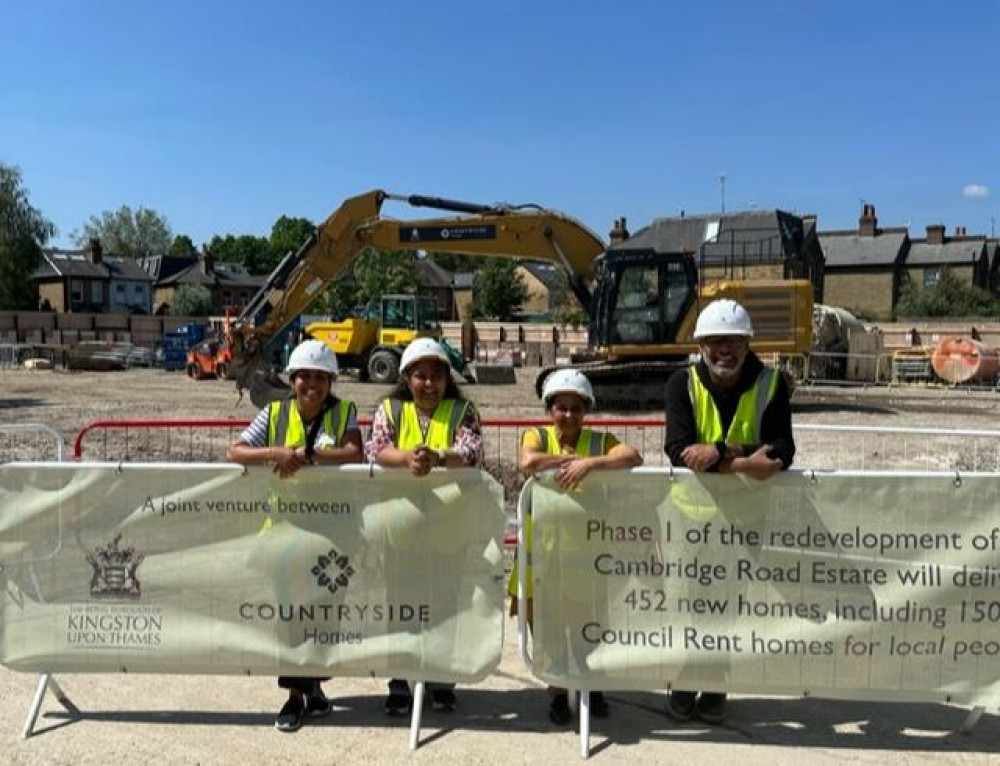 Residents at the Cambridge Road Estate groundbreaking ceremony (Credit: Kingston Council)
Construction is officially underway on the first of over 2,000 new homes at the Cambridge Road Estate in Norbiton.
The regeneration project was voted for by residents in a ballot in 2020 and is set to create 2,170 new homes in total, a mix of flats, maisonettes and houses.
The project will also see 767 council homes delivered, which alongside the new homes on Cambridge Road as part of the council's 'Small Sites Programme', will see the delivery of social housing for the first time in the borough for over 30 years.
A groundbreaking ceremony took place at the site in Norbiton on Tuesday, (23 May) with Kingston Council leader Andreas Kirsch and Portfolio Holder for Housing, Cllr Emily Davey in attendance alongside representatives from the project's community board and Countryside Partnerships, the development partner on the regeneration scheme.
The first phase of the regenerated estate will create 44 new homes, of which 42 will be for council rent and two for shared ownership. The one, two, three and four-bedroom homes will be surrounded by a new landscaping and play space.
Kingston Council has also confirmed that the regeneration will also include a a community centre as well as office and retail/commercial space.
Poorvi Mehta, who lives on Cambridge Road Estate and is a member of the projects Community Board, said: "The whole regeneration project is so important to all of us on the estate. A lot of the residents got involved. We helped to shape the project. Both the council and Countryside listened to the views of residents. I think we can honestly say we played a big part in shaping how the estate will look.
"I'm most looking forward to having a new home, of course, but also to the community centre. It will be a great place for the community to get together, somewhere we can socialise - that's my dream."
Kingston Council is also hoping that its proposed District Heat Network, an ongoing project with Thames Water which would use heat from sewage treatment, will connect to the new homes on the estate, supplying them with energy-efficient, affordable heating.
Council leader Kirsch added: "Plans for the redevelopment of Cambridge Road Estate were drawn up in partnership with residents, and the community is at the heart of this scheme. This is a hugely significant moment for everyone involved as we all see the plans starting to become a reality.
"I can not tell you how important this is to me and the borough, as we deliver on the promise for residents - to deliver safer, warmer, greener homes for people. It is a significant step in our commitment to increase the amount of affordable housing in the borough and tackle climate change."
Construction of new homes in Phases 1B and 1C will follow and, once complete, Phase 1 will deliver 452 homes in total, with 150 of these for council rent and 15 for shared equity/shared ownership.
An update on the Cambridge Road Estate regeneration can be viewed below, which was filmed on Tuesday's groundbreaking day.