Kingston church wins right to host more concerts after revealing it faces £5k bills a month 'just to keep the doors open'
By Charlotte Lillywhite - Local Democracy Reporter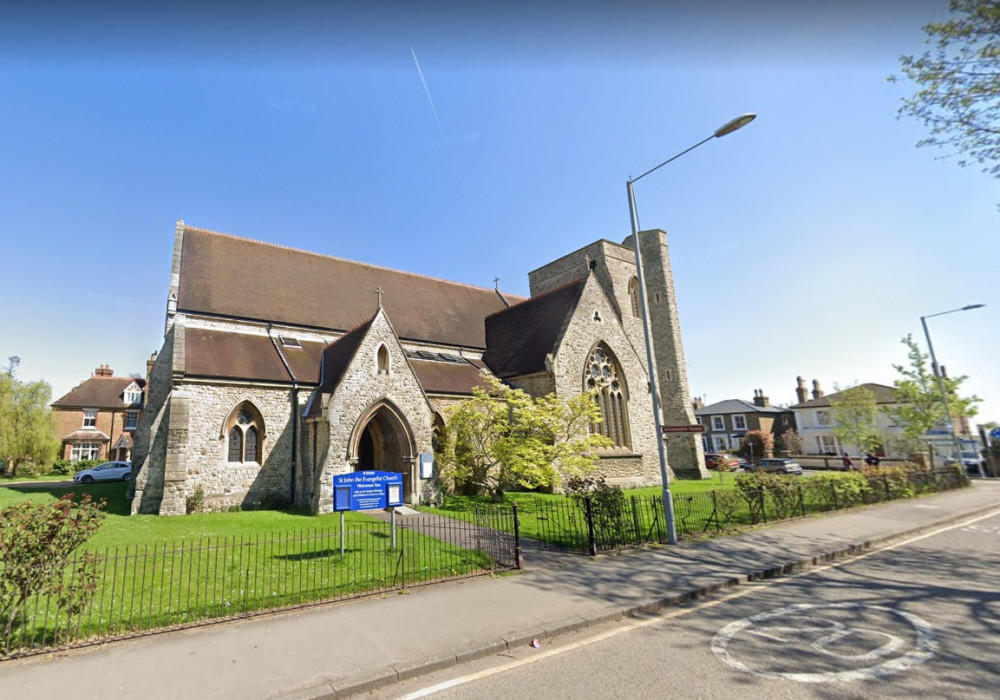 St John the Evangelist Church, Grove Lane, Kingston (Credit: Google Maps)
A Kingston church has been allowed to hold more concerts, with booze for attendees, after revealing it needs to raise cash to pay for monthly bills of around £5,000 just 'to keep the doors open'.
Neighbours had raised concerns about the scale of future events and noise in response to the plans from St John the Evangelist Church, Kingston.
But Kingston Council's licensing committee decided to grant the church's application after ruling the agreed conditions addressed concerns about managing noise at the venue on Grove Lane. The committee decided the "management of the premises is fit and proper and there were conditions provided for direct contact to the management during… events should the residents feel the need to make contact".
The committee's ruling added: "Should any problems arise following the grant of the licence, a review application can be submitted by any person."
It means the church has permission to sell booze and play live music indoors at events until as late as 10.30pm. Michael Wraight, from charity St John the Evangelist, told the council's licensing committee on May 11 the church was looking for permission to hold a maximum of 10 more events a year – bringing the total to 30.
Mr Wraight said the church has been successfully staging concerts with record shop Banquet Records for the past couple of years under temporary event notices, with a small bar, which "helps to maintain much-needed funds for the church" and that the process of holding events would be easier with the licence.
He said the church wants "to proceed with the relationship that we have with Banquet Records over the coming years and to ensure the survival of the church".
Mr Wraight said: "We've had a near £2million refurbishment programme which has sort of been completed, this with a view to ensuring the longevity of the venue. But with costs increasing for everybody, the church is not exempt from those and we're currently running at around about £5,000 a month bill just to keep the doors open – let alone anything else that may crop up that needs to be done."
He added: "The Diocese of Southwark has decreed that churches do need to be looking at ways of finding revenue streams to try to increase income as well, with church numbers unfortunately dwindling, and Banquet Records have allowed us to be able to bring in that money."
Mr Wraight said the only complaints received by the church across almost 50 events in more than two years was about a private hire of the premises, who would not be able to hire it again.
He said: "To my knowledge, and from discussions that I had with the police, there have been no reported incidents to them or to us from any events that the church have held via Banquet during that time and they've all gone off without any issues."
Church staff would be present during events, Mr Wraight said, while the bar would not open "for too long and it avoids people having to leave the venue or bring in their own alcohol". He said doors would be closed during concerts, with acts ranging from smaller acoustic sets to full bands – Bombay Bicycle Club and Olly Murs have played at the church before.
But local resident Graham Forrester said: "I've lived here for 40 years… it's been a very peaceful residential area and this application would introduce into the area a further erosion of the peaceful nature of it as a conservation area. It's exporting problems which have in the past been isolated to Kingston town centre."
Neighbour Nicola Simpson added: "I don't want to stop the church doing their lowkey events. I have attended them in the past, they are lovely events, I trust the people running them. It's just the scope of the application, I am wondering how you achieve balance both in ensuring the events are indeed lowkey and that the duration, as well as the frequency, is monitored and maybe considered as part of your response."
In response to concerns, Mr Wraight said audiences are "extremely respectful" and mostly made up of locals. He said: "We will obviously do our best to space [the events] out throughout the year but we are at the mercy of the music industry unfortunately and an artist can very, very quickly drop a new record that they may want to promote which is why having the premises licence means that we're being able to facilitate what could be a 48 [or] 72-hour notice of a concert."
Following the committee's decision, booze can be sold at the church from 5pm to 10pm Mondays to Thursdays, until 10.30pm on Fridays, and from 12pm to 10.30pm on Saturdays and Sundays. Live music can be held indoors from 5pm to 10.30pm Mondays to Fridays, and 12pm to 10.30pm on Saturdays and Sundays.
New kingston Jobs Section Launched!!
Vacancies updated hourly!!
Click here: kingston jobs