Monty's Spin on 'Taking the knee' - It must be more than a 'fashionable token'
By Ellie Brown - Local Democracy Reporter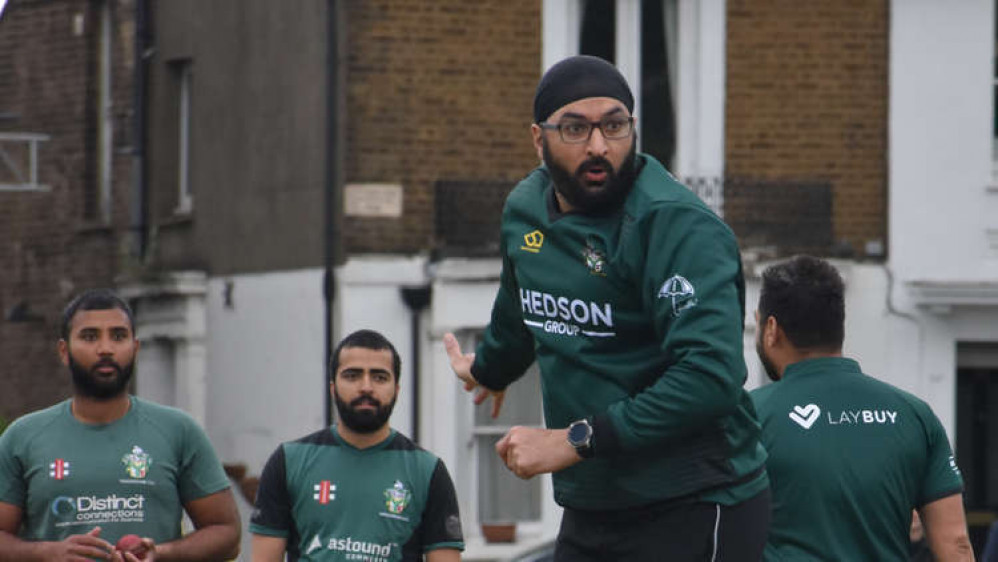 Monty playing on Twickenham Green (Image: Jessica Broadbent, Nub News)
Here former England international and Twickenham Cricket Club member Monty Panesar writes for Nub News about his opinion on taking the knee in professional sports.
I am a supporter of the taking the knee – it has had a powerful impact on sports fans and the public.
But, my concern is that we are in danger of making this gesture a fashionable token unless it is matched with meaningful action.
We have reached a point where sports administrators and others must clearly demonstrate they are delivering change through practical action and investment.
And those who fail to do so should be highlighted and made accountable.
The decision – just announced - by Formula One to stop drivers taking the knee on the race grid may be controversial, particularly given Lewis Hamilton's outspoken stance in challenging racism.
However, it is important to see that, at the same time, F1 is offering a new and enhanced programme to support diversity and inclusivity.
Specifically, this includes extra funding for the Formula One Engineering Scholarship program for diverse groups over the next four years.
The Engineering Scholarship 10 students to study engineering degrees at top universities in the UK and Italy. Given the sport's enormous wealth, it can be hoped that this is the start of a much more ambitious approach.
Separately, F1's branding 'We Race As One' will be promoted at each race. The campaign was launched in 2020 as a platform for Formula 1 to come together and attain results against the most significant issues facing the world of sports.
The Euro 2020 football tournament was an important moment for promoting the principle that black lives matter.
The fact that England manager, Gareth Southgate, endorsed his players' decision to take the knee – despite dissent from some quarters - sent a clear message to the nation.
Sport has a big role to play. And I feel we have got to a stage where sports organisations need to develop strategies to create more opportunities for people from under represented backgrounds.
It would be a good start if the governing bodies of other sports develop a similar model to the approach at F1 with new funding for coaching and skills.
The decision by F1 to stop drivers taking the knee may well be difficult for Lewis, who – as the only black driver on the grid – has championed the need to bring in people from all colours, walks of life, cultures and background.
It is important to remember that drivers in the sport were far from united in deciding how best to challenge discrimination. Some, including Max Verstappen, chose other ways to support the cause.
At the time, Lewis said: "I don't think it's the most important thing for everyone to kneel. It is what we do in the background that counts, making a positive change."
I am sure that Lewis will continue to take the knee on raceday, even if it not officially sanctioned as part of the grid schedule.
He should be celebrated for his determination to challenge discrimination in sport and create pathways for ethnic minorities, which is now delivering real results.
More from Monty
Exclusive: former England cricketer and current Twickenham player Monty Panesar on why Tokyo 2020 should go ahead
Monty's Spin On: Why I pulled out of KPL