Kingston: Images emerge of masked gang targeting cyclists in Richmond Park
By Ellie Brown - Local Democracy Reporter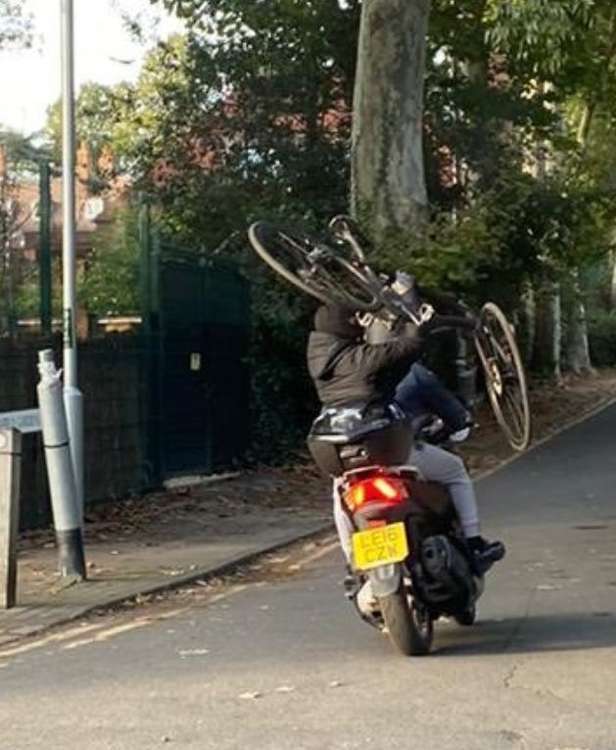 A photo of the gang and the stolen bicycle after the attack near Richmond Park (Image: @ldnparks)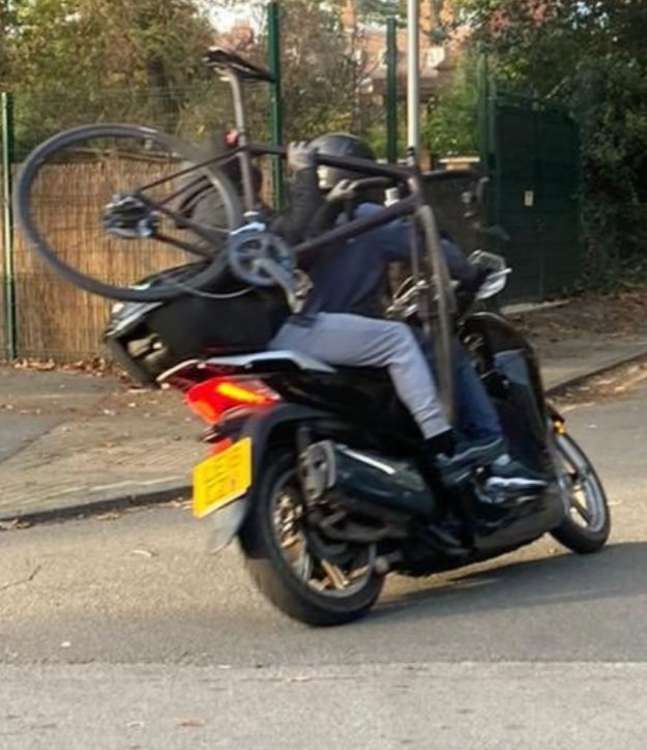 Masked criminals speed away on a moped after threatening a cyclist with a machete (Image: @ldnparks)
Images have emerged of the gang of machete-wielding thugs preying on cyclists in and around Richmond Park.
The latest attack took place yesterday afternoon in broad daylight in Roehampton High Street, which is a busy road close to the entrance to Richmond Park.
The attacks involve serious violence by balaclava-clad gangs who often ride mopeds or motorcycles and ram their victims to the ground, before grabbing their bike and riding away.
Two have involved threats with a machete and many cyclists are now so alarmed by the attacks in recent days that they are too frightened to use Richmond Park.
Armed police were called to the latest incident which happened shortly after 5pm yesterday afternoon (11 October) however they were unable to locate the thieves, who are believed to operate out of properties in the Roehampton area.
Some of the thugs involved have even posted videos of themselves riding around on the stolen bikes on social media
In response to the latest attack, a Metropolitan Police spokesperson said: "Police were called at 17:09hrs on 11 October to High Street SW15 after a man was reported to have been assaulted by two males who then stole his bicycle.
"One of the suspects was reported to be in possession of a machete and so armed officers responded.
"An area search was conducted, however the suspects could not be traced.
"The victim was taken to hospital as a precaution but was not seriously injured."
They said no arrests have been made and enquiries are ongoing.
This is the third confirmed bike-jacking attack of its kind within the past 6 days.
Others were reported on Wednesday and Thursday last week, while the moped gang have been seen in the area on other occasions.
Twitter user @jam211191 posted on Thursday: "Yesterday around 7pm I was training in Richmond Park and 2 guys in electric scooters and balaclavas pushed me off my bike and took it,
"It's not a common bike to see. If you see a bike like that please contact @metpoliceuk. It's a Cannondale systemsix ultrega from 20221 frame number ending 20."
The day after, British professional cyclist, Alexandar Richardson, was threatened with a 15-inch machete and had his expensive bike stolen by four masked attackers who rode away on a distinctive pair of motorbikes.
In a post on Instagram on Thursday Richardson described the assault, saying: "I was finishing training around 3pm when two motorbikes with 4 men and balaclavas started following me. I knew exactly they wanted to take me bike and started to think what the best thing I could do was.
"I turned around at east Sheen roundabout and started riding full speed to the café about 500 metres away. They simply rode one of the motorbikes into me at 60kph.
"I came off the bike and the first motor bike lost control. I held onto my bike however the second motor bike then dragged me and the bike along the floor for another 100 metres.
"After this they pulled out a 15-inch machete at which point, I thought better and let the bike go. I'm pretty cut up and bruised with a swollen hip but tomorrow is another day."