Kingston councillor accused of 'blackmail' for 'threatening' to publish councillor names not signing ceasefire open letter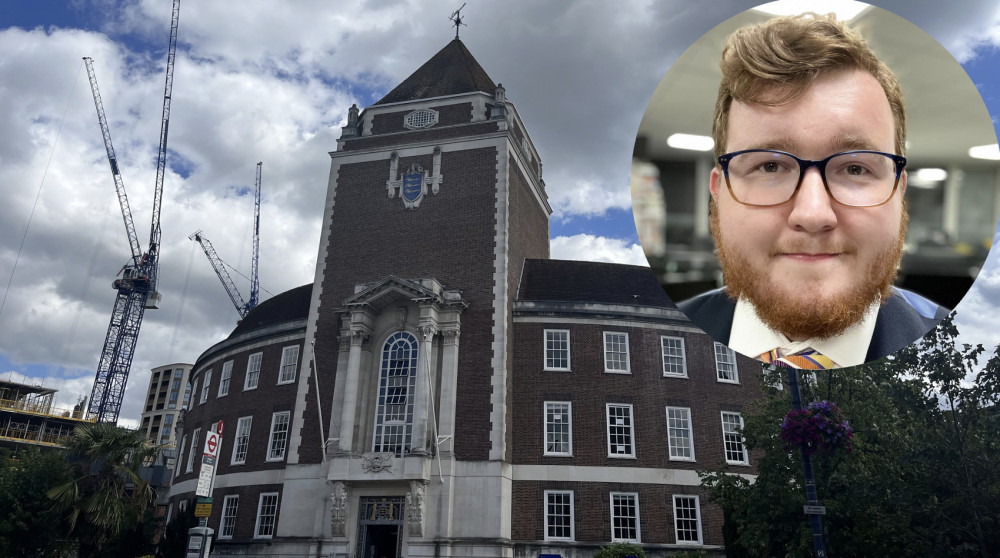 Cllr James Giles criticised on social media. (Photo: Emily Dalton/James Giles Facebook)
Kingston Independent councillor has been accused of "encouraging targeted harassment" of publishing names of councillors who do not sign an open letter for a ceasefire.
Cllr James Giles circulated an email yesterday (19 November) evening to 19,102 local councillors encouraging them to sign an open letter to the Prime Minister, the Opposition and MPs urging for an immediate ceasefire.
Towards the end of the email, it states: "We will also be publishing the names of those who have been invited to sign but choose not to, in the interest of accountability."
Lib Dem Cllr for Twickenham James Chard posted on X he would not be signing the petition "because of threat to publish the names is tantamount to encouraging the targeted harassment of councillors".
Speaking to Nub News, Cllr Chard added: "My concern is it is a very emotive issue, and it was a direct threat to publish the names of people who decided not to sign up to the precise form of words Cllr Giles and Cllr Chohan were looking for."
The email argues the Israel and Gaza conflict was an issue which transcebnds all political divides and 'frontline' politics at a local level. It stated: "We feel that we have a duty as local representatives to send a strong message to our political leaders at a national level."
Users on X have responded to Cllr Giles' claims with: 'stop interfering' and 'stick to local issues'.
"I don't think there's anything very much local councillors can do on this subject," Cllr Chard said. "But if Cllr Giles wants to spend his time campaigning on it rather than doing things for his local residents that's up to him.
"What he shouldn't be doing is threatening other people who don't share his views."
Although Cllr Chard admitted he himself did not feel vulnerable, he wanted to post online for the sake of precedent in protecting his colleagues and other councillors.
In response to these claims, Cllr Giles said: "The safety of councillors and any elected official is paramount. We all have responsibility to debate robustly but stick within societal norms. If any elected representative has faced any abuse over any matter...they should contact the police and have it investigated thoroughly."
Councillors from all parties and parts of the country have lashed back on X, tagging the Local Government Association. Users called for Cllr Giles to be dispelled and accused him of "blackmailing".
In response, Cllr Giles said: "Choosing not to sign requires someone to make a choice, they have to make a decision. It has not and has never been my intention to publish the names of those who do not respond.
He added, it would be an "awful waste of paper" to publish whether all of the 19,000 councillors signed or not.
As councillors could also sign anonymously, Cllr Giles said he did not intend to publish a list of non-signatures as it would single out those who signed anonymously and remove that protection from party whips.
In a post on X, formerly Twitter, Cllr Giles gives a snapshot of over 300 councillors having signed the open letter.
The Independent Giles, of Green Lane and St James Ward, and Conservative Cllr Jamal Chohan drafted the letter to raise awareness of the growing numbers of elected representatives who support the ceasefire in Gaza.
MPs voted 293 to 125, a majority of 2168 to reject the SNP's motion for an immediate ceasefire in Gaza on 15 November.
Cllr Giles said he believed the issue will come around again in Parliament. He added: "The issue of Israel and parliament isn't going away any time soon, sadly."
Friday 24 November, the letter will be sent to every MP in the UK.
"If it could influence just one MP to have the courage of their convictions to stand up and be counted to support the bilateral ceasefire in Gaza for humanitarian reasons," Cllr Giles said. "It will have been more than worth it."
Amidst the confusion as to whether this was a Kingston Council-led campaign, a council spokesperson has said: "Our primary concern is the security and safety of our residents, elected members, staff and our local communities, whilst encouraging tolerance and community cohesion.
"The campaign that has been brought to our attention by many, is an initiative of individual councillors and is not Kingston Council led or endorsed."
New kingston Jobs Section Launched!!
Vacancies updated hourly!!
Click here: kingston jobs