General Manager at Kingston care home honoured at 2022 Great British Care Awards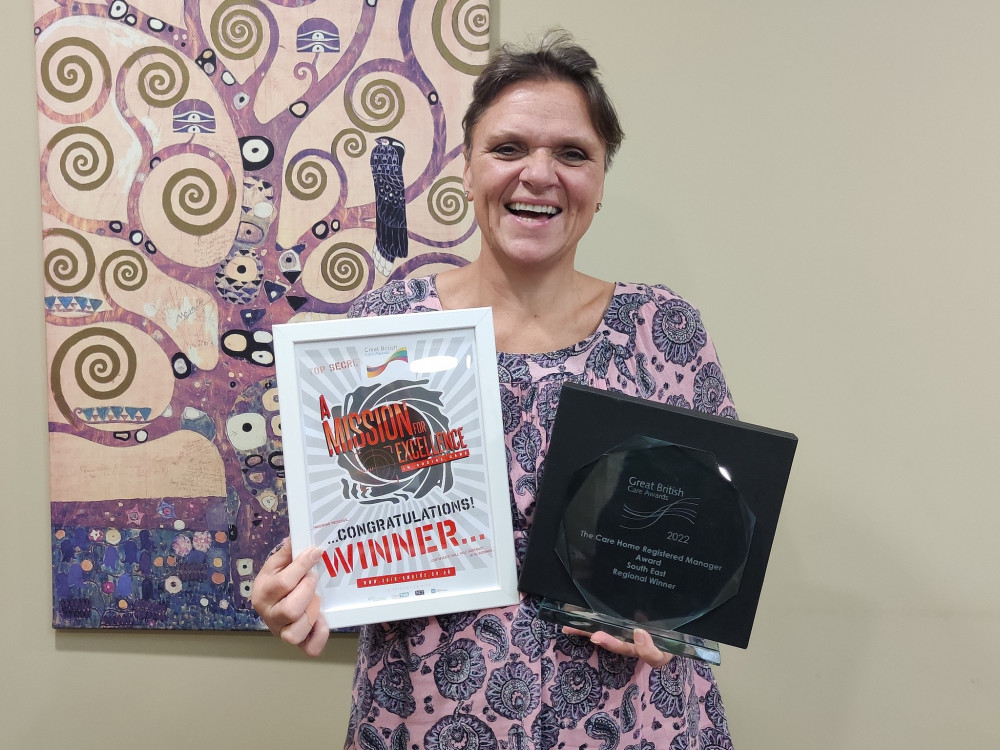 Sonya Fenwick of Kingston Care Home, Coombe Hill Manor, was a winning recipient at the 2022 Great British Care Awards. (Credit: Coombe Hill Manor)
A general manager working at a Kingston care home has been honoured at the 2022 Great British Care Awards.
Sonya Fenwick of Coombe Hill Manor was awarded the Care Home Registered Manager of the Year within the South East Region Awards and was presented with the decorated honour at a ceremony in Brighton last Friday, November 18.
After qualifying as a registered nurse in South Africa, Mrs Fenwick spent time travelling Europe and working in hospitals across the UK and Israel before settling down in London. The award-winning manager spent time working for an agency looking after an elderly lady whose husband was in a Bupa care home in Battersea before entering the care home industry which was proposed to her by a friend.
After joining Coombe Hill Manor in 2015 as a Clinical Services Manager, Mrs Fenwick became General Manager of the Kingston Care home a year later.
Despite also being awarded at the 2019 Great British Care Awards, Mrs Fenwick remained humble when questioned on whether her success at last Friday's event came as a surprise.
She said: "I know when people receive an award you hear time and time again that it has come as a surprise to them, but honestly for me, that's the truth!
"I'm not big on awards and do not need them to feel valued, this is the profession I have chosen and as long as my team and residents are happy and I am giving my absolute best, then I can put my head down at night."
Despite her humility, it is clear Mrs Fenwick is held in the highest regards by her colleagues.
Jane Knight of Coombe Hill Manor said: "Sonya's presence is felt throughout Coombe as she is always available for residents, families, friends and staff no matter what her workload. She puts her heart, body and soul into Coombe and works incredibly long hours to ensure her 'to do' list is never compromised by matters that crop up unexpectedly.
"She's always approachable, always makes time for everyone and incredibly adept at problem solving in a calm and considered fashion. Coombe is incredibly proud of her recent win as Registered Manager of the Year at the South East Region of the Great British Care Awards."
The last year will be one to remember for Coombe Hill Manor as the Kingston Care Home has also been nominated for the Dignity & Respect Care Home of the Year at the upcoming Caring Times National National Care Awards 2022.
To find out more about Coombe Hill Manor and the award-winning care it provides, visit its website HERE