Greens' vision for reversing the decline of high streets and town centres
By Ellie Brown - Local Democracy Reporter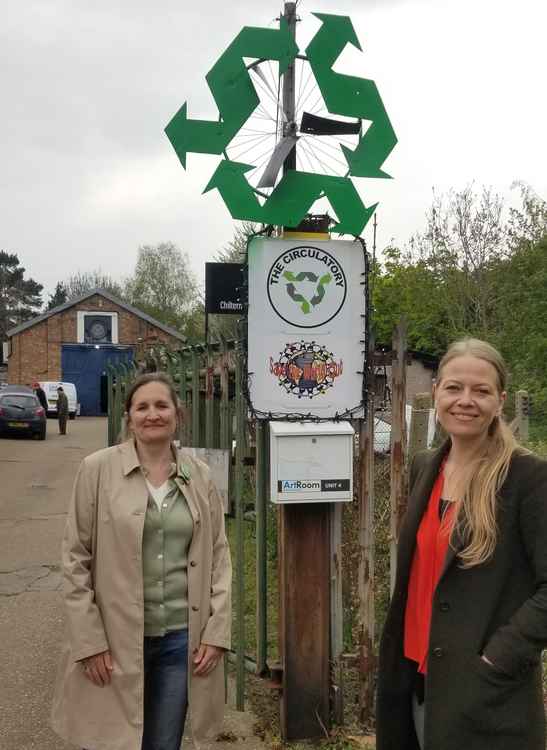 On Tuesday Andree Frieze (left) and Sian Berry, Green Party Candidate for Mayor, visited Save The World Club, a charity in Kingston that puts the principles of re-use and the circular economy into action by taking food, resources and goods that would have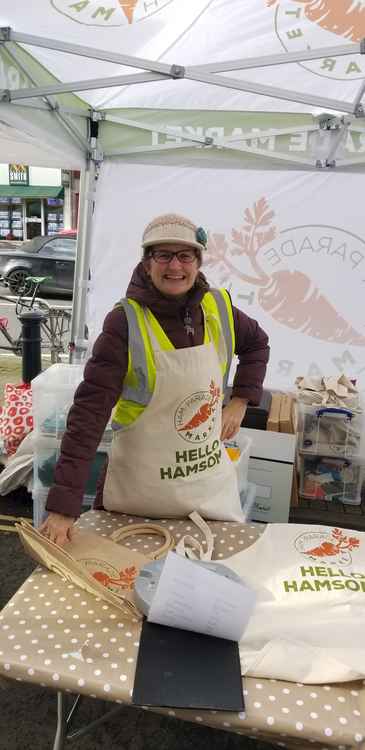 Andree at Ham Parade Market. "The best thing about the market - apart from the delicious, local produce on offer - is seeing residents catching up with friends and neighbours. That's what's so important about a local-run market like this - it br
Andree Frieze, the Green Party candidate for South West London in the London Assembly elections, gives her thoughts on reversing the decline of our town centres and high streets and her vision for making them a vibrant and varied place to visit; for shopping, working, entertainment and leisure and for just getting together.
Andree says, "Our high streets face huge challenges especially from on-line shopping. The pandemic has increased the problem with people still cautious about returning to them.
"With small independent businesses and large chains closing down there are record numbers of empty shops and offices. But there is demand for a different sort of High Street.
"If we use our imaginations their regeneration can be the key to a Green economic recovery."
She outlined 10 key points to turn our High Streets around:
We must support local independent businesses with affordable rents and fair business rates. "Localism" keeps money in the area, not syphoning it off to corporate headquarters or investment funds. They provide greater variety, reflecting the local area and culture.
Every High Street should have a "Re-use and Repair" facility" to help reduce landfill and single use of materials. Charity shops should be encouraged with a focus on "upcycling".
Shared work space and serviced offices can be created for people wishing or needing to work closer to home but not necessarily from home or on their own. These could offer training and skills sharing and support into re-employment.
Vacant shops and office spaces can meet a range of housing needs, increasing the numbers living in town centres and improving community safety.
Arts, entertainment and live performance spaces must be encouraged, using vacant spaces.
Streets must become "Living Streets" with restricted vehicle access providing better air quality, improved pedestrian safety and full access for people with disabilities. Experience shows that, when introduced, more people visit, stay longer and spend more.
Open green spaces are needed with cooling tree cover providing pleasant places to relax, as well as improving air quality and biodiversity.
This approach must be supported by excellent zero emission public transport and infrastructure to encourage cycling and walking, ideally enabling people to access most of their daily needs within 20 minutes from home.
These measures, increasing a sense of ownership and respect for the area, are likely to reduce anti-social behaviour and crime but should be supported by investment in a visible but low key community policing presence.
Local communities must be consulted fully about how their town centres and high streets should change. They know best what they want and are an infinite source of ideas.
Andree says, "The Green party manifesto outlines in more detail plans for London's economic recovery which will also make London "The Greenest City in the World". Re-vitalising its towns is just one part of that vision which I would love to help bring about if elected on 6th May".
Green Party manifesto
Promoted by Caroline Wren on behalf of the Richmond & Twickenham Green Party, 80 Fulwell Road, Teddington TW11 0RA.