Winner of the 2021 Kingston Sculpture Trail permanently installed in Kingston Market Place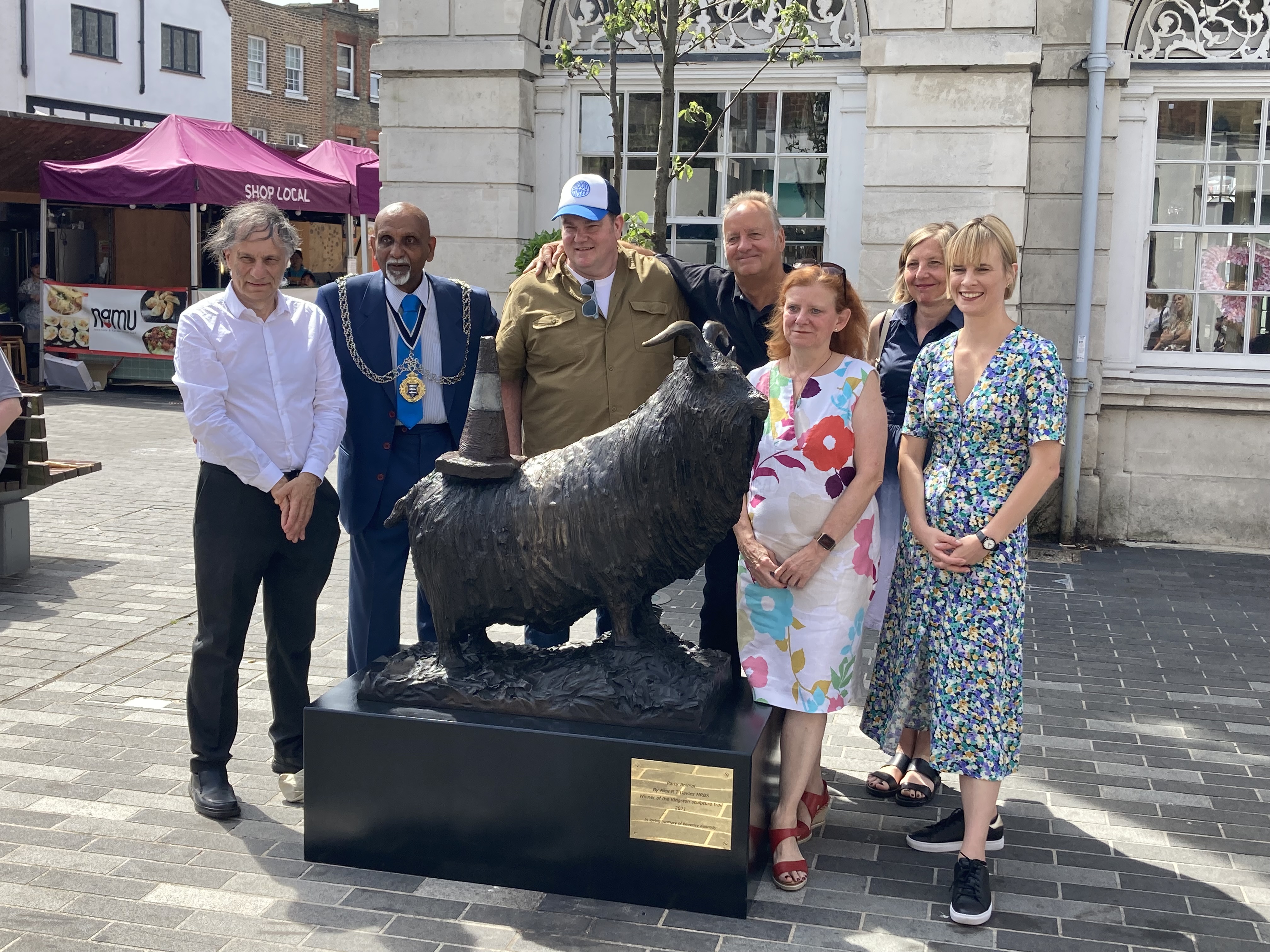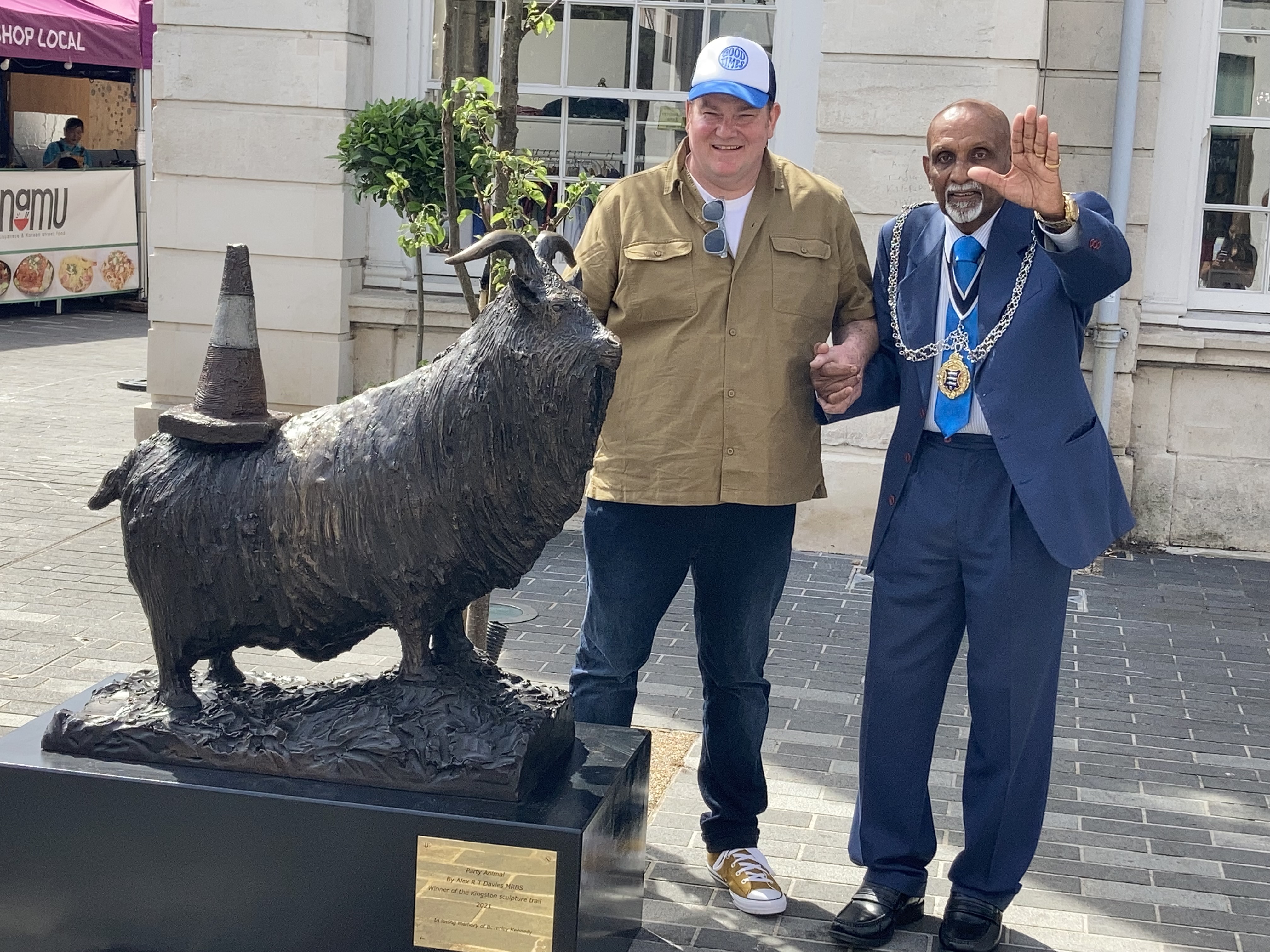 Party Animal, a piece of public artwork by locally-based sculptor Alex Davies MRSS, was officially unveiled in Kingston Market Place with a small ceremony yesterday morning (16 June).
Kingston's Mayor Cllr Yogan Yoganathan was in attendance to reveal the award-winning sculpture alongside sculptor Davies to excited members of the public.
Davies is a locally-based sculptor who runs a fine art foundry, Milwyn Casting Ltd, in West Molesey. His sculpture depicts a bronze goat which stands proudly with a traffic cone on its back. The viewer is invited to sit on the goat's back and rub its shiny golden-heart shaped nose.
Commenting on Party Animal, sculptor Davies told Nub News: "It is a real honour to have a sculpture chosen to be permanently sited in Kingston, a town that I have visited many times growing up in Surrey, having worked there as a teenager, to now having my own business and workshop so close.
"I'm used to making company artworks where requests are very specific, so I wanted to do something with no real relevance to a particular individual or group, something that would create curiosity and bring a smile to those passing by, plus who doesn't enjoy a party!"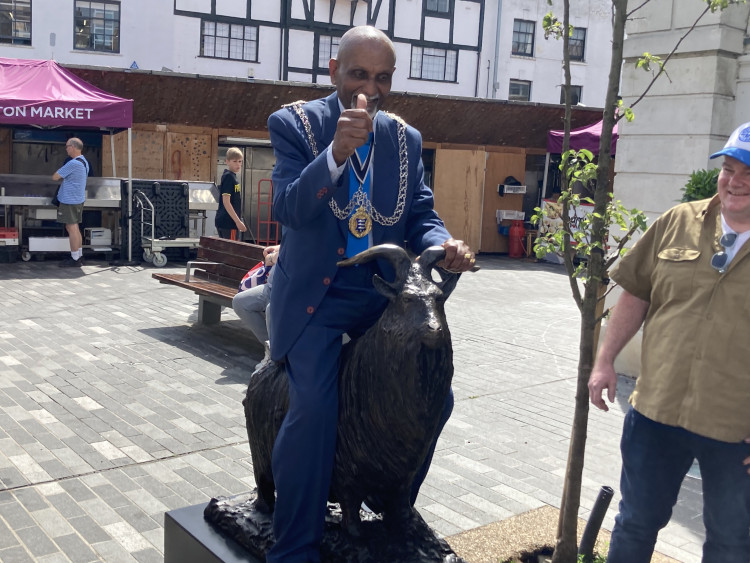 Cllr Yogan Yoganathan enjoying himself with the award-winning sculpture.
Party Animal was one of several sculptures that made up the trail, a project organised through a partnership of Kingston First, Kingston Council, Canbury Community Trust and Kingston University which ran from August to October 2021.
Local residents and visitors were asked to vote for their favourite and almost 1,700 people responded to the survey, with Davies' sculpture winning 51% of the vote.
Kirsten Henly, Chief Executive of Kingston First added: "Public artwork adds richness and individuality to town centres, and is central to our shared vision for Kingston's streets and spaces.
"We're thrilled to see Party Animal permanently installed as a lasting legacy to our first-ever Kingston Sculpture Trail, strengthening the fantastic local heritage, arts and culture offered in Kingston. We hope that lots of people will enjoy this exciting new addition to the town centre."