Kingston Chess Club crowned Alexandra Cup champions for first time in 46 years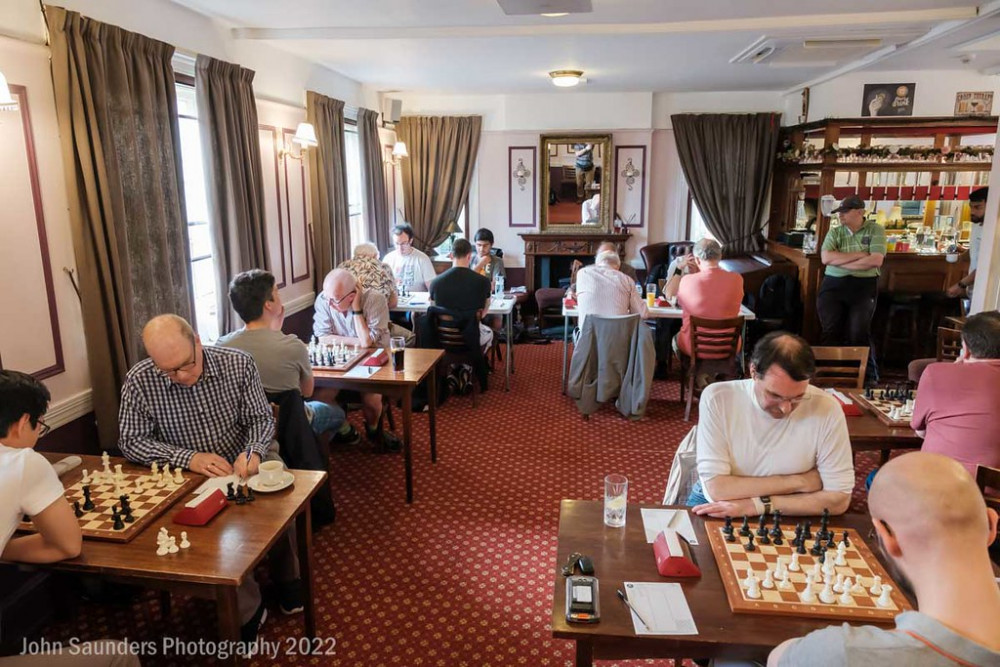 Kingston Chess Club secured a historic victory on Thursday night (16 June) beating Wimbledon to become 2022 Alexandra Cup champions, the first time since celebrating their centenary year of 1975/76.
A remarkable victory in Surrey's premier knockout competition also landed Kingston their first double after wrapping up division two against Ealing in late May.
Kingston headed into Thursday night's showdown against Wimbledon fresh off a thrilling win against Chessington in the Lauder Cup.
Despite the buoyant moods, the Kingston XI were well aware of the stern test that lay ahead.
Emotions were running high at the Adelaide pub in Teddington, a neutral venue chosen for the final and home of Richmond and Twickenham chess club, due to the passing of long-term Wimbledon player Nick Keene, whose death had been announced on the very day of the match.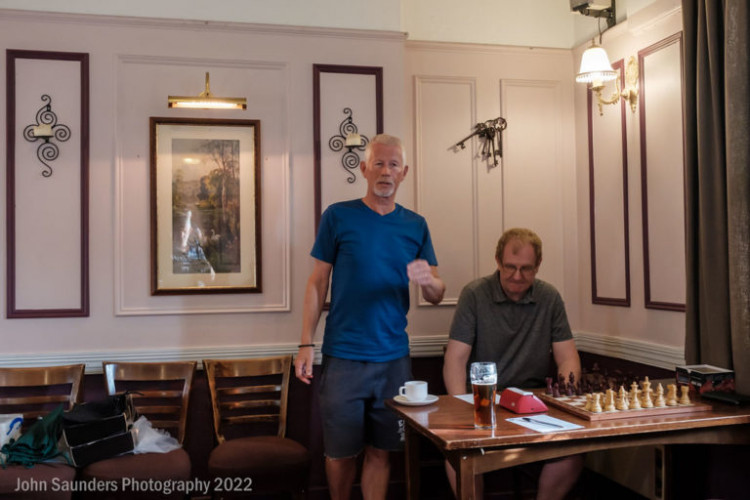 Wimbledon's Russell Granat pays tribute to Nick Keene, with tournament controller Huw Williams seated. (Photo: John Saunders)
Players stood and observed a minute's silence in Keene's honour before the matches commenced.
Wimbledon had brought a strong team to the final, spearheaded by IM Alberto Suarez Real on board one. So strong, in fact, that it forced a late change from Kingston with John Foley, who had intended on being a non-playing captain, exchanged roles with Jon Eckert.
Kingston had hopes of picking up points on the lower boards where they outrated Wimbledon, however it was often further down the tables where Kingston were finding themselves struggling.
Chasing a first double in the club's history, Kingston quickly found themselves in trouble on board eight where Ivan Georgiev was struggling against rising star Shahvez Ali.
Ali played a mainline closed Catalan and, by advancing his b and c pawns, exerted early pressure. Georgiev went wrong, was forced to give up his early pawn, and by move 23 was effectively busted. He bravely fought on, blitzing out another 40 moves, but the game was up, and Wimbledon had drawn first blood.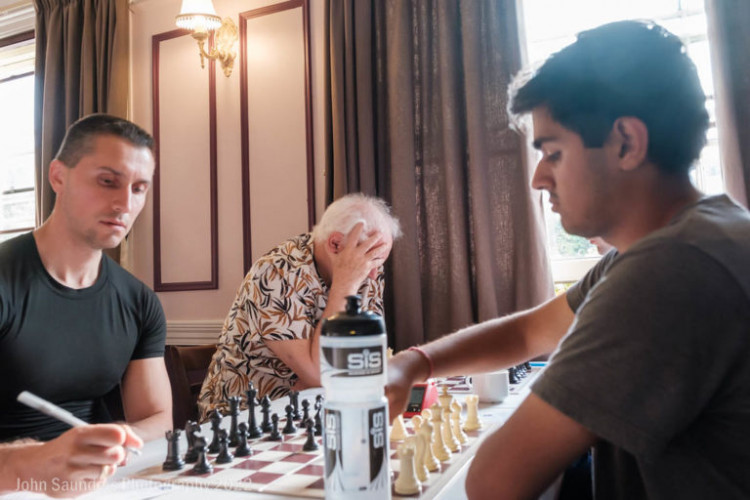 Wimbledon's rising star, Shahvez Ali (right), played a tactically astute game to defeat Ivan Georgiev. (Photo: John Saunders)
Foley, who in the same week had been elected president of Kingston Chess Club, played a controlled game on board one picking up a couple of pawns before polishing off his opponent with a savvy move forcing mate. His opponent, Oliver Weiss, decided to fall on his sword bringing the scores level.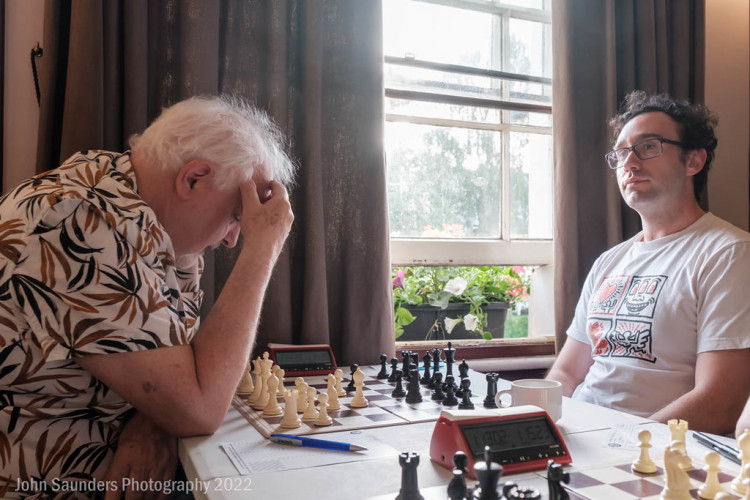 Kingston's John Foley in his Hawaiian shirt on a hot evening played beautfiully to beat Oliver Weiss. (Photo: John Saunders)
On board 10, once Kingston's Alan Scrimgour had missed his early tactical shot, the game had turned somewhat, and Wimbledon's Sean Ingle held the edge moving in to the latter stages. Ingle though, who was outrated by a fair margin, sought piece, and Scrimgour, with an expert-assessment of how the game stood held out to secure a draw.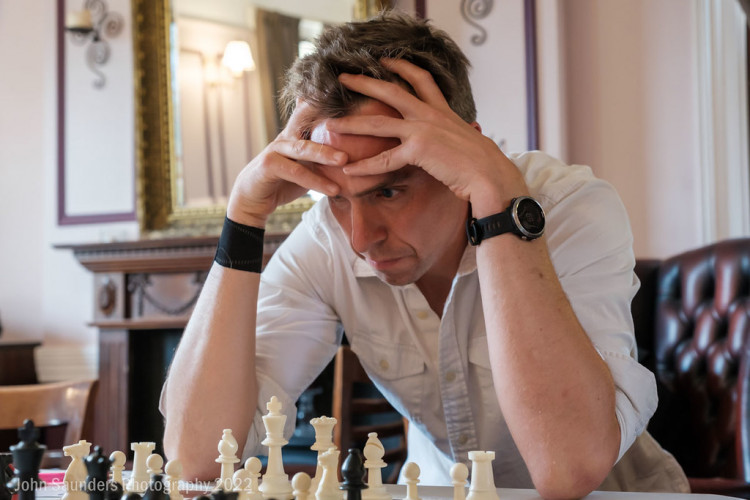 Wimbledon's Sean Ingle is a study in concentration and secured a respectable draw against Alan Scrimgour on board 10. (Photo: John Saunders)
Board six saw a tight game played out by Julian Way against Haridas Girinath. Girinath played a solid modern defence and a draw was agreed after 24 moves, however Way, missed a neat tactic in the final position that would have given him a +3 advantage. Scores on the doors stood at 2-2.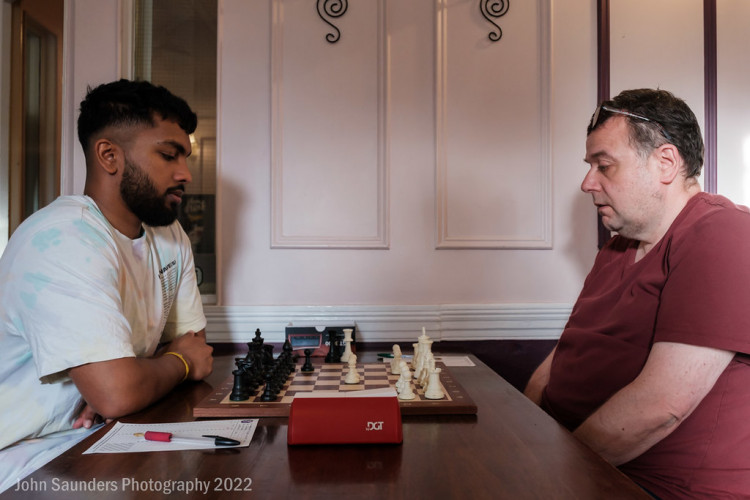 Kingston's Julian Way (right) drew with Haridas Girinath, but missed a potentially winning tactic. (Photo: John Saunders)
Kingston's Peter Andrews suffered an early setback on board nine against Wimbledon veteran Paul Barasi. The move affected his confidence and despite outranking his opponent, was happy to settle for a draw with the position level.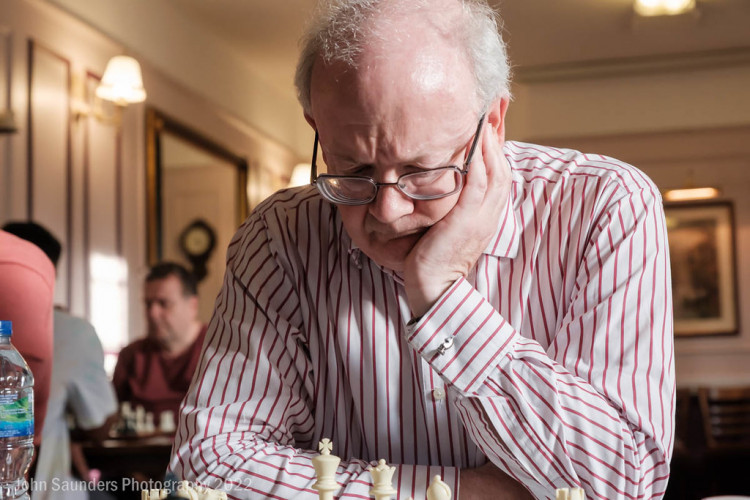 Peter Andrews, playing on board nine for Kingston, suffered an early setback and was happy to settle for a draw. (Photo: John Saunders)
Vladimir Li was struggling on board four against Wimbledon's Ian Heppell and his ting edge grew into a substantial lead in the middle of the game.
That resolved into an endgame where Heppell had knight and six pawns against Li's bishop and five pawns. In a game where many spectators thought Li was a goner, Heppell opted to play safe and a draw was agreed.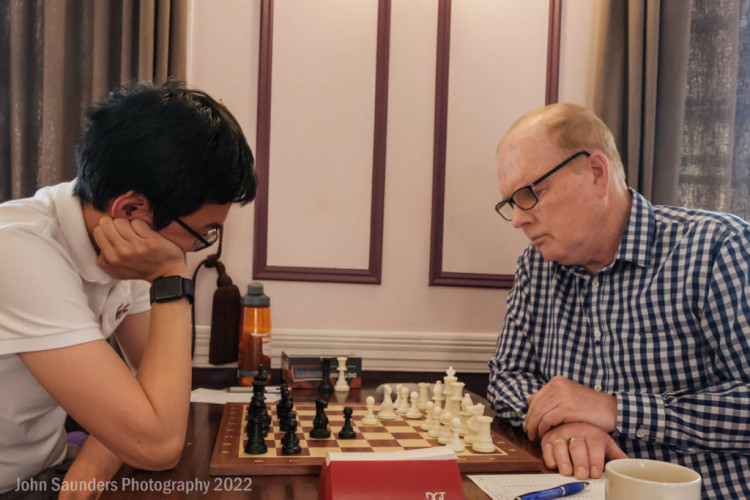 Kingston's Vladimir Li (left) secured a vital draw where Ian Heppell had an edge throughout. (Photo: John Saunders)
With the unexpected tie on board four, Kingston started to believe with all four of their remaining players – Mike Healey, David Maycock, Peter Lali and Will Taylor all had youth on their side. With draws on the whole, not a world in their vocabulary, all four would be pushing for wins.
The first crack in the Wimbledon side came on board three, where Peter Lali – a towering presence in Kingston's first team all season, was up against Dan Rosen.
Lali established an early advantage playing beautifully with the bishop pair and despite a spirited display from Rosen, Lali reaffirmed his lead forcing Rosen into an early finish with his remaining rook and black-squared bishop tied down.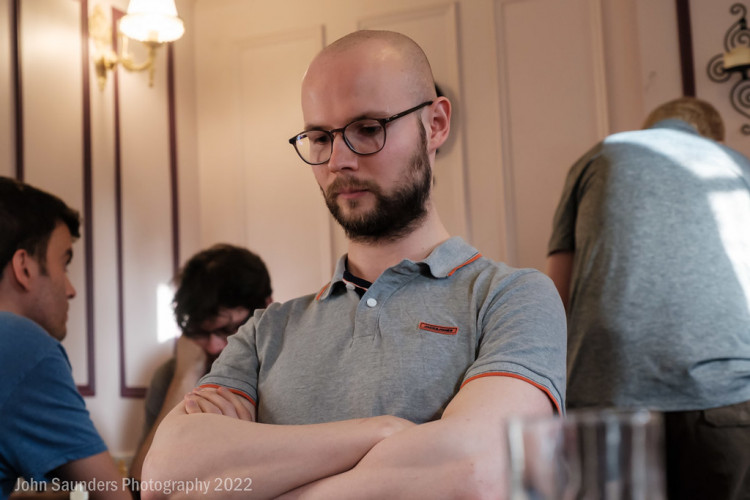 Kingston's Peter Lali scored a crucial win over Dan Rosen to make it 4-3 and suddenly the door was open. (Photo: John Saunders)
Things got better moments later when David Maycock won a magnificent game against Russel Granat, a highly rated and very attacking player within the Wimbledon team. Maycock and Lali had been galvanising figures for Kingston all season and when it mattered most, the pair delivered.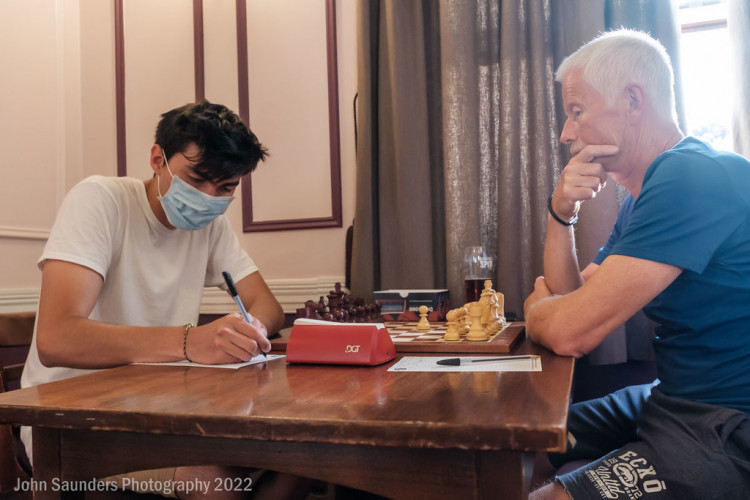 David Maycock, left, played superbly to beat Wimbledon's Russell Granat to take Kingston to the brink of victory. (Photo: John Saunders)
Kingston secured their third victory in ten minutes with a calm display from Will Taylor against Anthony Hughes on board six, another triumph of youth over experience.
With pressure piling on Wimbledon and the heat starting to take its toll, Hughes made an unfortunate blunder dropping his rook for nothing.
The game, the match, and the Alexandra Cup were all but secured with the scores now at 6-3.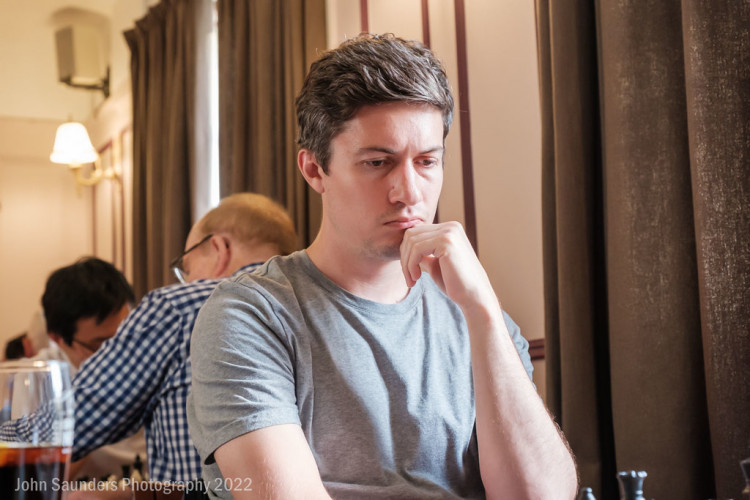 The rock-solid Will Taylor scored the decisive win that ensured the Alexandra Cup was coming to Kingston. (Photo: John Saunders)
The evening's longest game of the match concluded shortly after, with Mike Healey and Alberto Suarez Real battling it out in a hard-fought encounter with both players having to eventually settle for a draw.
Final scores on the doors read Kingston 6.5 – Wimbledon 3.5 and celebrations were able to begin at the bar.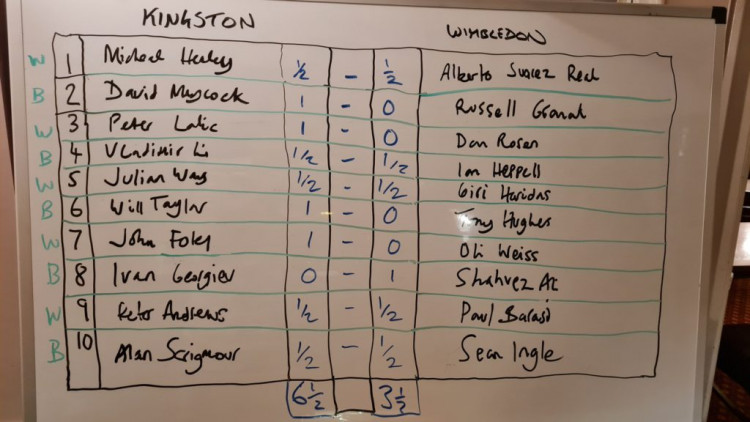 Having won the Surrey's premier knockout trophy as a second-division club the 2021/22 campaign marked a stunning campaign for Kingston Chess Club.
The Kingston side will now set their sights on competing in division one next season and aim to retain the highly coveted Alexandra Cup.