Third Kingston low traffic neighbourhood made permanent
By Ellie Brown - Local Democracy Reporter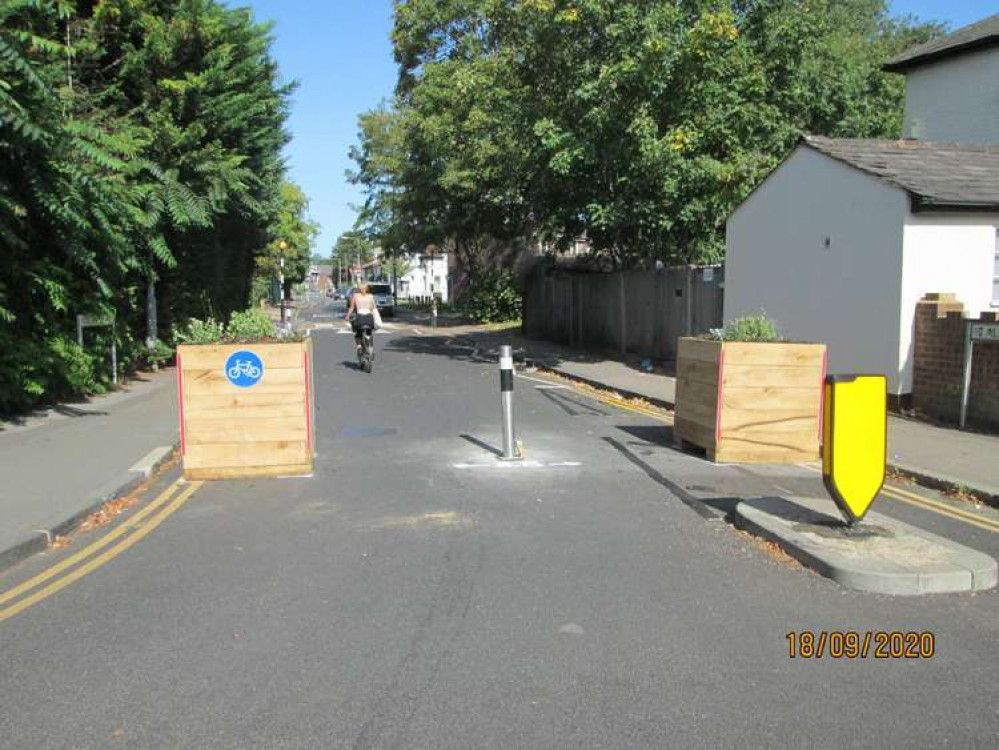 The Low Traffic neighbourhood on Kingston's Albert Road has been made permanent
A THIRD Low Traffic Neighbourhood in Kingston borough has been made permanent by Kingston Council.
Albert Road, in Kingston town centre, will remain closed at its intersection with Hawks Road following a decision at the Council's Kingston Town Neighbourhood Committee last week.
The road is one of several Low Traffic Neighbourhoods (LTNs) in the borough and has been in place as a trial for 18 months.
According to Living Streets, LTNs also known as 'mini-hollands' - aim to increase road safety, reduce pollution and spread traffic more evenly.
The scheme works by fully or partly closing roads that are known to be used by cars as cut-throughs.
The Albert Road LTN includes a road closure at the junction with Hawks Road, near Fairfield South.
It was put in place in September 2020 with an Emergency Traffic Management Order (ETMO).
85 Kingston residents lodged comments to the Council - 59 in support and 26 (31% of the total) objecting.
A report prepared by Council officers recommended that these objections be set aside and the scheme made permanent.
It stated: "Officers have reviewed the objections and consider that they can be set aside.
"The traffic data analysis and the air quality report have indicated that from the whole area Hawks Road eastbound and Cambridge Road westbound have seen
increased traffic flows, which need to be further monitored and reviewed. "There is no evidence to indicate the road conditions are less safe, and as mentioned proposals will be developed as part of the Go Cycle project to review the operation and timing of the traffic signal junction at Hawks Road and Cambridge Road, which it is anticipated will address any delays. "The Air Quality modelling data demonstrates that the proposals have had only a slight impact on the area, but as recommended above this should be kept under
review.
"Any objections that relate to air quality issues can therefore be set aside.
"Whilst the emergency services did not raise specific objections to the current measures, with the removable bollard in place, it was clear they would prefer a scheme that replaces the closure with an ANPR camera to address their concerns.
"However, when considering the location of this LTN, there is access to the area available from a variety of routes should it be needed. It is therefore considered the existing planters have minimal impact in this respect.
"It is also noted that, at this time, there is no evidence of specific issues at this site although this issue should be kept under review."
The Albert Road LTN will continue to be monitored with additional traffic and air quality surveys and a fresh report will be presented to the Council next week.
Commenting on the news, Cllr Stephanie Archer, Portfolio Holder for Environment and Sustainable Transport at Kingston Council, said: "Here in Kingston, we're committed to doing our part to tackle the global climate crisis. In 2019, the council declared a climate emergency and an ambitious action plan quickly followed.
"Low Traffic Neighbourhoods can improve local air quality, reduce local traffic congestion and encourage people to walk or cycle, instead of jumping in the car.
"This scheme also benefits from connecting to our fantastic Go Cycle network through the town centre onto the nearby Cambridge Road, offering truly sustainable ways to travel around the neighbourhood.
"As well as this, Kingston Town Neighbourhood Committee has approved a speed limit reduction on almost all roads in Kingston town centre to 20mph, which will create safer routes for all.
"I'm delighted to see this scheme made permanent and look forward to seeing it continue to deliver benefits to Kingston residents."
The news comes after the King Charles Road and Lower Ham Road LTNs were made permanent by the Council.
Consultations on other LTNs are ongoing and further information can be found at kingstonletstalk.co.uk/low-traffic-neighbourhoods