Specsavers Kingston away day in support of Corinthian-Casuals FC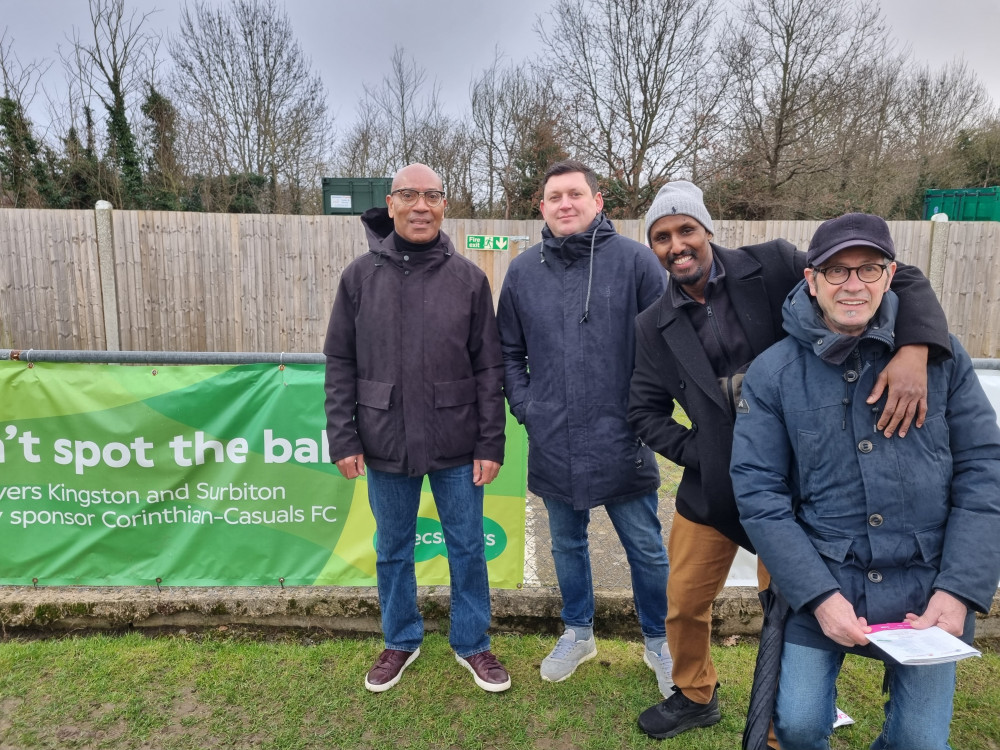 (Left to right) Specsavers Kingston's Hedley Cooper, Laboratory Manager, Vladyslav Radchenko, Administrator, Abdi Hakim, Technician & Mario Santoro, Technician
DURING 2022, Specsavers' Kingston and Surbiton branches were among several local businesses to sponsor the world-famous English amateur football club, Corinthian-Casuals, and specifically the illustrious second instalment of the Egri Erbstein Tournament which took place locally in July last year.
The Tournament was founded on the principle of bringing communities together from across the world and uniting them through the power of football. Playing in the Isthmian Premier League, the Corinthian-Casuals is the highest-ranking amateur club in England.
Guy Loveday, Retail Director at Specsavers Kingston, said: "We believe it is a privilege to be associated with such a football club with its world-renowned lineage, and we are proud sponsors of the Club. As a business, our ethos is to support the local community at this grass roots level, so this provides a great opportunity to do this and to engage with all ages from across the Kingston area."
The team renowned for its incredibly loyal and supportive fans, played host to Carshalton Athletic on Saturday 11th March, at the teams home ground based at the UBG Stadium, King George's Field, Tolworth.
Specsavers Kingston, Laboratory Manager, Hedley Cooper and Technicians from his department, attended the game, using it as an opportunity for 'team building' away from their normal work environment.
A core service offered in-store, the Laboratory Technicians use the latest computer-controlled equipment and have an eye for detail and accuracy. They are responsible for reading the lens and frame prescriptions, setting and glazing the lenses into frames which requires attention to detail at all times. Minor repairs and adjustments are also provided for customers – so it is a full-on role with deadlines to meet. Because the lab is on site, customers can benefit from reduced turnaround times.
Soaking up the atmosphere on the day, Hedley said: "My team rarely get to spend time together outside of work, and at work, it is very fast paced, as we have a high through put of lenses to glaze and make up according to the customer's prescription. So being able to go along to Tolworth and support the Corinthian-Casuals was a great opportunity to get together."
Hedley continued: "We did spend some time discussing how we might enhance the service we provide, plus exploring any further training and qualifications that would add to our skills sets. Ultimately however, it was a wonderful opportunity to see this historic club playing at their home ground and enjoy the game of football!"
"Everyone at Corinthian-Casuals is delighted to have the support and sponsorship of our local Specsavers stores." said Dominic Bliss, the club's committee member for media and heritage. 'It's a partnership we're very proud of, and so it means a lot to us to see Specsavers staff enjoying the matchday atmosphere and getting behind the team at such a crucial stage of the season."
Mr Bliss added: "We hope everyone had a great time and we look forward to welcoming more staff from Specsavers' Kingston upon Thames and Surbiton to our games in future."
To sum up, Guy Loveday said"We are looking forward to our continued support of the Corinthian-Casuals during 2023, and we wish them every success with this season's matches."
Specsavers Kingston and Specsavers Surbiton have invited local Corinthian-Casuals players in store for sight and hearing tests. Afterall, when playing at this level, it is important that their eyesight and hearing is in tip top condition!