Kingston Council speaks out as plans to build London's first floating lido since 1875 resurface
By Charlotte Lillywhite - Local Democracy Reporter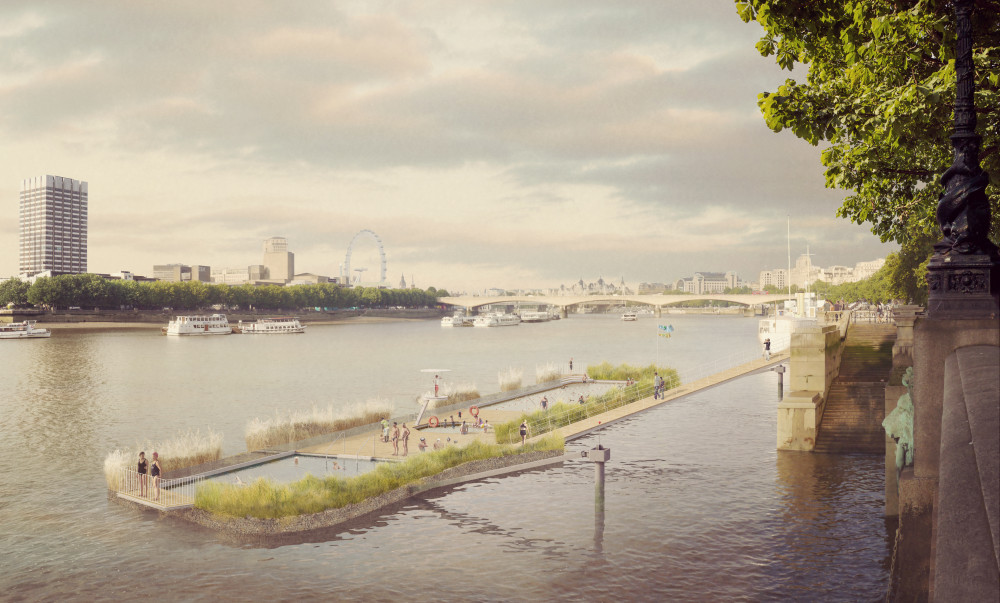 CGI showing proposals for a Thames Bath beside Temple Underground station to show what the floating pool could look like (Credit: Studio Octopi and Picture Plane)
Kingston Council has spoken out after plans to build the capital's first floating lido since 1875 resurfaced. The scheme could see a heated pool, with saunas and changing rooms, come to the River Thames – or a designated zone for swimming created in the water with pontoons.
An Instagram post in March from Thames Baths, a project to bring swimming back to the Thames, brought forward by architects Studio Octopi, said they held discussions with Kingston Council about a floating pool for Kingston Riverside in 2021. The post said: "The good news is we're still here, as are Studio Octopi, and keen to explore how a new swim site at Kingston can work for everyone."
It comes as controversial plans to replace the borough's Kingfisher Leisure Centre face delays. The leisure centre was knocked down last year but the council revealed in March it does not have enough money in its current budget to build the replacement facility it had approved – which would cost £79.5million, much more than the £43.8m it had put aside for it.
The Instagram post from Thames Baths added: "We could have had a floating pool in the Thames by now at a fraction of the cost. Pop-up or permanent, this would have maintained swimming in Kingston during a critical time."
Architect Chris Romer-Lee, co-founder of Studio Octopi and global expert in urban swimming, told the Local Democracy Reporting Service the council was at first "very enthusiastic" about assessing the possibility of a floating pool near Kingston town centre in 2021.
Mr Romer-Lee said: "I know there was enthusiasm from a lot of people and organisations to explore the idea further. Huge shame it didn't happen [then]. The feasibility study could have been part-funded by various local organisations or even crowdfunded." He said the last floating pool in London was the Charing Cross Baths in 1875.
The options for Kingston could range from a designated zone for swimming marked out by a new pontoon and cordoned off by buoys, or fully enclosed by pontoons with a pool basin. A floated heated pool is another option proposed by Studio Octopi, which would have saunas and changing rooms on land or floating on the water.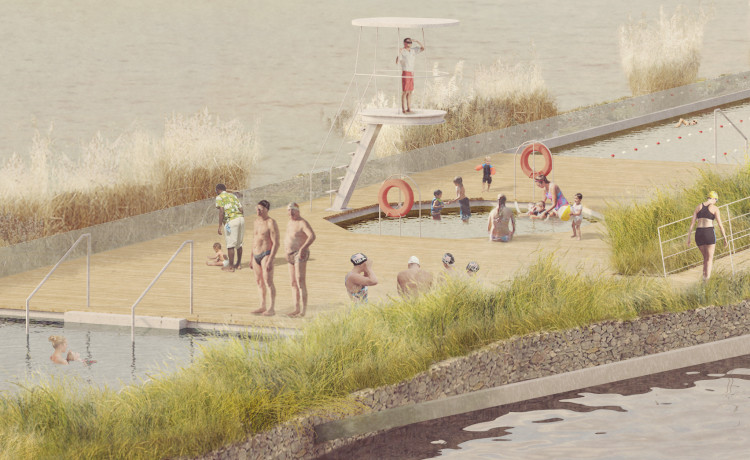 Another CGI showing proposals for a Thames Bath beside Temple Underground station to show what the floating pool could look like (Credit: Studio Octopi and Picture)
The architects said the facility should be close to the town centre. Mr Romer-Lee said: "The pandemic was hard on Kingston town centre shops and bars. Putting a major attraction in the river like this would attract large amounts of people back to the town centre."
He added: "The Kingfisher Centre offers lots of different things but does the cost justify the outcome when a quick win could be achieved in the existing resources of the river." As pools close and costs rise across the country, he said, "we must use the resources available to us".
When approached about the floating pool plans, Kingston Council revealed to the LDRS it is working with existing partners to explore options for alternative or temporary swimming facilities in the borough.
A spokesperson for Kingston Council said: "We are committed to delivering a new swimming and leisure complex in the heart of Kingston town centre. We are currently working with our existing partners to explore further options for alternative or temporary swimming provision.
"Our current arrangements are still in place, with the Malden Centre in our borough and access to neighbouring boroughs pools in Merton, Sutton, Richmond, Elmbridge and Epsom and Ewell.