Royal Parks Police issue barbecue ban reminder following fire at Richmond Park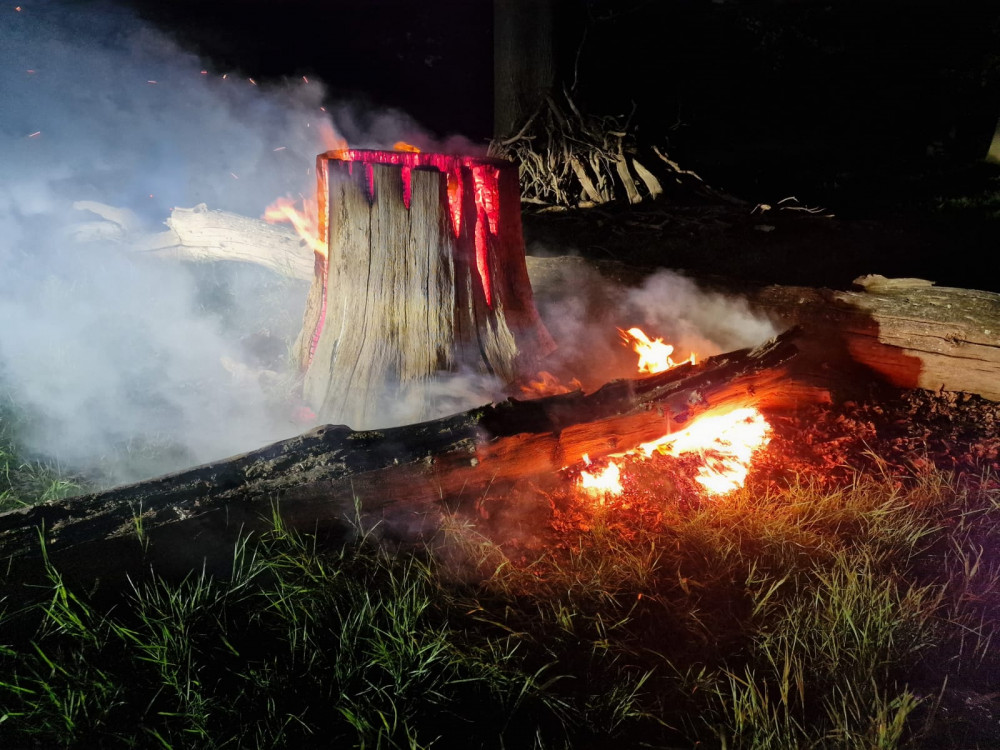 Police have issued a reminder on the strict ban of barbecues across all Royal Parks following a tree that caught fire at Richmond Park over the Bank Holiday Weekend (Credit: Royal Parks Police)
Police have issued a reminder on the strict ban of barbecues across all Royal Parks following a tree that caught fire at Richmond Park over the Bank Holiday Weekend.
Officers from the Royal Parks Police team dealt with the fire to a tree in Richmond Park last night at around 10.30pm (May 29) after a barbecue was left in the tree stump earlier in the day and eventually caught alight.
As temperatures rise over the Spring and Summer months incidents of accidental fires by disposable barbecues in Bushy and Richmond Park occur frequently despite being prohibited.
The fires, like the one last night, are often started when park goers have positioned barbecues under the shade of large trees, which could be hundreds of years old. Many have become hollow over time and when a fire starts they act as a chimney, causing the fire to spread through the tree rapidly, destroying the tree and killing animals.
The Royal Parks Police team took to Twitter to remind visitors of the risks barbecues contain writing: "Officers from @MPSRoyal_Parks are currently dealing with a fire to a tree in #RichmondPark after a barbecue was left in a tree stump and caught fire. Park users are reminded that barbecues are not permitted in the @theroyalparks and are potentially dangerous."
Paul Richards, Park Manager of Richmond Park, said: "On Monday The Royal Parks team in Richmond Park was made aware of a fire to a tree stump caused by a disposable BBQ that had been left there and caused the tree stump to ignite. Police and Fire services worked together to put the fire out quickly to minimise damage.
"BBQs are banned from the parks, and we ask people to take litter home as dropped cigarettes and glass bottles can also increase the risk of a fire. Fires spread extremely quickly across dry landscapes and are a danger to people, wildlife, and property."
He continued: "In some areas of the park, we've seen centuries of biodiversity wiped out because of a fire caused by a BBQ. We've lost veteran trees and even if the tree survives the fire will burn out the decaying wood within. This important habitat supports over 1,000 different species of insects and their larvae which can be destroyed.
"Grassland fires spread quickly and set off a chain reaction. The grass dies as does any seed bank. Often what grows back is a different composition of species and if more aggressive rye grasses get in, then we tend to find the grass loses some of its wildlife value."