Kingston University secures top honours in prestigous academic competition after student showcases advances in tissue engineering research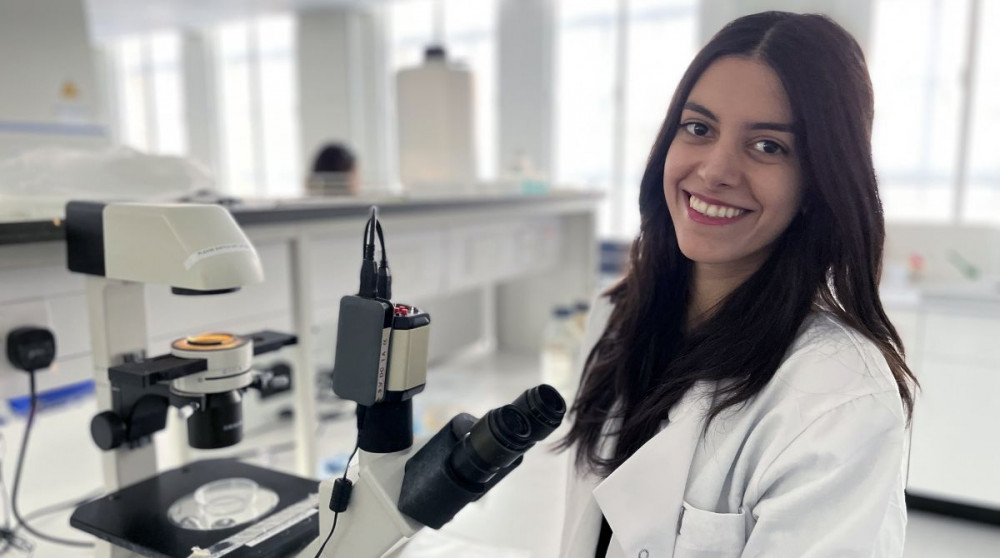 Kingston University's Sadaf Akbari has been named winner of this year's national Vitae Three Minute Thesis competition.
A Kingston University PhD student who is researching how smart materials could be used to replace damaged bones within the human body has been named winner of this year's national Vitae Three Minute Thesis competition.
Sadaf Akbari took home the prestigious academic trophy – the second Kingston University engineering student in successive years to win the contest – after impressing the judging panel with a 180 second presentation about how her tissue engineering research could help address the global donor shortage.
The Iranian student, who grew up in Dubai, outlined her use of computer simulations to model the performance of structures made from piezoelectric materials, which produce electrical charges under pressure. During her talk, she explained how she was exploring ways the smart materials could be combined with a patient's cells to grow into engineered tissue for implantation between sections of a bone to aid its repair.
Research students from 67 institutions across the United Kingdom and Ireland entered this year's national competition, which was rolled out globally after initially being developed by the University of Queensland in Australia.
Each participant was challenged to deliver a verbal presentation on their research topic and its significance in just 180 seconds. After competing in quarter and semi-final events, Ms Akbari was named the judges' choice winner from six finalists, securing a prize of £3,000 in UK Research and Innovation grant funding for public engagement activities and an engraved trophy.
Reflecting on her experience throughout the academic competition, Ms Akbari said: "This really has been a once-in-a-lifetime opportunity and my success hasn't sunk in yet.
"I loved watching the other presentations and it was amazing hearing the way the other finalists told their own stories. I've learned so much about how to communicate about my research through the Three Minute Thesis experience and everyone at Kingston University has been so supportive."
It is the second year in a row a female engineering student from the University has won the judges' prize in the national competition, after Ana Pavlovic scooped the 2021 trophy for a presentation about her research into a sustainable future for concrete.
Ms Akbari added: "Ana's now moved into a career in industry and I'm so proud to have followed in her footsteps in winning the judge's prize. I'm excited to see where my research takes me, but I'd also really like to stay within academia after my PhD, potentially in research development."
Sadaf's PhD supervisor in the School of Engineering and the Environment, senior lecturer in solid mechanics Dr Payam Khazaeinejad, said one of the most impressive things about her pioneering research was the fact it required expertise in two distinct disciplines.
He said: "Sadaf has combined her biological science background with engineering skills developed during her Master's degree to explore an area that is really exciting for the future of medicine and healthcare."