Kingston University academic stalwarts retire after dedicating careers to nursing and social care education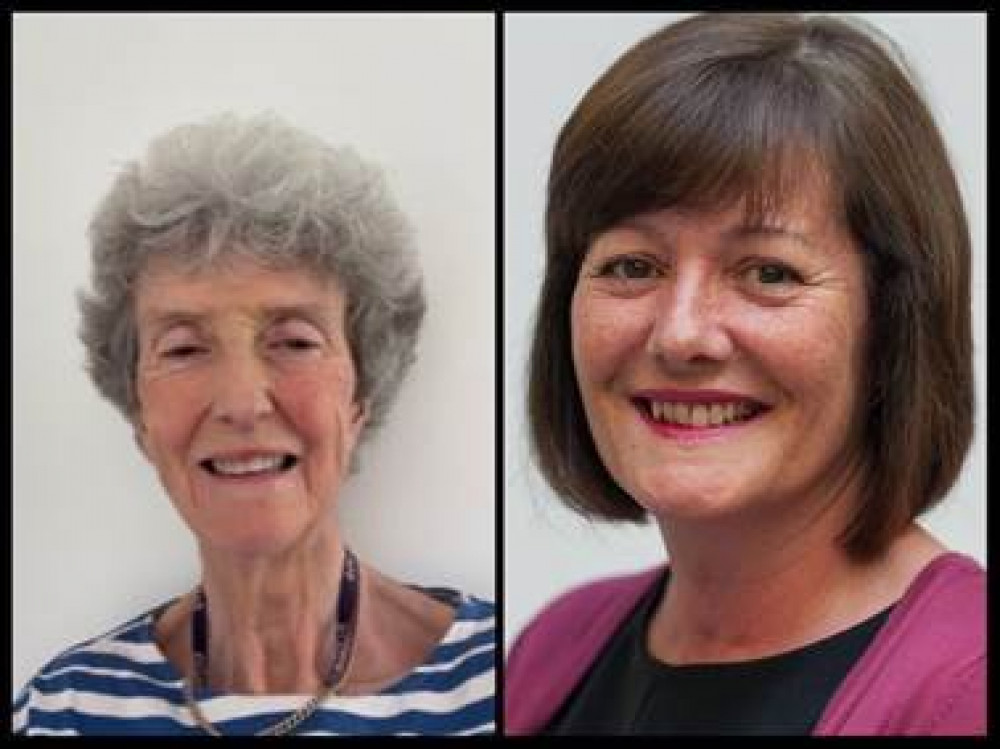 Professor Jane Lindsay (left) and Dr Julia Gale (right) have worked at Kingston University for more 55 years' combined (Image: Kingston University)
Two leading Kingston University academics who have devoted their careers to sharing their specialist knowledge with generations of students have retired after more than 90 years' combined experience in their fields.
Dr Julia Gale has spent half of her 26 years at the University serving as the Head of the School of Nursing, while Professor Jane Lindsay has been with Kingston since 1991, most recently serving as Associate Dean for Teaching and Learning in the former Faculty of Health, Social Care and Education.
Growing up in the small fishing village of Ardglass in Northern Ireland, Professor Lindsay quickly became interested in social issues and helping others.
Reflecting on her early years she said: "My mother was very involved in women's groups and was also a lecturer. She always emphasised the importance of doing things with people to make everyone's lives better.
"That inspired me to do social service at school, helping in a children's home and visiting elderly and disabled people to do their shopping – all during a time when war was raging in Belfast."
Dr Gale was similarly influenced by her parents, with her mother being a nurse and her father running a chain of restaurants, a venture her mother later joined.
The outgoing Head of the School of Nursing said: "Looking back, I picked up an interest in nursing and caring for people from my mum and the business acumen from my dad, which I've been able to translate into my nursing career.
"I wasn't conscious of how much of an influence that was on me until much later in life when I could reflect on the type of person I am and what drives me."
Both academics joined Kingston University in the 1990s. Professor Lindsay was appointed in 1991, initially to help train students to become probation officers.
She later went on to be a principal lecturer, Head of the School of Social Work and more latterly Associate Dean for Teaching and Learning in the then Faculty of Health, Social Care and Education.
Professor Lindsay also helped develop and lead the practice teaching and post qualifying programmes in social work.
Dr Gale was one of the first academics transferred in to be part of the Faculty, which was formed in 1996 in partnership with St George's, University of London, initially as a senior lecturer in nursing.
She then moved through the ranks, becoming a principal lecturer, the Faculty's lead as Head of workforce development and Associate Dean for Quality for eight years ahead of her appointment as Head of the School of Nursing in 2009.
Dr Gale was responsible for leading on the creation of the University's School of Nursing as it exists today.
She added: "When I took over the role as Head of Nursing, there was essentially just a group of staff and no School so I went to the Dean and requested approval to create an actual School of Nursing.
"Ten months later in January 2012, it was launched. It proved to be a great decision, with the School and its students experiencing much success ever since."
At the same time, Dr Gale successfully tendered for the University's adult nursing provision with NHS London and scored top in London, while she also launched Kingston's first degree and master's programmes in pre-registration nursing.
The Covid-19 pandemic brought fresh challenges for Dr Gale and her team, who had to change how they delivered teaching overnight, keeping staff and students safe while mobilising to support the health service.
She continued: "We were working 24/7 as we needed to move fast, get some of our students out on the frontline, adapt the curriculum and find new placement opportunities as most providers were pausing them."
Professor Lindsay, meanwhile, said seeing social work students overcome challenging circumstances to succeed had given her the greatest joy in her academic life.
She also takes enormous pride from the fact that almost half the current academic staff teaching social work at Kingston University were once her own students.
Professor Lindsay added: "It's amazing to see so many of them going on to make a difference to students' lives themselves. I often forget I taught some of them, but they always remind me."
Alongside enjoying some of their hobbies in retirement, Professor Lindsay will retain her links with Kingston University as an Emerita Professor of Social Work.
Dr Gale is hoping to explore some project ideas she has for nursing, having overseen the University being named top in London for nursing for six of the past eight years in the Guardian University Guide.
Nub News wishes both Professor Lindsay and Dr Gale a happy retirement!