Islamic Geometry Workshop
---
UNTIL Sunday 22nd May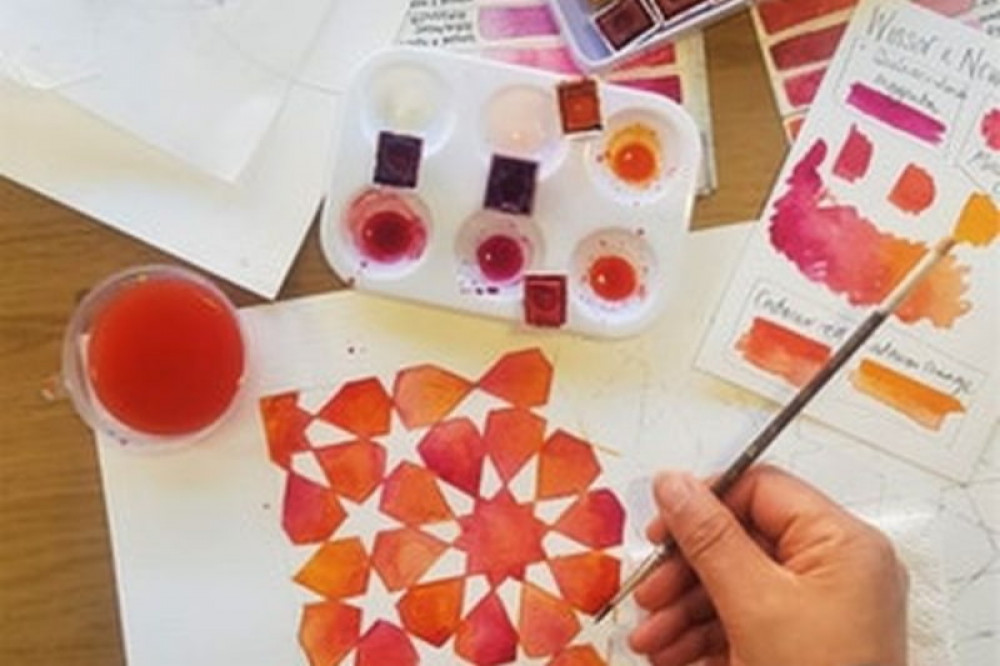 In these 3-hour Sunday workshops Samira will guide you through the process of drawing layers of lines and circles step by step using a compass and straight edge to create a complex underlying grid from which a beautiful pattern will emerge.
You will outline, trace and transfer the pattern to watercolour paper, brought to life with watercolour pencils & paints to complete a colourful piece in watercolours in the session or complete at home aided by the step-by-step PDF accompanying every pattern. Each month participants journey back in time to a different part of the Islamic Lands to gain greater insight in a particular era, location or family of patterns.
You will start with drawing your pattern step by step following geometry and free hand drawings. Then you will continue with painting the pattern following the tradition of the art of Islamic illumination with gouache gold and other colours.
The patterns in these workshops will come from tiles found in mosques, palaces and gardens in the Islamic lands especially between the 15th and 18th centuries. We will use the tile pattern as guidelines and inspiration to draw and paint our own patterns.
This workshop is hosted by Samira Mian, artist and educator with a passion for geometry & art, breathing new life in to medieval Islamic Geometric Patterns using ancient tools in the 21st Century.
Price is set at £25.
Add your Kingston event for FREE here!
Nub It