Residents warn new bus gate will destroy a popular walking and cycle route and transform their street into an accident hotspot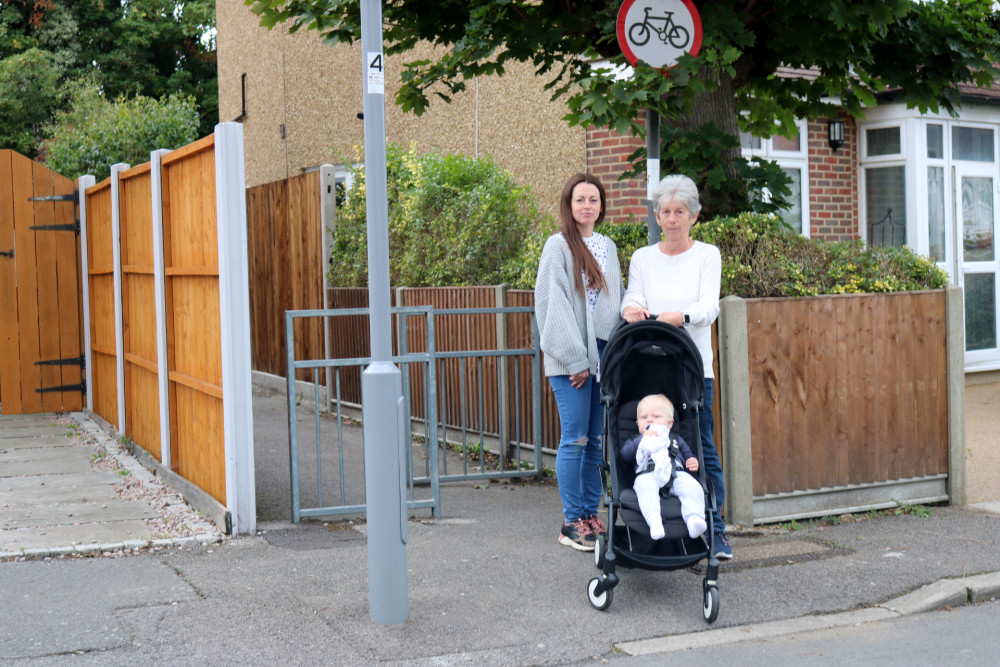 One of Malvern Road's longest-standing residents, Janice Haley (right), with her daughter Emma, and grandson Teddy – one of the street's newest residents – at the entrance to the footpath which they say could become an accident hotspot if the Thornhill Road bus lane gets the greenlight.
This article has been published by Ben Wilson, a resident of Malvern Road, Surbiton.
Kingston councillors look set to give the go ahead for a controversial bus gate, which residents warn could put pedestrians and cyclists at risk by transforming Malvern Road in West Tolworth, Surbiton, into an accident hotspot as traffic quadruples.
From the end of November, motorists who previously used Thornhill Road to travel between the A243 Hook Road and Red Lion Road or the surrounding streets, will be forced to find alternative routes or face a hefty fine as a new experimental bus gate is installed.
It is all part of the council's widening of the Low Traffic Neighbourhood scheme, which is designed to alter driver's behaviours by dramatically increasing motorists' journey times and displace traffic away from residential areas, thereby making local streets safer for pedestrians and cyclists.
Council officials have recommended councillors to approve the bus gate during Thursday's Surbiton Neighbourhood Committee. This is despite their research into the impact of a bus gate showing that while some roads will see a reduction in traffic – including a 10% drop for the A243 highway - Malvern Road, a residential street leading from Thornhill Road to Cotterill Road, could see an increase of more than four times the amount of traffic.
According to residents living on the street, which runs parallel to the A243 and has a pedestrian thoroughfare to Hook Road, commuters on foot, schoolchildren and cyclists already use the street as a safer, quieter and cleaner-air alternative to walking beside the Hook Road, which often has stationary traffic during peak hours.
With the council's introduction of the bus gate leading to an expected 456% increase in northbound vehicles and 329% southbound, along this short and narrow stretch of road, residents have slammed officials for contradicting their publicly stated environmental goals, by destroying a popular and preferred walking and cycling route. At just over 300m long, Malvern Road is one of the shortest roads expected to absorb traffic displaced by the bus gate.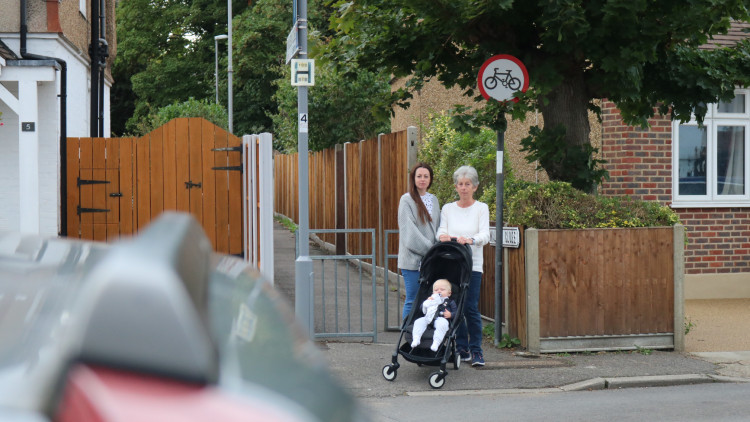 Concerned Malvern Road residents, Emma Beers (left), her infant son and mum, Janice Haley - one of the longest-standing residents on the street - are regular users of the thoroughfare to Hook Road and are worried for the safety of fellow pedestrians if traffic on their street quadruples as the council predicts.
Worse still, residents say that the 90-degree bend, at the junction of Malvern Road, Malvern Close and the entrance to the pedestrian thoroughfare, makes any deliberate traffic increase along this road a reckless and dangerous move by the Council that significantly increases the likelihood of an accident.
LEGAL CHALLENGE
According to the Royal Society for the Prevention of Accidents (ROSPA), Section 39 of the Road Traffic Act 1988, places a legal duty on local authorities to take steps both to reduce and prevent accidents. This includes planning decisions relating to the road network.
Janice Haley, who has lived on Malvern Road for more than 30 years, said: "The intention of the bus gate is to introduce a Low Traffic Neighbourhood (LTN). Malvern Road currently has levels of traffic equivalent with the aims of the LTN and is considered a safe and pleasant road. The bus gate would result in a dangerously high increase in traffic volume – achieving the opposite of an LTN and compromising the safety of residents and pedestrians at the same time! This is especially for people using the alleyway or trying to cross near the blind bend."
"IS THIS REALLY ABOUT THE ENVIRONMENT OR A MONEY GRAB?"
The unpopular decision to approve the bus gate to the detriment of walkers and cyclists and the lack of understanding of how the street is used today, has made some residents question the council's real motive for the bus gate.
Emma Beers, who grew up on Malvern Road and recently moved back there to raise her family, said: "If the council was genuine about the bus gate being to encourage more people to walk, cycle or use public transport they would be doing more to enhance Malvern Road as a safer and healthier alternative to the busy A243 Hook Road – it's is already used by lots of people every day, including many elderly and disabled residents. Instead, they're going to increase the traffic in both directions, making it harder for people to safely cross and increasing pollution. What's their real motivation; is this really about the environment or just a money grab from bus gate fines?"