Save Our Skies: Campaigners warn of air safety threat posed by plans for new town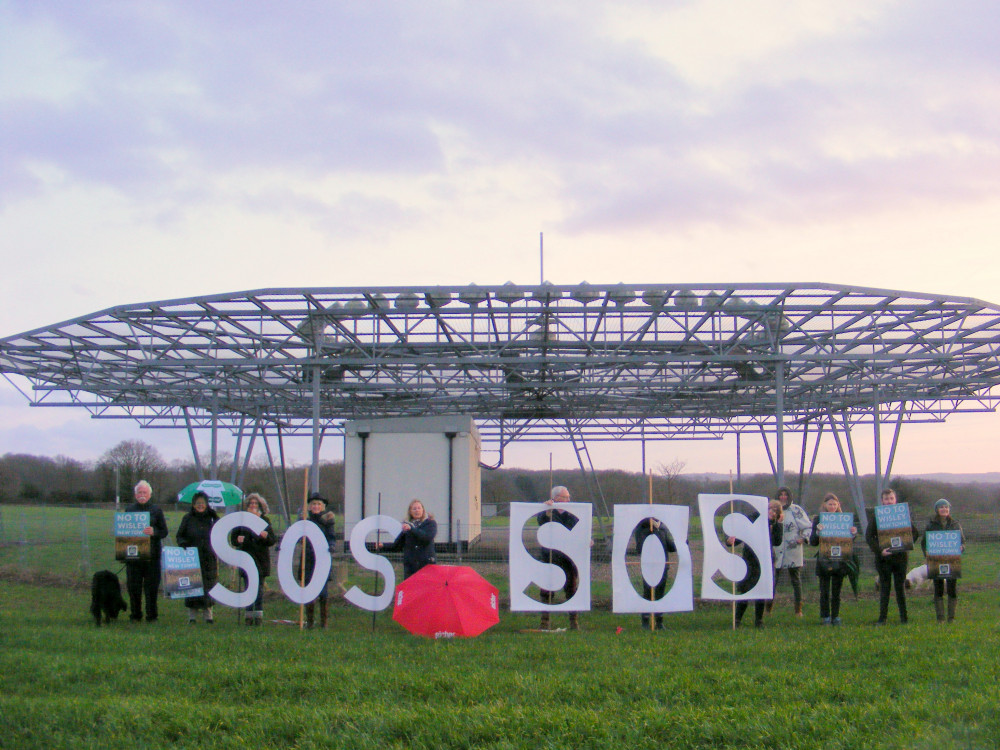 WAG campaigners protesting at the Ockham Beacon
This article has been written by Tim Jotischky in support of the Wisley Action Group, who oppose the plans put forward by The Taylor Wimpey Association involving a new town being built in Wisley, Surrey.
Campaigners fighting proposals for a new town at Wisley held a 'Save Our Skies' protest at the site of a navigation beacon, highlighting the risk to aircraft safety posed by the development.
The Ockham navigation beacon helps pilots being kept in holding stacks to follow air traffic controllers' instructions for their final approach to land and is one of four used for Heathrow Airport.
It has been in use since the 1960s and handles arrivals from the southwest; once aircraft leave the stack, they are guided safely onto one of Heathrow's two runways.
National Air Traffic Services (NATS), Heathrow Airport, Gatwick Airport, RAF Northolt and Farnborough Airport are among more than 1,200 objectors to plans for a controversial 1,730-home Taylor Wimpey development, warning it would compromise aircraft safety by interfering with the beacon's signal.
In its objection, NATS said: "The current proposals do not adequately safeguard the beacon and therefore we have no choice but to object to this planning application…removal could result in a number of potential detrimental implications, such as a reduction to air traffic capacity, an impact on air safety and disruption to defence training and procedures."
Wisley Action Group (WAG) is leading the campaign against the development at the former Wisley Airfield, which is now in the frontline of the national planning battle. The development would concrete over more than 150 acres of prime agricultural land and have a devastating impact on the Thames Basin Heath, endangering rare birds and other protected species.
A previous planning application was rejected by the Secretary of State in 2018 on 14 grounds after the planning inspector ruled that the failure to provide adequate infrastructure was a major failing. In 2019, the site was controversially removed from the Greenbelt at an emergency council meeting just a week before the Conservatives lost power in the local elections.
The Taylor Wimpey application has been opposed by dozens of businesses and organisations including: The Royal Horticultural Society, the RSPB, Surrey County Council, Surrey Wildlife Trust and several parish councils.
The application is due to be heard by Guildford Borough Council's planning committee on March 13.
Ingrid Tarrant, a local resident and WAG supporter, said: "The potential danger to aircraft safety is yet another reason why this development should not be allowed to go ahead. It would destroy historic Ockham and the surrounding area, it is pure environmental vandalism. The development was rejected by the Secretary of State in 2018 and that should have been the end of it. However, the fight continues, and I am confident we will defeat this scheme once again."