Exclusive: Kingston MP Ed Davey gives his views on Council plans to transform Kingston town centre
By Ellie Brown - Local Democracy Reporter
Ed Davey, who is the MP for Kingston and Surbiton, has written his first article for Nub News (Photo: Ed Davey MP)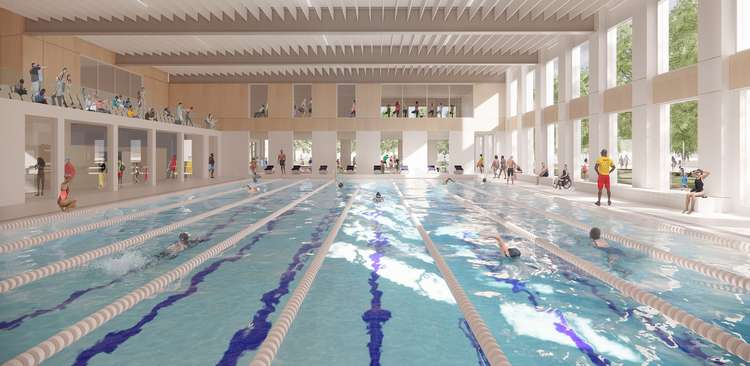 A computer generated image of what Kingston's new leisure centre could look like (Image: Transform Kingston)
IN his first ever column for Nub News, Kingston MP Sir Ed Davey has given his views on the Council-backed plans to transform Kingston town centre.
The Liberal Democrat MP who represents Kingston and Surbiton in Parliament has shared his thoughts in an exclusive article for Nub News.
Read on to find out why Davey supports the plans, ahead of tonight's full Council Meeting where several public questions are due to be asked on the scheme.
Here is Ed Davey's column for Nub News in full:
Transforming Kingston: our greener future can still celebrate the past
Our Borough needs to plan for a future beyond Covid – with proposals that tackle big challenges like climate change, whilst celebrating what's special about our community.
Getting this right won't be easy: the finances of every council are in serious trouble, and many businesses are battling with the impacts of a digital economy that has accelerated during the pandemic – from internet shopping to home working.
That's why I'm so delighted that Kingston Council has moved fast to bring forward eye-catching ideas for a greener future for Kingston – that preserves our historic past, whilst developing exciting new facilities, all in a financially prudent way. All designed to support the town's economic recovery.
The plan centres on the Guildhall site and the Kingfisher Leisure Centre , including our historic Carnegie library, museum and cattle market – a huge opportunity to shape our town.
And it's been actively shaped by residents too – with a huge public engagement, with more than 2,500 people completing surveys – including over 250 children – and with a social media that's reached over 49,000 people.
The emerging plans – still at a relatively early stage – would see a new leisure complex, with swimming pools and new sports facilities, new open public spaces celebrating the Hogsmill River that runs through Kingston, combined with a new hotel, work spaces and affordable housing.
The financial challenge
The question is, can such a new vision for Kingston be realised given Covid's impact on the Council's budget?
Yes – but only if difficult decisions are taken. And that's the plan!
First, with the Guildhall.
The Guildhall complex costs almost £4 million to run, every year. Much of the space is poorly used, and not fit for purpose.
Even more challenging, the main iconic Guildhall needs major repairs and a retrofit to become energy efficient, at an estimated cost of over £14 million – with repairs and retrofitting of the whole site estimated at an eye-watering £36 million.
If Kingston Council can reduce its running costs – and avoid such expensive capital spending – it can avoid making cuts to services residents rely on, and instead invest its capital in making those services better and greener.
So the Council has come up with a plan – that would preserve and enhance the historic Guildhall building, and improve community use of it, whilst avoiding impossibly high bills for council taxpayers and freeing up capital for use elsewhere.
And it's to sell the iconic Guildhall – mostly likely for a boutique hotel, with its listed status and sale conditions both preserving the building and improving public access.
This plan includes creating a new public park, around the Hogsmill, and replacing the existing energy-inefficient modern council buildings, with new affordable homes and up-to-date offices.
Second, the Kingfisher Leisure Centre. As many will know, the swimming pool there had to be closed because of an urgent need to make major repairs to the roof.
The repairs will cost £5 million – yet the swimming pool would still not be the type of competition pool many local swimming clubs want to see, and still lack the sports facilities other Boroughs enjoy.
So Kingston Council believes it's time to bite the bullet and build a new state-of-the-art leisure centre, that is energy efficient, environmentally sustainable and links the health and well-being of the centre, with new learning and cultural options at the library and museum.
The estimated cost of £40 million seems high but can be prudently met with the wider regeneration and sales of the Guildhall complex, the revenue and capital spending saved, the new leisure income generated, and other options that might include proceeds from the sale of land at the Cattle Market or Ashdown Road Car Park.
Kingston Council is now working through different options and so has a new round of public consultation called "Transforming Kingston." If you want to comment, you can – by visiting www.kingstonletstalk.co.uk/transform-kingston
My view
I like these plans.
Even at this early stage, they are facing up to the Borough's financial realities, but with a determination that our community's leisure and cultural services can still be improved.
And they are super-ambitious for Kingston, to be an environmental exemplar.
For they are also linked to our Borough's enhanced drive to become a climate-friendly, net zero community: the "poo to power" project, which could see the Hogsmill sewage works providing renewable heat energy for the regenerated Cambridge Road Estate and Kingston Hospital, has the capacity to provide the heat energy for all these plans, including the new Leisure Centre.
If we all come together to work on this, Kingston can have a greener, more vibrant future and celebrate our heritage too.
Kingston: what are your thoughts on these issues? Let us know - contact us on ellie[email protected] or DM our social media pages with your comments
You can also send us your stories, events and jobs by adding them to our site - all you need to do is click the black "Nub It" button on our pages
Find all the latest news from Kingston on Facebook , Twitter and Instagram .