Six tries for Harlequins women in thrilling victory over Allianz Premier 15s rivals Loughborough Lightning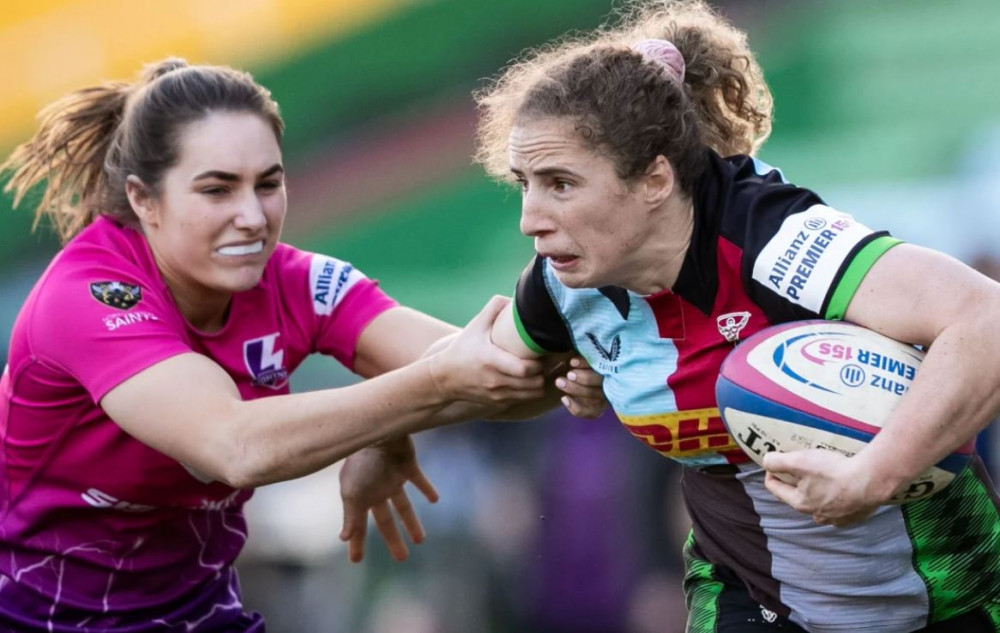 Credit: JMP/Juan Gasparini for @harlequins.
Loughborough started fast, scoring the first points on two minutes, but Amy Turner's powerhouse Quins side replied quickly with a score of their own.
Centurion Chloe Edwards powered over from close range on her 100th appearance for the Club with Bella McKenzie converting to give the hosts a 7-5 lead after ten minutes.
It wasn't long before Quins struck again, this time through Red Rose Ellie Kildunne. With seemingly nowhere to go, Emily Scott spotted the smallest of gaps in the Loughborough defence and broke through it, Emily Chancellor followed in support and fed Kildunne who raced in to score in the corner, making the score 12-5 on 25 minutes.
Quins remained dominant and had Loughborough camped on their own line for the period that followed. The forwards chose to pick and go from close range, but it was Wallaroo Bella McKenzie who would score next, taking the ball flat from Emily Scott and powering over under the posts. McKenzie converted her own score to extend the hosts' lead by another seven points with ten minutes to go in the first half.
Loughborough fought back with a try of their own on 35 minutes, but it would be Quins who had the final say of the half. Prop Hannah Sims with the pick and go, dotting down for her first try for the Club on the stroke of half time to give Harlequins a healthy 24-10 lead at the break.
The second half started much slower than the first, both sides carrying well but ultimately errors meant neither team could get a hold of momentum.
It wasn't until Loughborough's Emma Wassell received a yellow card that Quins managed to score their first points of the second half. A well worked lineout saw Emily Chancellor peel off the maul to power through and score her first try at The Stoop. The conversion was missed but Quins held a strong 29-10 lead with 25 minutes to go.
Loughborough scored their third of the afternoon on 60 minutes, England internationals Sarah Hunter and Sadia Kabeya linking up well and scoring under the posts to narrow Quins' lead to 12 points as the game entered the final quarter.
A Bella McKenzie penalty on 75 minutes looked to seal the game for Quins, but as the clock turned red, it would be Lenaig Corson who had the final say of the match. The French back row powering over for her first Harlequins try. McKenzie added the extras as the game finished 39-17 in favour of the hosts.
Next up, Harlequins travel to Stonex Stadium to face London rivals Saracens on Saturday, February 18.
Harlequins Starting XV 1. Hannah Sims 2. Amy Cokayne (cc) 3. Chloe Edwards 4. Rosie Galligan (54) 5. Kaitlan Leaney 6. Katy Mew (58) 7. Emily Robinson 8. Jade Konkel-Roberts (15) 9. Emma Swords (46) 10. Emily Scott (cc) 11. Abby Dow 12. Bella McKenzie 13. Lagi Tuima 14. Ella Amory 15. Ellie Kildunne (58)
Impact Players 16. Rosie Dobson 17. Sheree Cooper 18. Hannah Duffy 19. Lenaig Corson (58) 20. Sarah Bonar (54) 21. Lucy Packer (46) 22. Beth Blacklock (58) 23. Emily Chancellor (15)