Harlequin's Care and Co run riot at Big Game 14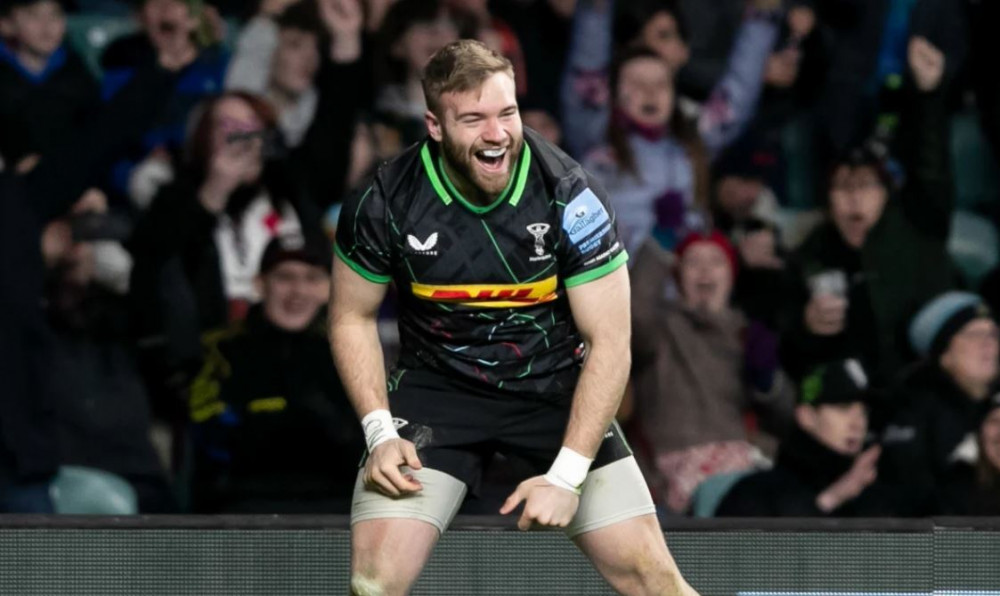 Harlequins men's team returned to winning ways in emphatic form at Big Game 14 over the weekend. Credit: JMP/Juan Gasparini for @harlequins.
Harlequins 40 – Exeter 5
Harlequins men's team returned to winning ways in emphatic form at Big Game 14 over the weekend, with the team climbing up the Galagher Premiership table to establish themselves in sixth place, with a game in hand to come.
Ever the entertainers, Quins kicked off against Exeter following a bouncing performance from headline DJ act Faithless in the middle of the pitch. Retaining the tempo that Sister Bliss has set, Quins ensured a dramatic start, with a yellow card for Josh Bassett and a try for Cadan Murley all coming within the first ten minutes.
Retaining a clean sheet during Bassett's time in the bin for a deliberate knock-on, Quins saw a swap in advantage as Exeter's fly-half Harvey Skinner was shown a yellow of his own for a high shot on Quins flanker James Chisholm.
With the wind very much at their backs, Harlequins pressed their advantage and didn't look back, with tries for Bassett, Sam Riley and Joe Marchant securing the bonus-point and a 26-0 lead at half-time.
Riley's score in particular was worthy of wide applause, with Care displaying audacious skill to send an offload out the back of his hand whilst being dragged into touch by the corner flag. The ball seemed to levitate over the line, heading towards the ground in slow motion as Riley dived to gather the ball inches from the turf for the score.
While Exeter did strike back with a try for hooker Jack Innard at the start of the second-half, Quins roared back into fifth gear, running in another 14 unanswered points via a second Marchant try and a score for skipper Stephan Lewies - displaying his physicality over the line against three Exeter defenders - to reach the 40 points for the day.
Sat two points behind fifth-place London Irish and four points behind Leicester Tigers and Northampton Saints in third and fourth respectively with a game in hand, it's all to play for, with Bristol away this Sunday the next chance for Quins to climb up the table.