What's on in Kingston this weekend

Unexpected Twist at Rose Theatre is a number of eye-catching events taking place in Kingston this weekend (Credit: Rose Theatre)
Welcome to your weekly what's on in Kingston.
Every Thursday we round up all the eye catching events occurring in your area over the weekend.
Read on for Kingston's not to be missed outings this week, and remember, you can add your FREE event using the Nub It button!
Wednesday, March 15th - Sunday, March 19th
Unexpected Twist is the re-telling of the Charles Dickens classic, Oliver Twist, by one of the best-loved figures in the children's book world, Michael Rosen. Combining two stories in one; Rosen's story and the Dickens classic that inspired it. Two stories that twist together, unexpectedly!
Shona and her class are studying the book, Oliver Twist. She's the new girl in school and is finding it hard to stay out of trouble – much like Oliver himself! When she's given a new phone by a stranger, she begins to suspect there's something unusual about the new boys she's met.
This thrilling production is brought to vivid life by The Children's Theatre Partnership, whose shows have included Animal Farm, Holes and The Jungle Book. Directed by James Dacre (2020 Olivier Award nominated Our Lady of Kibeho), Rosen's novel is adapted for the stage by BAFTA award winning playwright Roy Williams with original music by rising R&B star Yaya Bey and BAC Beatbox Academy's Conrad Murray.
Friday, March 17th
Welcome to the home of Kingston's original and longest running comedy night.
A night of irresistible improv comedy from some of London's finest players. Kickstart the weekend with a razor-sharp, spontaneous, brand new and never-to-be-seen-again show that will leave you saying, like after ALL the best nights out, "you really had to be there…"
You'll be asked for suggestions which will be turned into unforgettable scenes, characters, and songs, all made up right there on the spot. Had a particularly eventful night out recently? They might just ask you about it…
17th March - Pete Firman, Jenan Younis, Daisy Earl and Jonathan Elston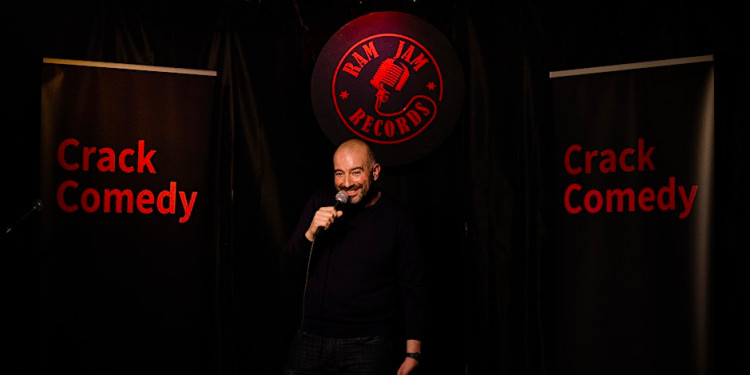 A night of irresistible improv comedy from some of London's finest players awaits in Kingston tomorrow night.
Saturday, March 18th
A fun and free Saturday Art Club at the Stanley Picker Gallery for children ages 7-11 awaits this Saturday.
Parents are encouraged to drop their children off and return at the end of the session, to see what has been going on and visit the exhibition together.
The sessions will be led by a team of Kingston School of Art students and alumni, and complement the gallery's programme, which this term is Daniel Shankens exhibition, The Cascades, a multi-channel installation focusing on networks of information that run in the background of our lives, filtered and curated by intelligent algorithms.
Young artists will delve into the themes of the exhibition in fun and engaging ways – combining interactive games, making, drawing, and discussion – as they explore the practice and processes of contemporary artists, learn new techniques, and have the opportunity to contribute to a special participation showcase at the end of term!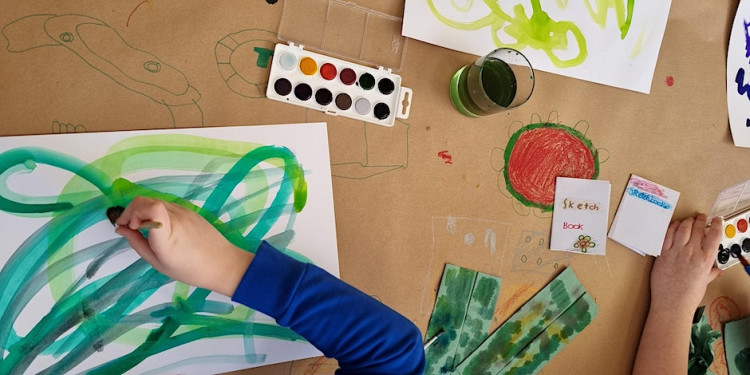 A fun and free Saturday Art Club at the Stanley Picker Gallery for children ages 7-11 awaits this Saturday
To celebrate the release of the new album 'Tell Me I'm Alive', All Time Low return to Kingston to play an acoustic set at Pryzm, and due to incredibly high demand, Banquet Records have added a second show for eager fans!
The band played Reading and Leeds mains stage in 2022, have over 94 million streams in the UK alone, with previous albums 'Wake Up Sunshine' charting at #3 and 'Future Hearts' at #1 in the UK.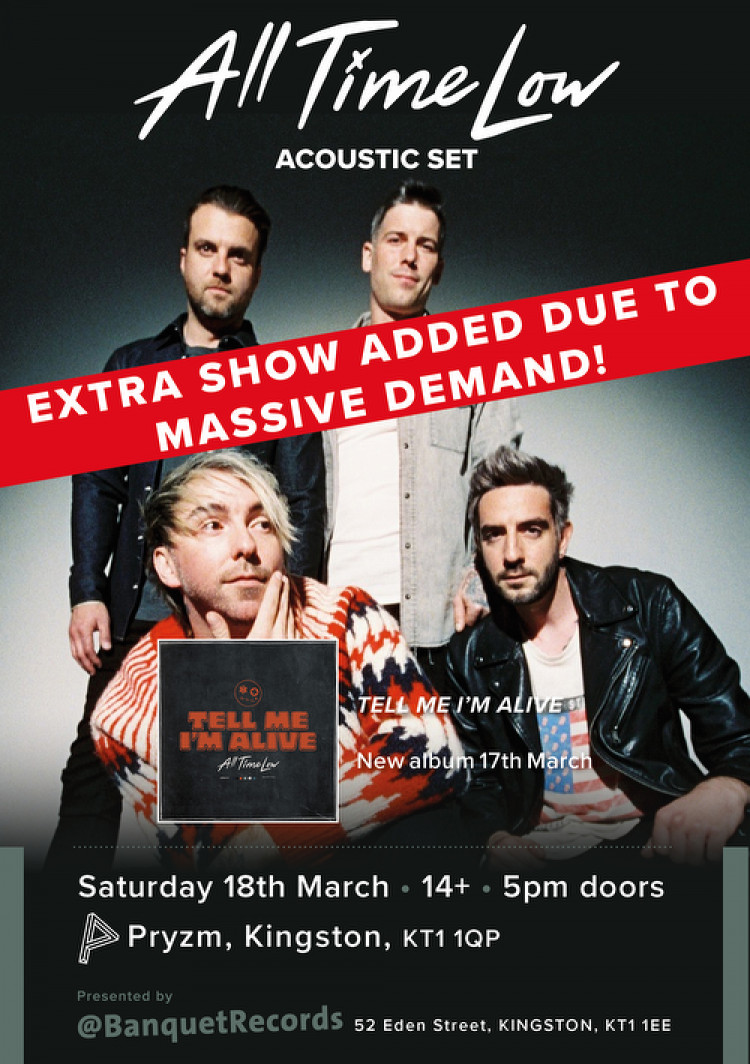 All Time Low head to Kingston this weekend (Credit: Banquet Records)
Woodblock printing is one of the oldest and simplest methods of textile printing, and one that has changed very little over the last few centuries.
Join Not My Beautiful House and learn all about the Woodblock printing technique, led by Kingston-based artists Noa Alvarez and Zoe Thomas.
This workshop will explore the art of block printing, guide you in finding your colour palette, help you work on pattern ideas and teach you how to print using wooden blocks including different printing techniques, such as two-colour printing and pattern repeats.
At the end of the workshop, you will be able to print onto a cotton tea towel to take home. (This will need to be ironed at home to permanently set the print).
This workshop is suitable for all levels, but you will need to be over the age of 18.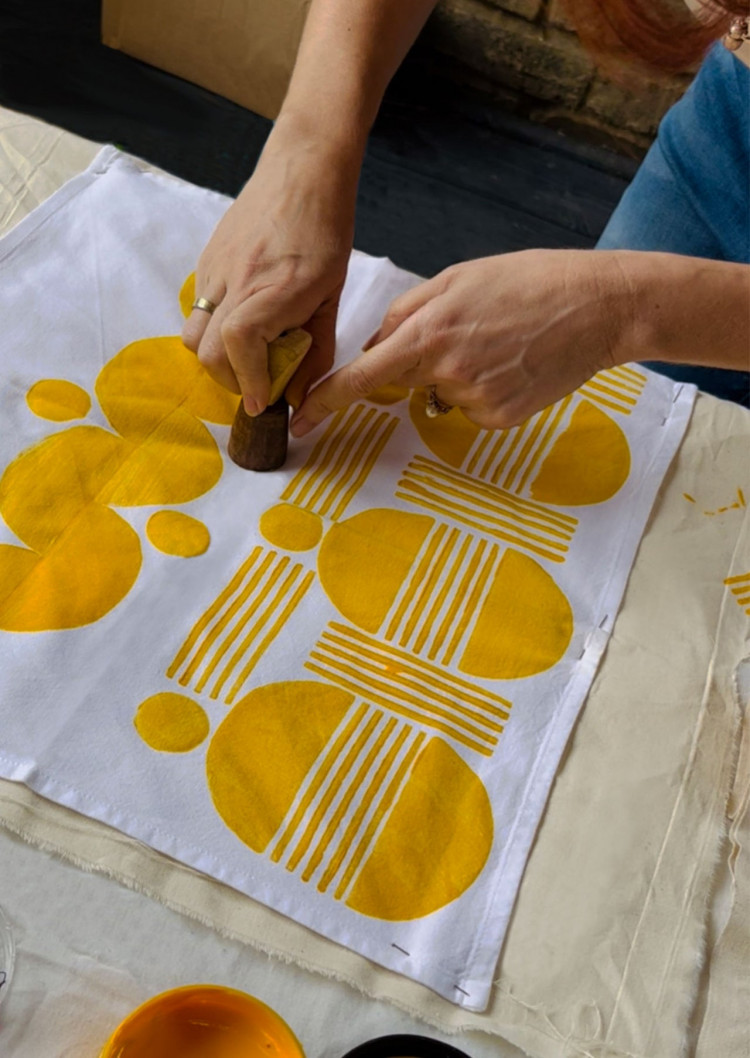 Join Not My Beautiful House and learn all about the Woodblock printing technique, led by Kingston-based artists Noa Alvarez and Zoe Thomas (Credit: Not My Beautiful House)