Old brewery site in Kingston town centre by River Thames could finally be transformed into 'special place'
By Charlotte Lillywhite - Local Democracy Reporter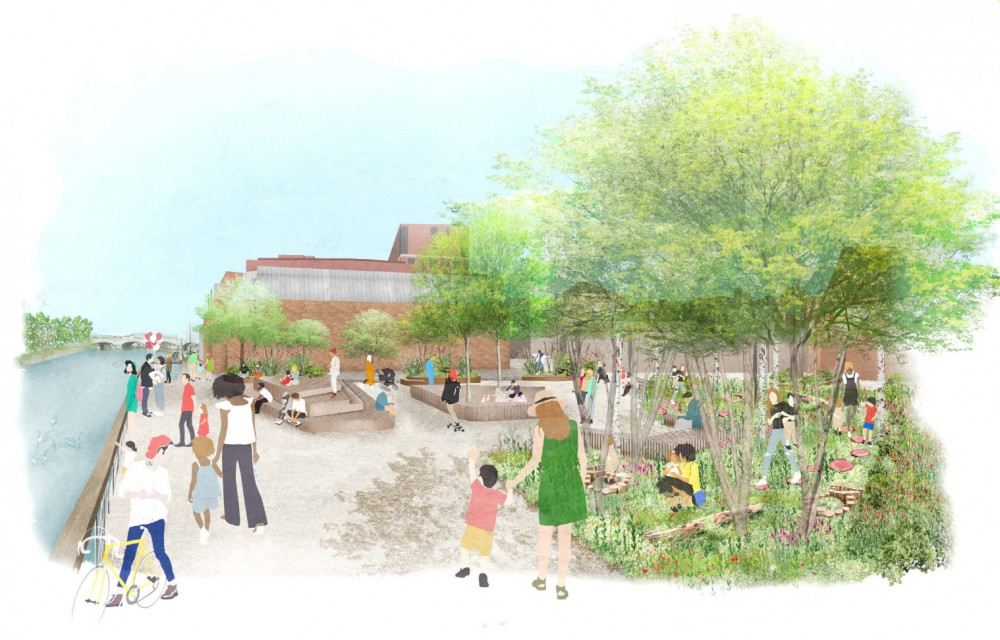 Sketch view of design option 1 with railing (Credit: Farrer Huxley)
An old brewery site next to the River Thames in Kingston's town centre could finally be transformed after previous work on redesigning the area started in 2020. Proposals are being brought forward to turn Eagle Brewery Wharf in Kingston into a 'special place' with better connections to the Thames, new seats, more plants, activities and space for pubs to use.
The area has attracted antisocial behaviour in recent years, which led to a public spaces protection order being slapped on the site in September 2020. The order includes a ban on noise from loudspeakers between 9pm and 8am, drinking booze after being asked not to do so by an enforcement officer, as well as urination and defecation at the site. The order is due to expire on September 8 this year – with Kingston Council proposing to renew it for another three years.
The council is also working with Kingston First, the town centre's business improvement district, to redesign the area. Architects Farrer Huxley are taking the project forward and have published sketches of design options for the site, after previous work by the council and Kingston First in 2020 and 2021.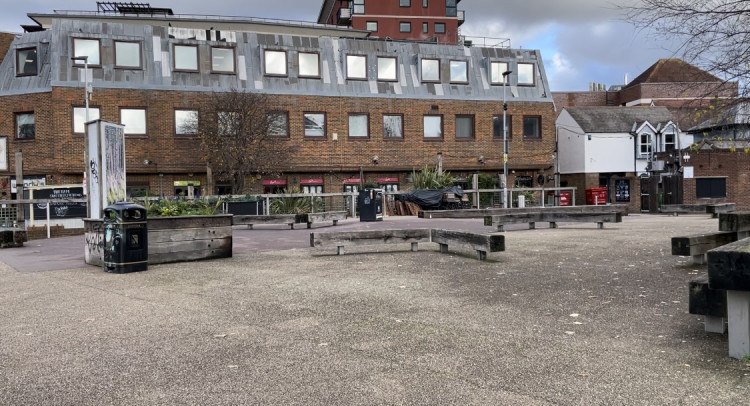 Kingston Council and Kingston First are working on a project to transform the Eagle Brewery Wharf into a place where 'everyone can unwind, enjoy and connect with nature' (Credit: Kingston Council)
The proposals include replacing the raised river wall with a railing for better views of the Thames and Hampton Court Park, along with adding seating islands at the heart of the site, more plants at the edge, new routes through greenery and different types of seating for quieter and livelier areas. A potential licensed area for pubs to use, with this to be explored further, and space for a kiosk or coffee cart are also included.
An alternative approach would see the raised river wall removed and steps with integrated timber seating facing the Thames built. This option is subject to funding and discussions with surrounding residents, particularly those who live on boats along the river. The private jetty would be kept as the steps would not reach all the way to the water's edge.
The scheme also aims to bring different activities to the area. The council is asking for feedback on what residents would like to see – including small daytime events, sports, pop-up exhibitions and family picnics. A survey on the proposals is open until June 3, with the next public engagement event planned for July.
The target start date for construction is set for December 2023 to January 2024, according to council documents, with the completion of the project by summer 2024.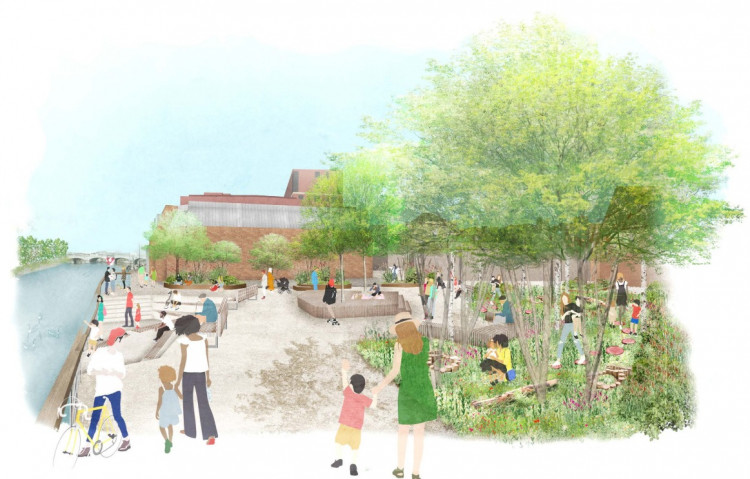 Sketch view of design option 2 with timber seating (Credit: Farrer Huxley)
Lib Dem councillor Alison Holt, portfolio holder for economic development and regeneration, said: "We have committed to improving Eagle Brewery Wharf for a number of years, and with mental and physical wellbeing now more important than ever, we are proud to be delivering a space that everyone across the borough will be able to enjoy for many years to come.
"It is great to be able to provide relaxing and accessible spaces that improve our access to the river and attract people into Kingston. We look forward to hearing local feedback, and working with the design team to ensure that these spaces deliver for all."
Kirsten Henly, chief executive of Kingston First, said: "This is a fantastic project to transform a unique space on Kingston's riverside into a place for everyone to access, enjoy and experience.
"Following feedback and engagement with local businesses, residents and visitors we've got plenty of ideas to build on and take forward into this next phase of development. I'm looking forward to working with the community to really make Eagle Brewery Wharf a special place and I encourage everyone to get involved."