New creative space for young people in Kingston officially opened by Duke of Edinburgh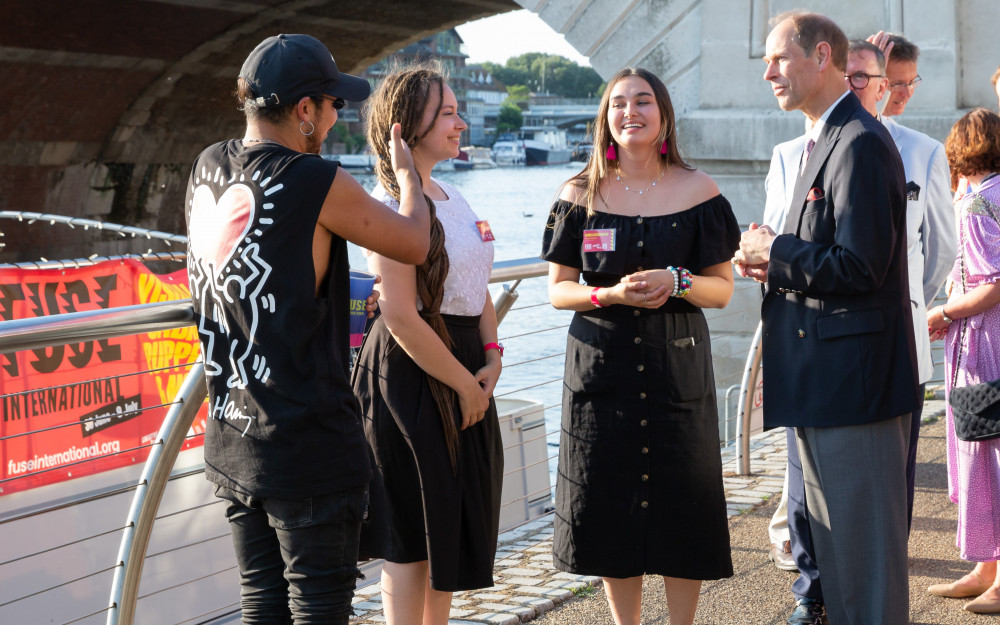 FUSEBOX has been officially opened by HRH the Duke of Edinburgh (image by Kingston Council)
A new space for creative young people in Kingston has been officially opened by HRH the Duke of Edinburgh.
Located on Kingston's riverside, FUSEBOX was developed by Creative Youth in partnership with Kingston Council.
The space features areas for performance, exhibitions, creative practice, socialising, co-creation and more.
Situated underneath John Lewis department store, around the footings of the original 12th Century Kingston Bridge and the remains of a medieval undercroft, the space has been carefully renovated.
Kingston Council said FUSEBOX will be a "vibrant" new cultural centre for the area, a place where residents, local young people and communities can "immerse themselves in creativity" and one that will also drive employment and training opportunities.
Leader of the council, Cllr Andreas Kirsch, said: "We are proud to collaborate with innovative, local organisations like Creative Youth to bring spaces like this back to life, to embrace and promote the creativity of the young people living and studying in the borough.
"We are committed to ensuring our children and young people have a fairer start in life, and reinvigorating places within the borough to help develop new skills, spark imagination and create opportunities are crucial to that aim.
"FUSEBOX has rapidly become another special part of our vibrant and diverse cultural offer in Kingston town centre, and is an amazing addition to our beautiful riverside. It showcases our ambition to place Kingston's unique history and heritage at the heart of our regeneration, and create inclusive spaces local people value."
His Royal Highness the Duke of Edinburgh, who is President of Creative Youth, unveiled a commemorative plaque at the opening event on 7 July, attended by patrons and supporters of the charity as well as representatives from the Greater London Authority and the Royal Borough of Kingston.
The council's support for this space and organisation has been vital to make FUSEBOX possible.
In the next few days after official opening, FUSEBOX hosted performances as part of FUSE International, Creative Youth's annual festival of performance.
The development of FUSEBOX forms part of Kingston Council's wider plans for improving the riverside area, following engagement with local people and businesses.
With funding from the Greater London Authority, the council has delivered the first phase of plans to improve this stretch of the riverside.
The project will include removal of the raised planter beds to provide better access for all.