Kingston University students to benefit from Foundation bursaries aimed at supporting young people from Black African and Caribbean backgrounds succeed in property industry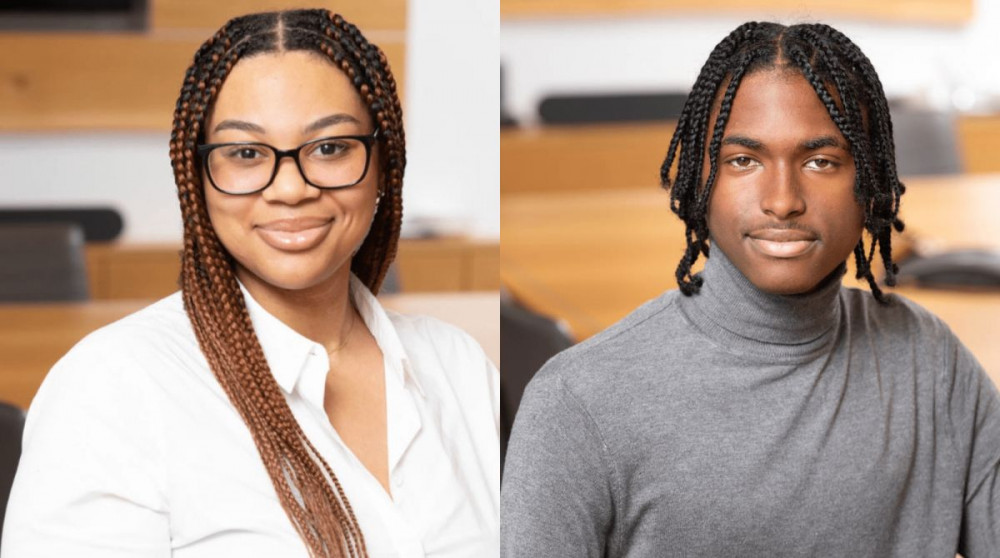 Kingston students Paris Ogunshakin and Deyjohn Mcpherson-Auguste (Credit: Kingston University)
Two real estate management students will receive support throughout their degrees at Kingston University thanks to awards from not-for-profit initiative and registered charity the Chancerygate Foundation.
First year students Paris Ogunshakin and Deyjohn Mcpherson-Auguste will receive £10,000 for each year of study as well as mentorship and work experience through the charitable scheme, set up to support students from Black African or Caribbean backgrounds to build long-term careers within the property industry. The Chancerygate Foundation, has expanded its support for students at the University, after awarding its first bursary to an undergraduate at the institution last year.
Deyjohn, from East Dulwich, South London, said his interest in real estate stemmed from experiences friends and family had with council housing in his local area. "When I was younger it just didn't seem right to me that there were families living in two bed flats with four or five children," the 19-year-old student said. "I wanted to understand how the property industry worked and when looking at real estate management it seemed a route to finding a way to make an impact on solving some of the housing issues communities face."
The mentorship provided through the Chancerygate Foundation has helped Deyjohn with his academic studies. "I've found the course really interesting so far, and my mentor has been brilliant in supporting me during the first few months at university," he said. "There's a really bubbly atmosphere at Kingston and I've formed some strong friendship groups already."
Paris, from Bromley, has also found the support from the Foundation and Kingston University hugely valuable, explaining how the opportunity to engage with and learn from leading role models as well as people on her course had been particularly inspiring. "It has been really nice to have like-minded people as role models for my career and it has been especially fulfilling to meet so many black women in prominent roles," the 19-year-old said.
"I've enjoyed the independence and meeting so many new people. The course has been really varied and I've already learned so much in just a few months."
Launched in 2020, the Chancerygate Foundation was founded to help foster a more inclusive and diverse UK real estate sector where people from Black African or Black Caribbean backgrounds can thrive and succeed. With only one per cent of the 35,306 Royal Institution of Chartered Surveyors (RICS) members who qualified in 2020 recorded as being of Black ethnicity, the foundation offers bursaries to qualifying students, allowing them to access RICS-accredited courses at higher education institutions.
The first Kingston University student to be awarded a bursary through the partnership was Oluwakemi (Kemi) Omoyele. Kemi has now progressed into her second year of studying building surveying and is continuing to receive mentoring and support from Chancerygate Foundation.
Director of the Chancerygate Foundation, Amanda Walker, was delighted to have been able to expand on their partnership with the University this year. "Paris and Deyjohn are both well prepared, focused and driven by the strong desire to study real estate and we're really looking forward to working with them to support their journeys into the industry," she said. "Partnering with Kingston University allows us to help students get the most from their educational experience, through financial support and by appointing mentors from within the profession to help guide them with their business knowhow and experience."