Kingston School of Art graduate wins Sky Portrait Artist of the Year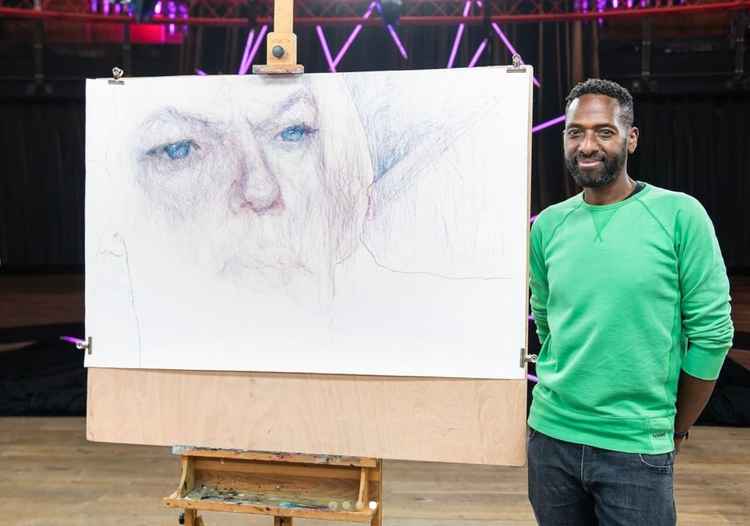 Curtis Holder with his portrait of Eddie Izzard (Credit: @KingstonUniversity on Instagram)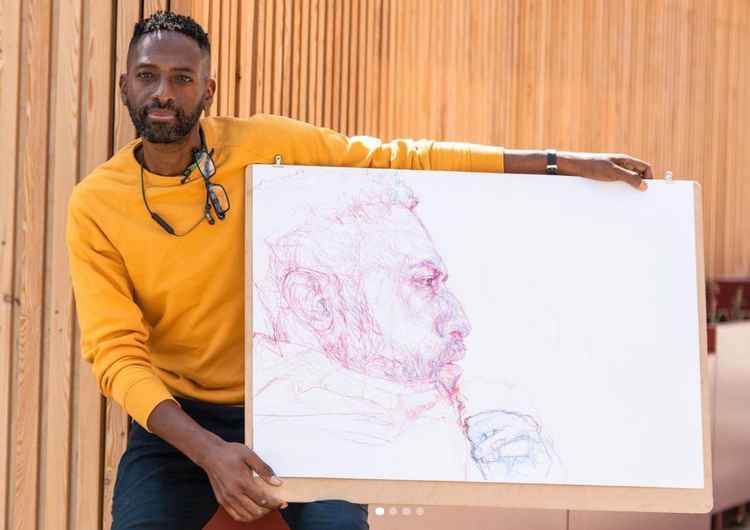 Curtis Holder with his own self-portrait (Credit: @KingstonUniversity on Instagram)
Former student at Kingston University's School of Art, Curtis Holder, made Kingston proud when he won Portrait Artist of the Year on Sky Arts at the end of 2020.
The KU alumni beat out more than 1,000 talented artists to earn the top spot and took to social media on 17th December to express that he was "so honoured to be the winner".
As a black artist who is also part of the LGBT+ community, Curtis is passionate about the need for diversity in such a largely white-dominated industry.
Throughout the competition, Curtis had the opportunity to draw a number of inspirational, diverse faces of people who are pioneers in the respective fields, including British drag queen The Vivienne, award-winning author Bernardine Evaristo and legendary comedian Eddie Izzard.
The Series 7 winner was then commissioned to draw ballet dancer Carlos Acosta for the Birmingham Museum and Art Gallery, which he described as the 'opportunity of a lifetime.'
Portrait Artist of the Year judge, Kathleen Soriano, described Curtis as "a bright, pulsing light. He brings a freshness and there's something really new and exciting about what he's producing."
Curtis uses graphite and colour pencils to translate the human form onto paper, using detailed textures to tell a story about the person he's depicting.
The artist views drawing as an instinctive form of expression, using his pencil to observe life. Before he begins, Curtis will start a dialogue in order to better connect with the subject and shape an idea around their emotional or mental state.
He likes to use multiple marks to create movement in response to that moment in time because "life is never still", rarely erasing lines because "they are all part of the story."
Curtis has since opened up about his experience on the show, explaining how the fast-paced nature of the competition helped him to reach new artistic heights.
"The challenge to produce each portrait in only four hours created a sense of urgency and energy that encouraged me to experiment, pushing my drawing forward in unexpected ways."
Local to Southwest London, Curtis graduated with a BA in Graphic Design from Kingston University in 1991 and later completed his PGCE in Primary Education (Art and Design) from Roehampton University in 2010.
Now, alongside his busy art career, he teaches part-time at a primary school, citing his passion for "showing children how to use mark making to enrich their creative spirit".
In celebration of LGBT+ History Month, Curtis will be donating 10% of the money made from his artwork sales to The Proud Trust, a charity that supports and empowers LGBT+ teenagers.
Visit Curtis Holder's art store HERE