Seething Wells: future of key Kingston biodiversity site debated in Parliament
By Ellie Brown - Local Democracy Reporter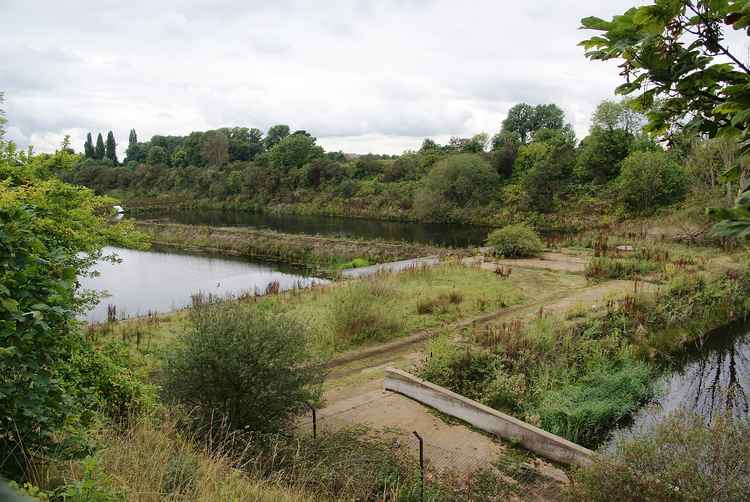 Decommissioned filter beds at Seething Wells in Surbiton, Kingston upon Thames (Credit: Bill Boaden)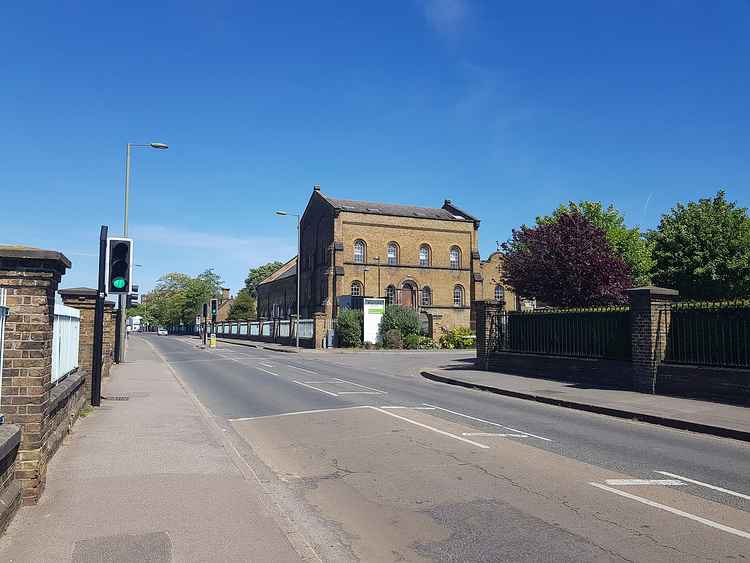 An old waterworks building in the area, now converted into a gym (Credit: Jographer)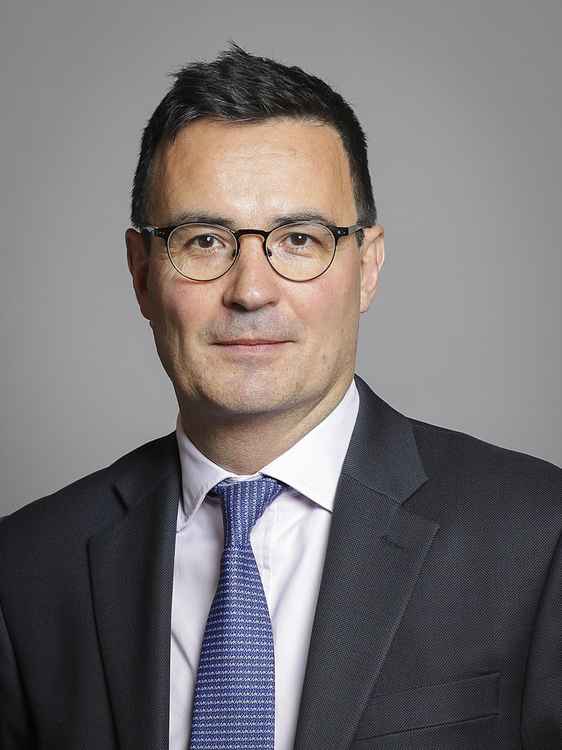 Liberal Democrat Peer and Tolworth resident Lord Jonathan Oates, who cited Seething Wells in his amendment to the Environment Bill (Credit: Roger Harris)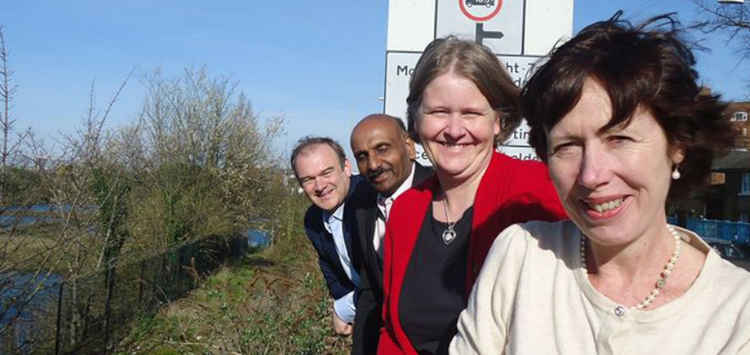 Kingston MP and Liberal Democrat leader Ed Davey (second left) at Seething Wells (Credit: Liberal Democrats)
A key area for biodiversity in Kingston upon Thames has featured in a Parliamentary debate as an example of why stronger powers for local authorities may be needed.
The historic Seething Wells filter bed site in Surbiton was used as a case study by Liberal Democrat peer Lord Jonathan Oates in yesterday's House of Lords debate on the Environment Bill as it entered its 6th day at Committee Stage last night (7 July).
Lord Oates, who lives in Tolworth, argued for several amendments to the Government-sponsored Bill which is proposing a raft of legislation relating to nature, environmental protections and biodiversity.
He proposed first that local authorities - rather than the Secretary of State - be made the default 'responsible body' for important biodiversity areas, and second, that they be given the ability to designate an area as a "site at risk of biodiversity loss" along with powers to enforce this protection.
He said: "Local authorities are on the front line in the fight against biodiversity loss.
"They have knowledge of the actual situations on the ground in the locality that the Secretary of State can never hope to have, however omniscient they may convince themselves they are."
To illustrate his case, Lord Oates spoke about the problems that Kingston Council has had in protecting the Seething Wells site.
He addressed Lord Goldsmith , Minister of State (Minister for Pacific and the Environment) and formerly the Member of Parliament for Richmond Park, who is one of the Bill's sponsors.
Lord Oates said: "I was prompted to bring all these amendments to the Committee as a result of a particular situation which has arisen in my home borough of Kingston-upon-Thames, relating to the Seething Wells filter beds site, which may be familiar to the Minister.
"It is a former Thames Water facility next to the river in Surbiton, which has significance not only for nature and biodiversity but for history, having played a key role in helping Dr John Snow prove cholera was water-borne.
"The site is designated as metropolitan open land and has been disused since its decommission in 1992. It subsequently developed into a haven for plant and animal life, including birds, bats and grass snakes.
"It is an important site for biodiversity in the borough."
"Following a number of failed planning applications over many years on the site, the current owners embarked on the widescale destruction of vegetation, destroying these precious habitats and leaving the site barren.
"The council has largely had its hands tied. It had no power to stop the owners doing what they were doing, or even to enter the site to find out exactly what was taking place.
"As a consequence, the biodiversity of this important local site has been lost. But nature could return to the site if the council was given the powers to intervene that would be provided by my amendments.
"In the context of this site, I pay tribute to the appropriately named councillor Liz Green, whose passion to protect this site inspired this amendment, and to the Seething Wells Action Group, for all its committed campaigning.
"The situation at Seething Wells is a tragedy in itself, but it is evident from local authorities across the country that many face similar challenges and similarly lack the powers to tackle them."
He added: "I hope that, in his response, the Minister will recognise the important role that local authorities can play in protecting local biodiversity if they are empowered to do so.
"I also hope that he can give me some assurance that he is prepared to consider how the Government can incorporate the intent of these amendments into the Bill.
"To that end, I would welcome the opportunity to discuss this matter with him in the coming weeks, so that we can ensure that, in future, local councils across the country have the powers to prevent the sort of heartbreaking biodiversity destruction that has occurred on the Seething Wells filter beds site and ensure that such things never happen again."
However, Lord Goldsmith dismissed the need for the amendments, stating that although he sympathised with Lord Oates' intention "powers already exist that could be used to conserve and enhance biodiversity on specific sites."
He said that national planning policy already directs local plans to identify and map areas of substantive nature conservation value and "should include policies that secure the protection of these areas from harm or loss and help to enhance them and their connection to wider ecological networks.
"Local authorities can create local nature reserves under Section 21 of the National Parks and Access to the Countryside Act 1949, designating these sites based on local importance for wildlife," he continued.
"In addition, the Bill already allows for a local authority to enter into a conservation covenant. I therefore assure the noble Lord that powers suggested by this amendment are already covered elsewhere."
He also argued that the "conservation covenants" pressed for by Lord Oates should be voluntary so there is "no compulsion on anyone or any organisation to enter into them."
He said: "It is important that this principle extends to organisations that may become responsible bodies. That is because the role of responsible bodies, which will be integral to the delivery of covenants, requires a good level of resourcing and expertise to be performed properly.
"Organisations must decide for themselves if they have the capacity to perform the function of a responsible body. It is also possible that some local authorities may not wish to become designated as responsible bodies.
"If local authorities choose to apply, like other organisations they will be assessed against our published suitable criteria and designated where they are considered suitable to fulfil the role."
But Lord Oates was not convinced by the response and despite withdrawing the amendment vowed he would come back to it "as it is such a critical issue."
He said: "I was pleased when the Minister indicated that he wanted to finish this group tonight, because it would have seemed wrong to take it on to another day—but I would have been less pleased if I had known how peremptory his response would be, and how little it answered the questions that are given rise to in this amendment.
"He said that local authorities had the power to act already. I would be grateful if he would write to me and tell me under what powers Kingston Council could have entered the site to investigate what was going on and to stop the destruction of vegetation.
"If those powers exist, I would be grateful if he would share them with me. He said that local authorities already have the power under the Bill to enter into conservation covenant agreements—but that is only if they are so designated by the Secretary of State.
"So I cannot hide my disappointment in his response."
Speaking ahead of yesterday's debate, Councillor Liz Green, Councillor for St Mark's ward, said, "Local residents are united on the fact that current owners are destroying the Filter Beds.
"As Liberal Democrats, we want to see the site become a nature reserve, to protect the sites' vital biodiversity and celebrate its important role in the fight against cholera.
"We've been fighting against developments that would hurt the biodiversity of the site for two decades now and we'll continue to do that.
"Howevr, getting Parliament to grant Kingston Council the powers needed to properly protect Seething Wells will make our fight that much easier."
Ed Davey MP, Kingston & Surbiton, added, "Liberal Democrats believe that communities should be empowered to make decisions about things which affect them – including how we protect biodiversity and tackle the climate emergency. Lord Oates' amendment does just that and it has my full support.
"However, all of our work is at risk from the Conservatives' new planning bill, which would see developers let loose and able to build over important environmental sites within the borough, including Seething Wells. I, and other Liberal Democrat MPs, will continue to oppose these changes and ensure that local communities are not cut out of the planning process."
What are Seething Wells filter beds and why is there a campaign to protect them?
Seething Wells filter beds are located on Portsmouth Road in Surbiton and form part of the old Victorian waterworks in the area.
The waterworks, built between 1848 and 1856, have a historic importance as they provided evidence to Dr John Snow that London's cholera outbreak was water based.
In 1992 Thames Water mostly decommissioned the waterworks and many buildings were converted into residential or leisure facilities, but 7 of the filter beds remained.
These have become a haven for nature and the site has several protections including being part of the South Riverside Conservation Area, designated Metropolitan Open Land and a Site of Interest for Local Nature Conservation.
Despite these protections, the site has fallen into disrepair and the area was cleared of trees in 2018.
In addition, the site's owners Cascina Limited have submitted several planning applications since 2012.
These have been rejected by the Council, including last year a retrospective application to use the site as industrial storage.
A petition by Green Party Councillor Sharron Sumner calling for more action by the Kingston Council and MPs has attracted almost 10,000 signatures.
But Kingston Liberal Democrats, who run Kingston Council, have said that the demands of Sumner's petition will not lead to improved protection for the site.
Councillors in the St Marks Ward of Surbiton have set up their own petition calling on Environment Secretary George Eustace to set up Biodiversity Partnership Agreements which will give Councils more powers to deal with conservation areas.
What do you think should happen to the Seething Wells filter beds site? Let us know!