Extinction Rebellion protestors target Kingston's Barclays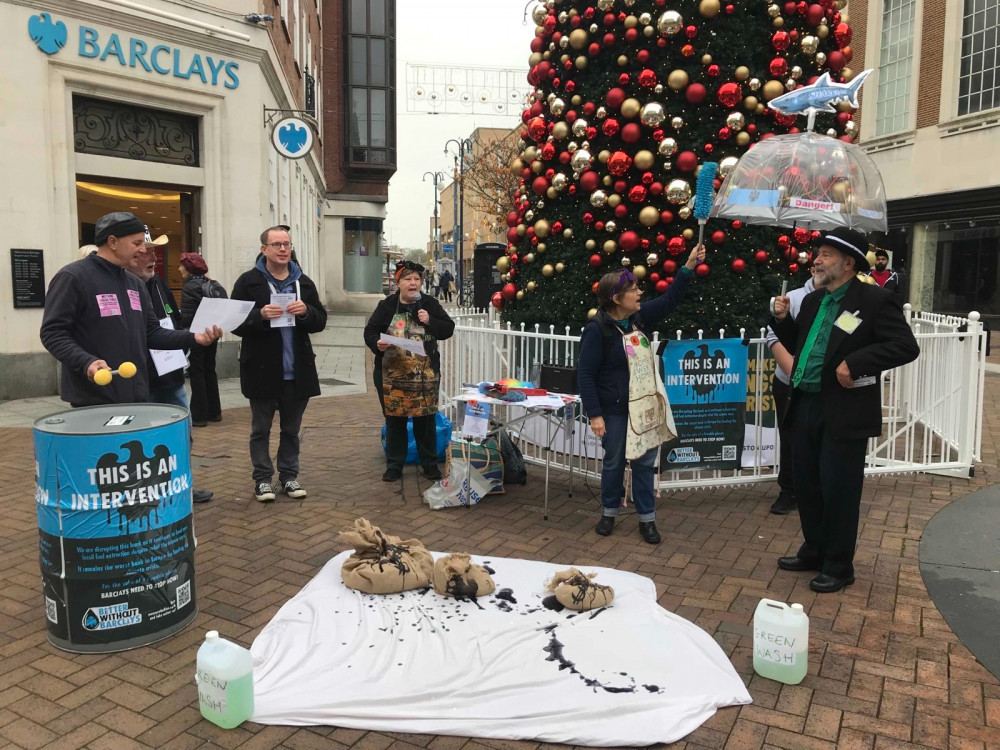 Extinction Rebellion protestors outside Kingston's Barclays bank on Monday morning.
Extinction Rebellion activists held peaceful protests outside Kingston's Barclays yesterday morning to highlight the bank's investment in fossil fuels.
Protesters used mops and dusters to stage a mock clean-up of the banks, while leafletting and singing to customers and passers by to get their message across. Their leaflet gave practical advice to anyone wanting to switch their bank account to a greener bank.
The local action formed part of a national campaign, with thousands of protestors across the UK gathering at 110 branches of Barclays.
A spokesperson for Extinction Rebellion said: "Just last week, at the opening of COP27, the UN Secretary General, António Guterres, warned, 'We are on a highway to climate hell with our foot still on the accelerator.'And the International Energy Agency tells us 'there is no need for investment in new fossil fuels'.
"Barclays claims it is committed to net zero by 2050, yet it continues to fund new gas and oil projects, investing nearly £20 billion in fossil fuels last year alone. It's easy to feel helpless in the face of such reckless disregard for the future of our children but one thing we can all do is to move our money out of 'dirty banks' like Barclays."
According to the 2022 Fossil Fuel Finance Report by Banking on Climate Crisis, Barclays is the UK's and Europe's largest financier of fossil fuels. In 2021, the International Energy Agency (IEA) concluded there could be "no new oil, gas or coal development" if the world was to reach net zero by 2050.
Since then, Barclays has invested $19.583 billion in fossil fuels and its total investment in fossil fuels since the Paris Climate Agreement in 2016 has amounted to $144.897 billion.
Speaking to ITV News yesterday morning, Barclays bank said: "We are determined to play our part in addressing the urgent and complex challenge of climate change.
"In March 2020 we were one of the first banks to set an ambition to become net zero by 2050, across all of our direct and indirect emissions, and we committed to align all of our financing activities with the goals and timelines of the Paris Agreement.
"We have a three-part strategy to turn that ambition into action: achieving net zero operations, reducing our financed emissions, and financing the transition.
"In practice, this means we have set 2030 targets to reduce our financed emissions in four of the highest emitting sectors in our financing portfolio, with additional 2025 targets for the two highest-emitting sectors – energy and power.
"We have also provided over £80bn of green financing and we are investing our own capital – £175m – into innovative, green start-ups."