Residents appeal for Thames Water to come clean over Teddington Weir 'recycling scheme'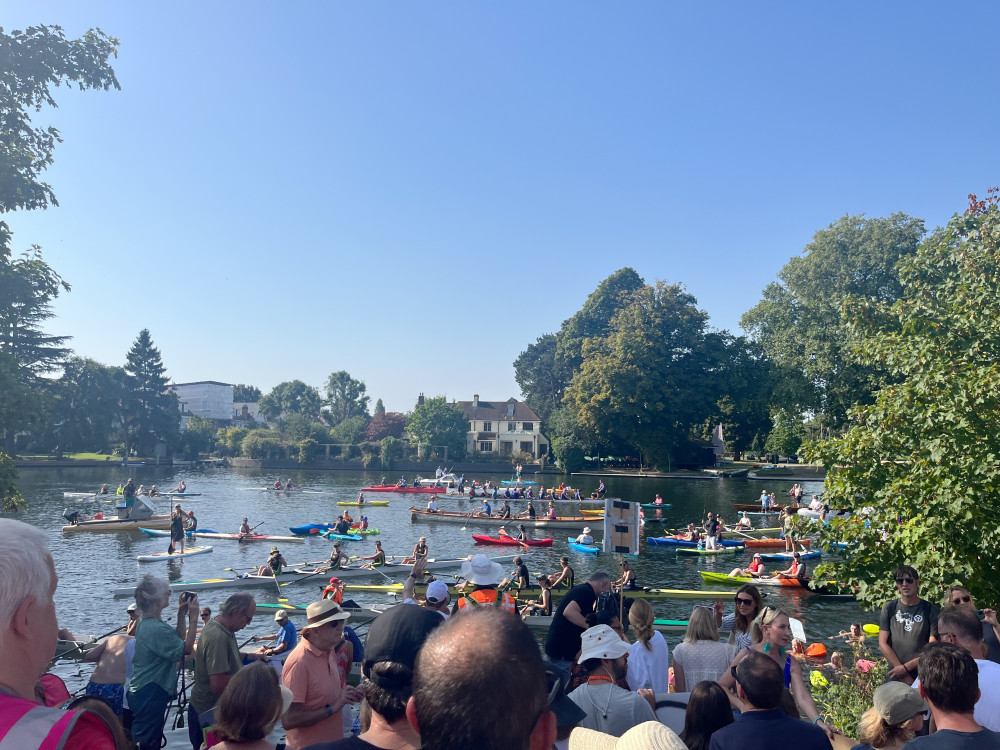 Residents gathered to protest against Thames Water's recycling scheme. (Photo: Emily Dalton)
Swimmers, boaters, rowers surfers and residents came out in force last Saturday (9 September) at the Save Ham Lands protest against 'Sewage for Water' scheme.
The proposal would see water extracted from Teddington Weir and transported through an existing underground tunnel to the Lee Valley. The water would then be replaced by treated effluent from Mogden Sewage Treatment works.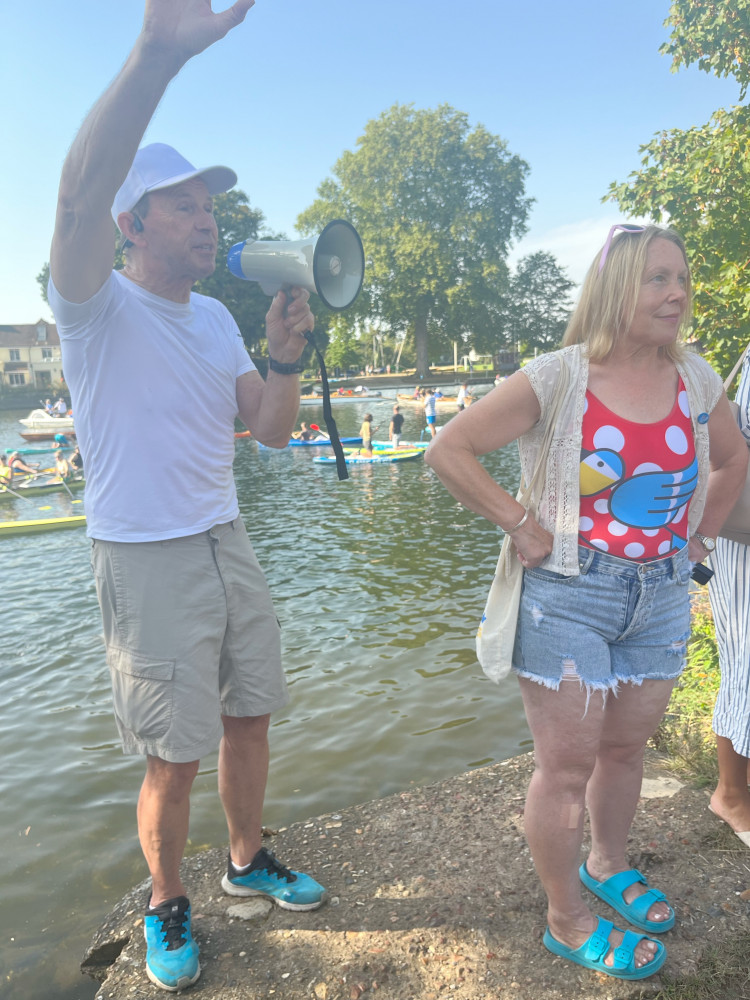 Campaigner Ian McNuff (left) and Marlene Lawrence (right) of Bluetits wild swimming. (Photo: Emily Dalton)
Representing wild swimmers in the Thames was Teddington Bluetits Founder, Marlene Lawrence said:"I understand Thames Water have to do something, but they have left it so late," she said. "This plan is wrong."
"There are other more viable more friendly schemes which Thames should look at first, which is not the quickest, cheapest solution," Ms Lawrence added.
Ms Lawrene said Thames Water representatives at the consultation reportedly said they had personally not been down to the area to see what it looks like or what it meant to local people.
"I want to show Thames Water that it is an area of astounding natural beauty with hundreds and hundreds of people who use this area every day," Ms Lawrence said.
"Families come here, rowers, paddle boarders, children play here...all in this spot where they are planning the obstruction. It's just wrong."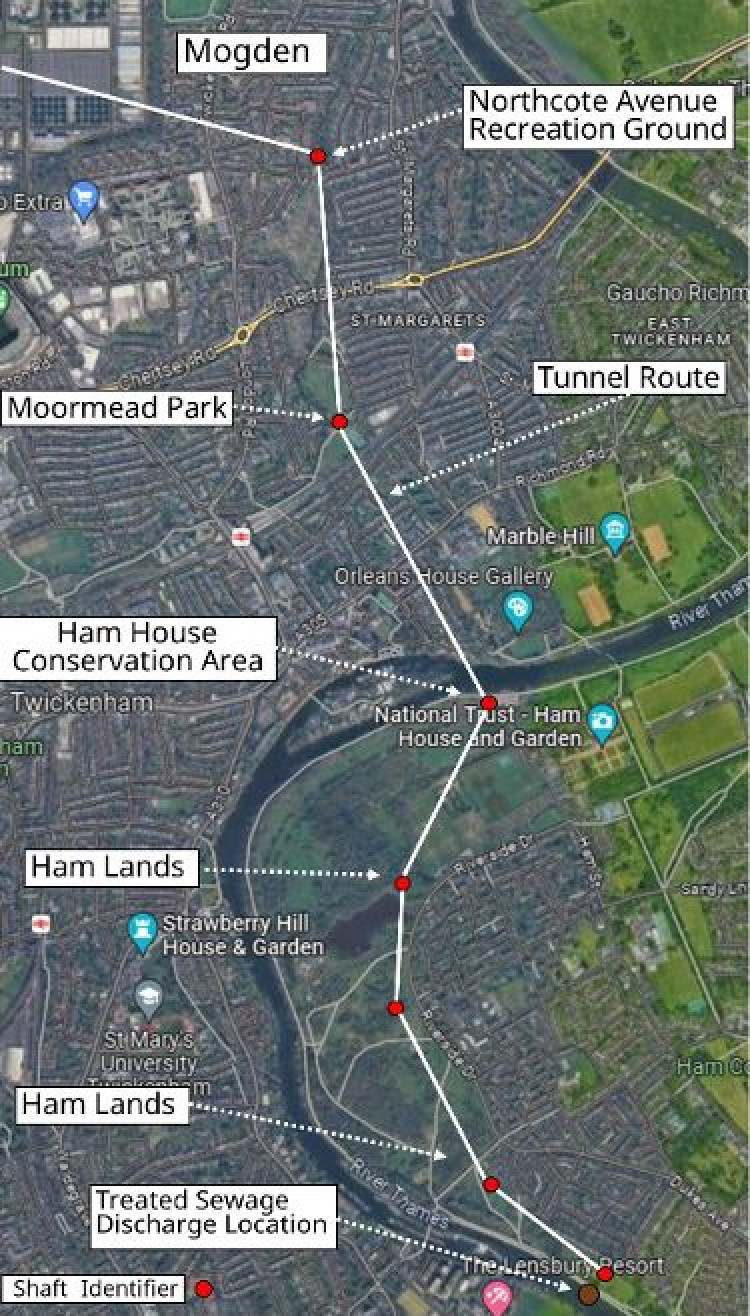 Route of the tunnel from Mogden sewage works to Teddington (Credit https://www.savehamlandsandriver.org.uk/)
Cited as a draught resilience scheme, Thames Water claims the £400mil project will provide up to 75mil litres of water a day.
However, residents argue that Thames Water already loses 630mil litres of water a day due to leaks meaning that the Teddington Scheme will only make up 11.9% of water lost. These include water lost on company and consumer pipes, as well as unmeasured consumption.
Although the company states online it will only be run during periods of prolonged drought, minutes from a consultation meeting in May 2023 reveal a "sweetening flow" is needed to keep the operation running.
A Thames Water spokesperson at the consultation said: "If you just leave water in a pipe and shut it off, it will start to get quite stale." They explained the sweetening flow is a very small proportion of water "to keep the water moving so that it doesn't go stagnant."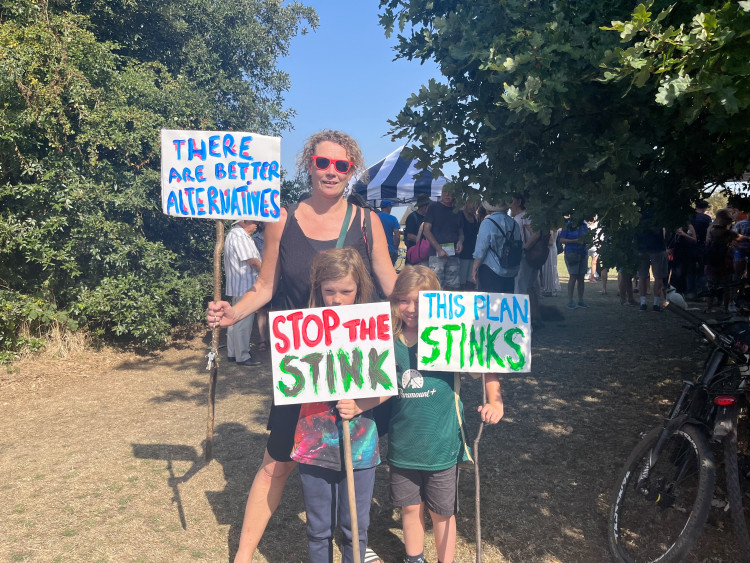 Celia (back) with her kids Woody (left) and Ned (right). (Photo: Emily Dalton)
Among the wild swimmers was mum Celia and her two kids, Woody (9) and Ned (7). "We're here to stop Thames Water," Woody said. "Our mum likes swimming in the water, and I might do when I'm older." Ned added: "We like to play in Canbury Gardens and spend time by the water."
Content designer Celia said that she comes to Ham Lands with her kids because it "doesn't feel like London...plus it's free". Commenting on the scheme, she described it as "devastating" and a "catastrophic treatment of water".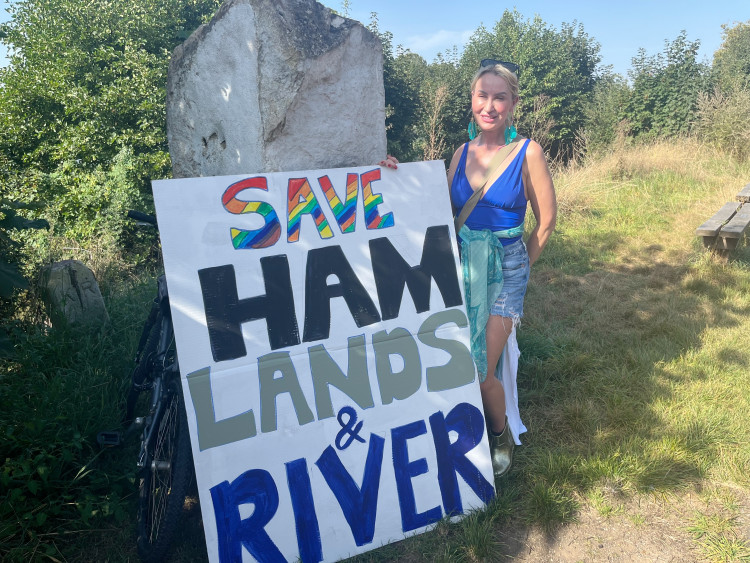 Dolly painted signs for the protest. (Photo: Emily Dalton)
Wild swimmer Dolly, who works in aesthetics said: "As soon as I heard the plans I was immediately alarmed"
Living by the river, Dolly sees the water every day and is dipping in it most days. "We'll be swimming in a host of chemicals, she said. "Chemotherapy drugs are secreted through urine, which will go in this river."
Dolly said she attended the consultation meetings earlier in the year. She described the representatives as "cagey", saying they did not know how much chemicals would be in the water.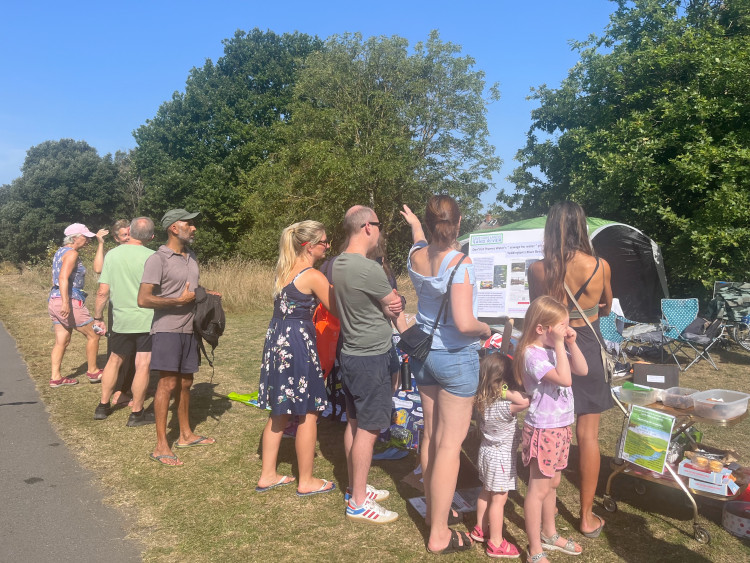 Passers-by read information about the scheme from the campaign. (Photo: Emily Dalton)
Minutes from a consultation meeting in May state that the Environmental Agency will set the conditions for any discharge or extraction Thames Water makes. The Environmental Agency said in a report issued in March: "Given that the Teddington Direct River Abstraction has not yet been shown to be feasible or environmentally acceptable, the company should ensure alternatives are progressed."
Regarding the chemicals in treated water, a spokesperson from the meeting also said: "Sewage treatment works have never been designed to take out the kind of chemicals that we're expecting them to do now.
"Things like pharmaceuticals, like pesticides, lots of other things that people dispose of won't be taken out by the sewage works or, if they will, it's incidental to its job of taking out and dealing with human waste."
Residents turn to campaigning
Nearly 26,000 people have already signed a petition against the proposal, yet Thames Water has dived ahead in submitting a revised draft plan to the government.
The campaign group Save Ham Lands has drawn together the community, not only of environmental activists, Friends of the Earth, wild swimmers- but 'ordinary' residents too.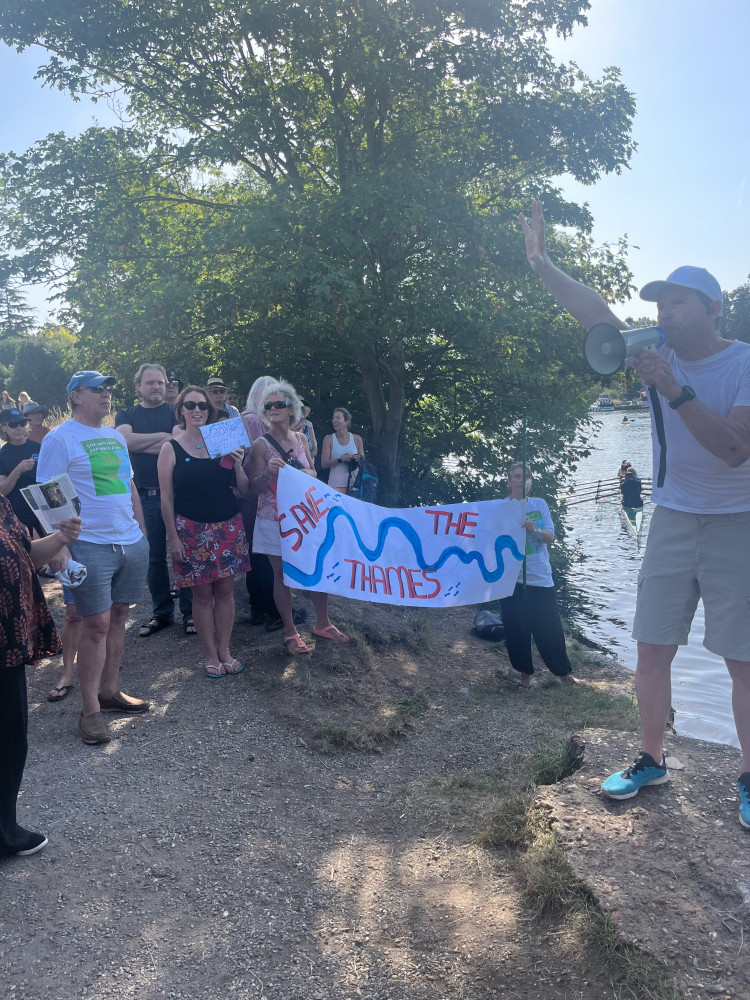 Ian McNuff (right) made a speech at the protest. (Photo: Emily Dalton)
Ian McNuff, Save Ham Lands Campaigner, said: "This is not just the local opinion, or a small group of activists, this is the public opinion."
Between 400-500 people attended the protest, with many boaters, swimmers, rowers and paddle boarders filling up the Thames. Shouts of 'Stop the Stink' and 'Save the Thames' rang out between young and old protesters.
Grace, of the RNLI, said: "We're not activists, we're just normal people."
Grace also cited Ham Lands is a conservation area, a beautiful nature reserve, under the green belt and should be protected. "Treated sewage will upset the biodiversity of the water," she said.
Save Ham Lands campaigners accuse Thames water of causing mass havoc during the three-year construction for the scheme. Eight shafts would be constructed in Ham Lands, each one the equivalent to up to half a football pitch, with 24-hour tunnelling and a total of 12,700 HGV movements.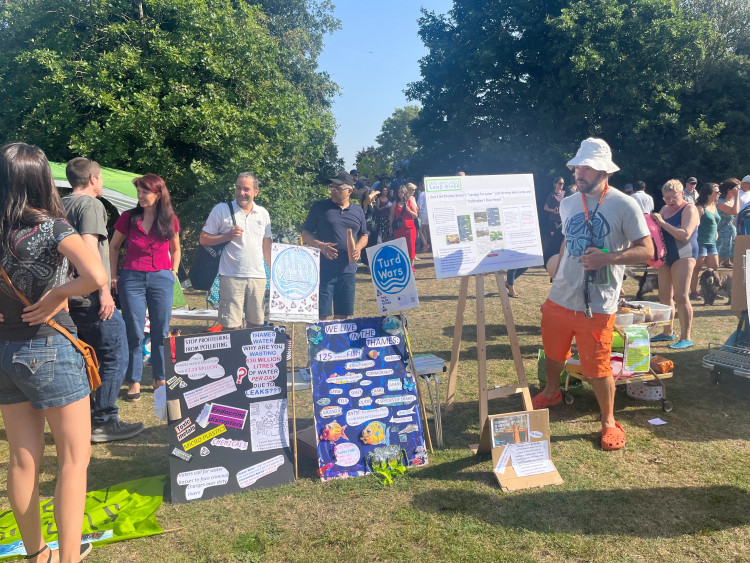 Campaigners made placards and information for the public to read. (Photo: Emily Dalton)
Cllr Katie Mansfield for St Margarets and North Twickenham represents Moormead, one of the sites where Thames Water proposes to start large tunnelling activities. "Moormead is the heart of the local community."
Cllr Mansfield explained the development will have a massive impact on the community, with cricket football, tennis, all being played there.
She also said the community has only just recovered from a huge spill which saw raw sewage seep into the park and taking it out of action for quite some time.
Cllr Robin Brown for Hampton Wick and Teddington South added: "Thames Water starts from quite a low base of trust from people."
Speaking about their ward's concerns, the pair said it was the "single biggest issue" people came to talk to them about at a recent public event.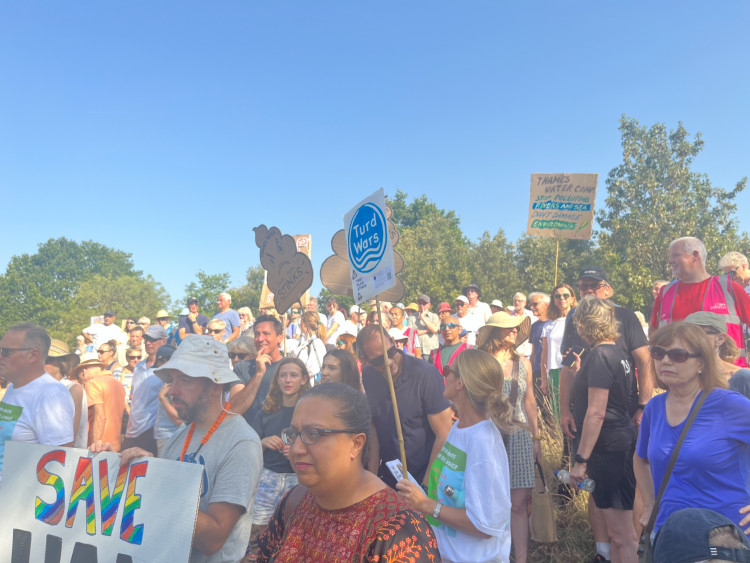 Hina Bokhari (centre-left) attended, representing the London Assembly. (Photo: Emily Dalton)
"It's not just the Thames that is becoming murky, it's Thames Water themselves"
Representing the London Assembly, the body which investigates issues affecting Londoners, was Hina Bokhari.
Despite six consultations and four pop-up events, Ms Bokhari argued: "There's still questions that haven't been answered, and that's the problem. We need to make sure that residents feel listened to."
She said: "I asked [Catherine Ros, interim CEO of Thames Water] why she had such a poor relationship with the community ad she was unaware of it. She thought they were doing a good job.
"There's a lack of transparency on their communication and the reasons for having Teddington Weir impacted by the sewage work here. There's a reason behind this that they're not telling us."
Ms Bokhari added the London Assembly environment committee will be do their own research and produce a report with recommendations.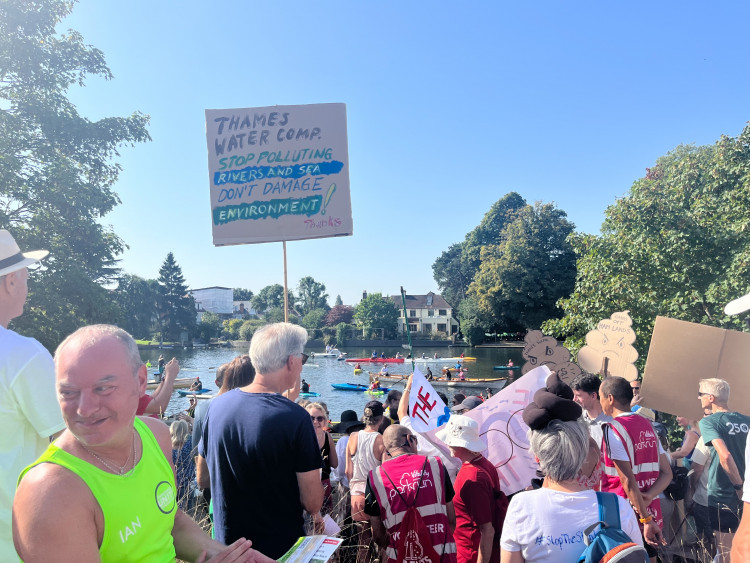 Residents, campaigners and the general public joined together to protest Thames Water's scheme. (Photo: Emily Dalton)
Teddington River Abstraction scheme and investing in leaks
A Thames Water spokesperson said: "We need to invest in new sources of water if we are to provide a secure and sustainable water supply for the future. Our work to date demonstrates that the proposed abstraction scheme in West London is a cost-effective option and our environmental studies have shown that the scheme would not cause detriment to the environment.
"We are also focused on leakage reduction and have committed to more than halve leakage by 2050, with over 20,000 km of water pipe under London and across the Thames Valley this is massively ambitious.
"However, measures to tackle leakage and to reduce customer demand for water will not be sufficient on their own. We also need to invest in building new water infrastructure, which is why we're proposing to invest in several new sources of water across the South East."
Thames Water has been contacted for further comment.