How Co-op's Community Fund supports charity organisations across Kingston borough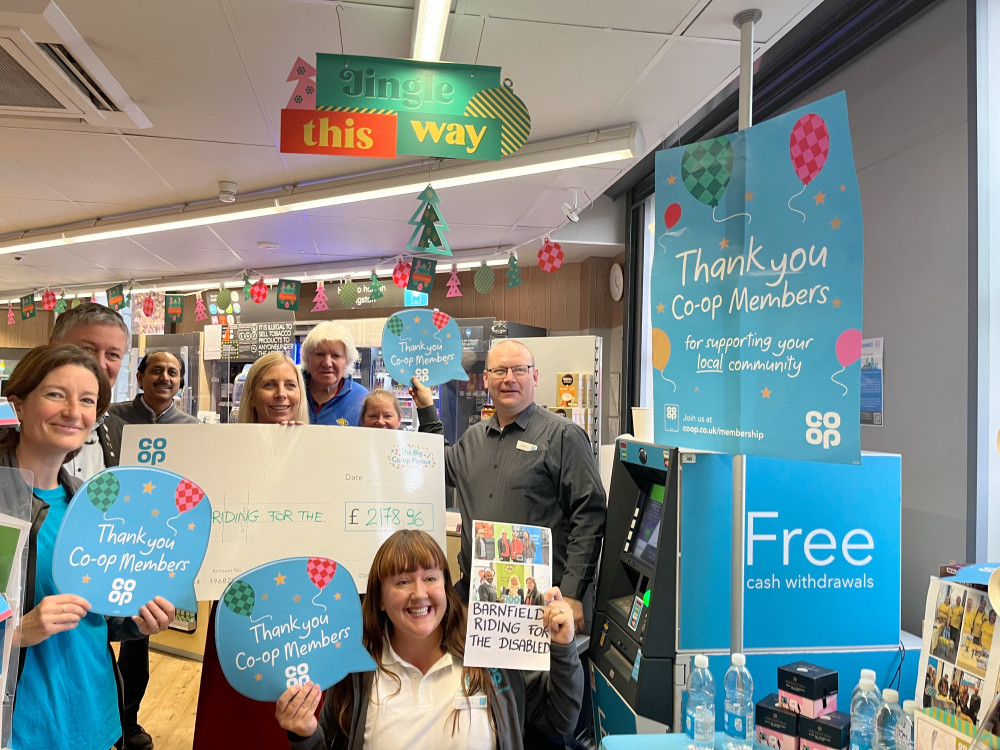 Kingston Co-op raises thousands of pounds for local charities. (Photo: Emily Dalton)
From organisations supporting young carers, providing horse-riding for the disabled, to promoting the interests of people with sigh loss, Co-op continues to play its part in lending a helping hand to key local causes across Kingston.
The retailer's Local Community Fund (LCF) is awarded annually to organisations who are deemed to serve one or more of the Co-op's pillars; providing access to food, access to well-being and providing opportunities for the young.
Every time Kingston and Surbiton Co-op members buy selected Co-op branded products and services, or every £1 spent, they will earn 2p for themselves and 2p for a local community project.
Neil Williams, Co-op Member Pioneer Manager, said: "We're owed by our membership, so profits go back to the community.
"Local members shop in store and that supports grassroots community projects."
Barnfield Riding for the Disabled (RDA), Kingston Association for the Blind (KAB) and Kingston Carers Network (KCN) were among the organisations supported by Co-op's Local Community Fund in 2022/2023 and each has gone from strength-to-strength over the course of the year.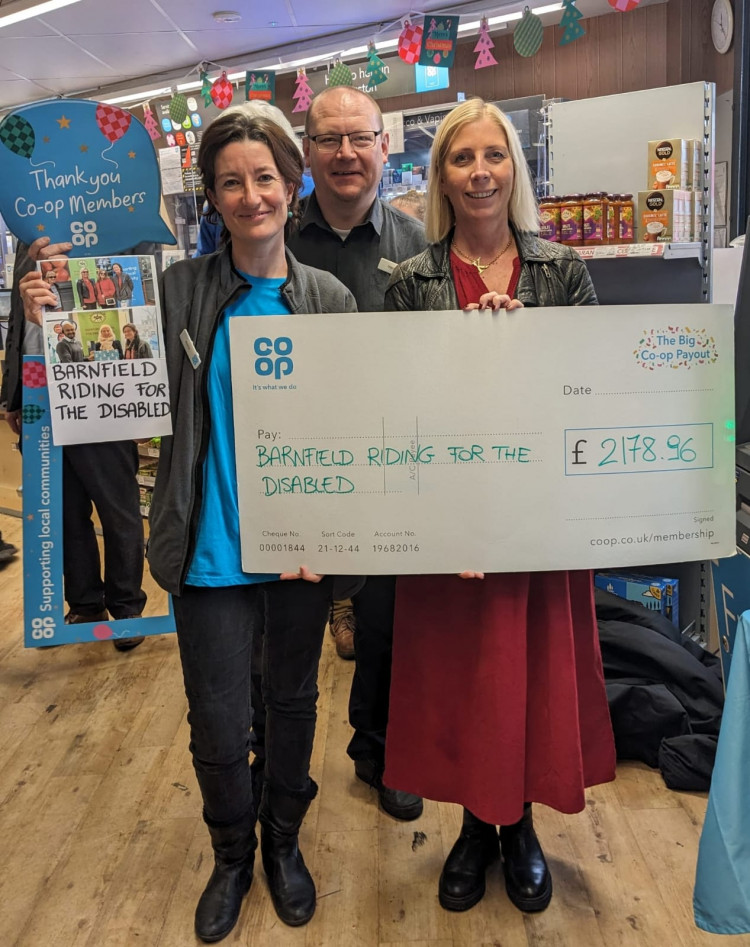 RDA said it loved working with the Co-op this year, and cannot wait to apply next May. (Photo: Emily Dalton)
Just a stone's throw away from Kingston's Co-op, on Parkfield Road, is Barnfield (RDA) which received a whopping £2,178.96.
Founded 1987, works with children and adults with physical and learning difficulties to experience the therapeutic benefits of horse-riding.
Representing the local charity was Katy Mephan, who has been working at Barnfield RDA for two years. She said: "I love seeing the improvement in the children and their riding; I love seeing the joy it brings them in their challenging lives."
With the assistance of the instructors and volunteers, riders aged between 5-60 years can experience the joy of riding and develop close connections with the ponies. While riding the horses gives visitors the physical and mental challenge, members can also just look at and spend time with the horses, enhancing their sense of touch, smell and sound.
The physical and physiological and psychological benefits contribute to a feeling of increased wellbeing, togetherness and companionship.
She said: "It's been great to get to work with [Co-op], share information and events."
"We've a very small charity which is 100% reliant on funding," Ms Mephan said. "But we've raised awareness of what we do, and we've come away with a nice cheque."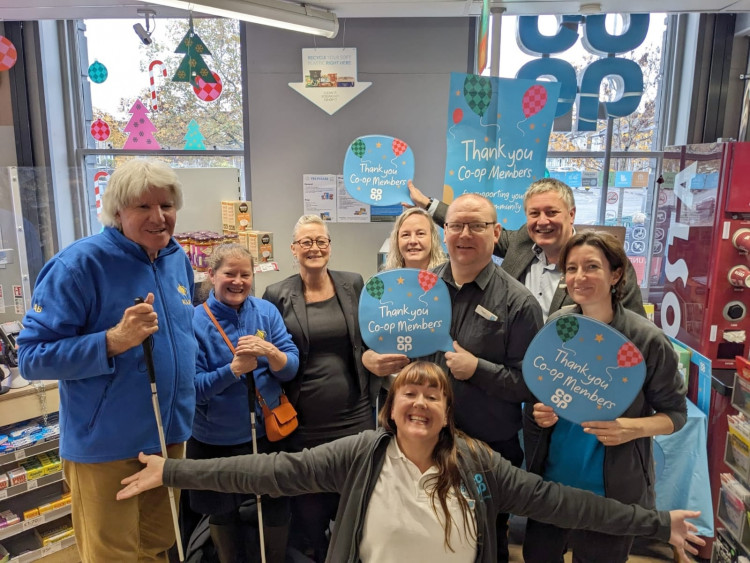 Kingston Association for the blind loved reaching out to the community with Co-op. (Photo: Anna Borsarelli)
Kingston Association for the Blind (KAB) is another local charity which the Co-op have supported this year. Launched in 1966, it has been helping blind and partially sighted people adapt to their condition and improve their quality of life.
As well as campaigning to make Kingston more accessible to partially sighted people, KAB also organise activities and outings for its members to provide social links.
Present at Co-op's charity celebration was KAB CEO Odette Battare and, Chair of the Trust, Ray Smith MBE. They received £2,078 to help the organise members events and outreach.
"We pass on tips and tricks to make life easier," Ms Battare said.
Not only looking after its members, but the charity also provides community services. Mr Smith explained how they provide retail training to workers on how to address and help partially sighted people. "You can't just say: 'It's over there'," He said. "It's not very helpful."
KAB said it is always looking for volunteers. Ms Battare said: "Even just once a fortnight- not a carer but just a little helping hand."
One of these volunteer roles include 'eye-buddies'. These friends help people, who may be housebound, by keeping them company and label food items. "Things like how to work out sell-by dates on fridge items, or how to tell apart a can of beans from a can of peaches," Ms Battare explained.
Speaking on KAB's work with the Co-op this year, Ms Battare said the association has been able to raise awareness. She said: "It's been really nice being able to get out of our offices and reach into the local community.
"Lots of people in the community are visually impaired and they don't know we exist."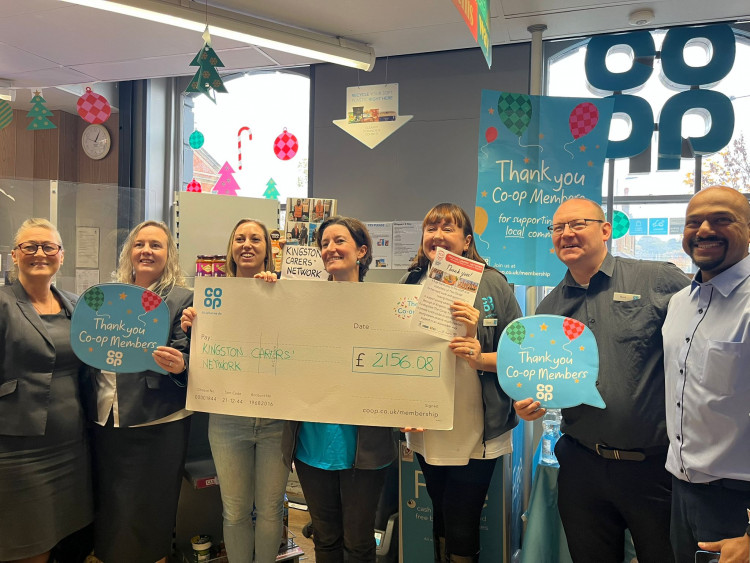 Kingston Carers received a large cheque to help fund its school lunch club. (Photo: Emly Dalton)
Kingston's Carers' Network was awarded £2,156.08. The nonprofit organisation works through the whole of Kingston borough, going into secondary schools and providing support, mentoring and fun activities to help young people break away from caring responsibilities in the home.
Picking up the check was Joanne Maye, who has been with the charity for 12 years. KCN supports people of all ages, including young people aged between 5-18. It provides independent information, advice, advocacy and support to people who care for someone living in Kingston.
The network provides lunch and breakfast clubs which provide the opportunity for young carers to meet with peers and support each other in a way that does not impact their home life.
"It enables young people to access support without anyone asking what responsibility they carry," Ms Maye added.
She said there is around 5,000 adult and young carers in the borough- and many more which are not identified. "We see young carers coming forward more and more- demand is through the roof," Ms Maye said.
"As a young carer myself the cause is close to my heart," Ms Maye said. "The money is really worthwhile and goes a long way."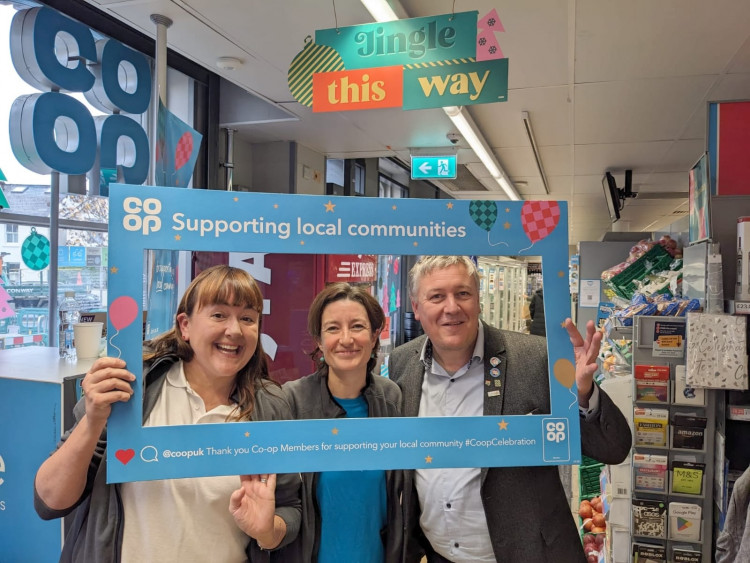 Local and regional managers of Co-op community fund. (Photo: Anna Borsarelli)
Co-op membership helps support your local community, with great rewards for you too. When you buy selected Co-op branded products and services, 2p for every pound spent goes to you and the Co-op gives the same to local communities.
New kingston Jobs Section Launched!!
Vacancies updated hourly!!
Click here: kingston jobs