Teddington Choral Society concert: Mozart Vesperae solennes de Confessore and Haydn Missa in Angustiis (Nelson Mass)
---
All Saints Church, 14-16 Market Place, Kingston, KT1 1JP
UNTIL Saturday 1st April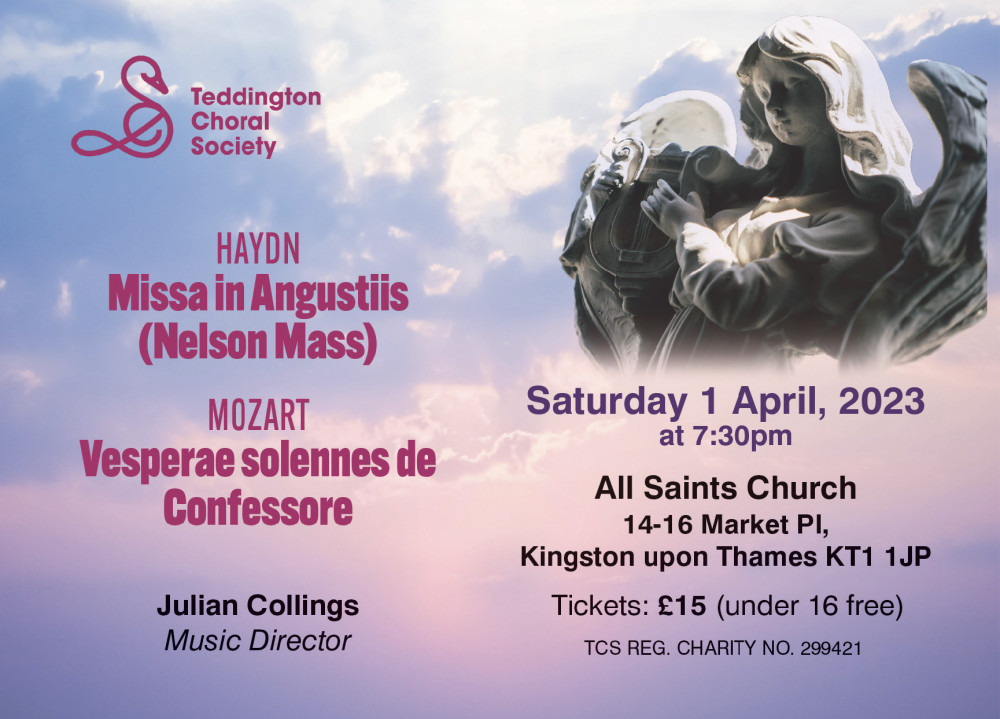 Teddington Choral Society (TCS) and its Musical Director, Julian Collings, are delighted to announce their forthcoming spring concert.
The concert will feature two powerful compositions; Mozart's Vesperae solennes de Confessore; the final choral work composed by Mozart for the Salzburg's Cathedral and Haydn's Missa in Angustiis composed in 1798 during a period of great European geopolitical turmoil. The Mass later became known as the Nelson Mass, following Nelson's victory over Napoleon in Egypt.
The choir will be joined by Soprano Lisa Swayne, Mezzo soprano Beth Moxon, Tenor Joseph Doody, Bass Gavin Horsley and The English Sinfonietta together with Phil Culling at the organ.
Tickets: £15 (under 16s free) on www.eventbrite.com (or search Teddington Choral Society).
Possibility to buy tickets at the door on the night depending on availability.
More information: www.teddingtonchoral.co.uk.
Follow us on Social Media (Instagram, Twitter, Facebook) @teddingtonchoral
Add your Kingston event for FREE here!
Nub It