Mindfulness Based Stress Reduction Course - 8 weeks online
---
19th Apr 2023 - 7th Jun 2023
UNTIL Wednesday 7th June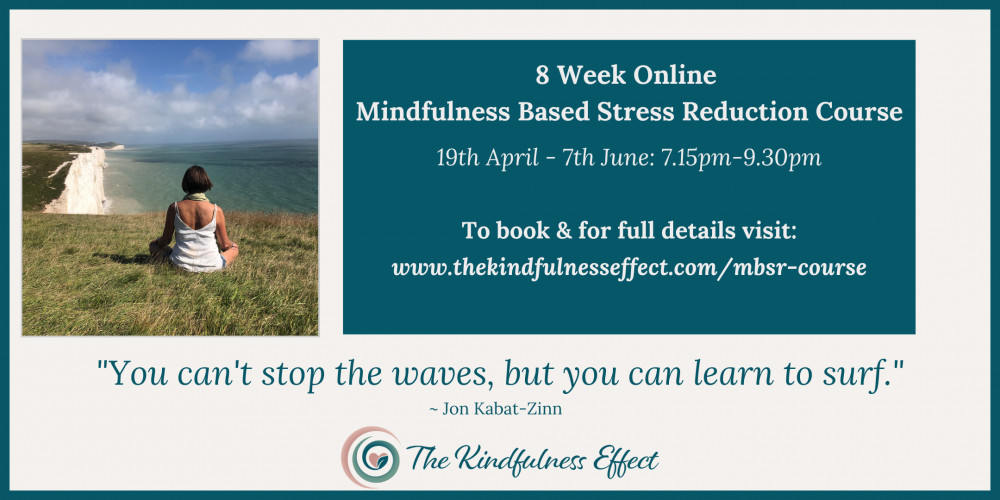 Introduction
Would you like to be better able to deal with the ups and downs of life and cope better with stress?
Would you like to be more present and focused with family, friends and at work?
Do you feel like you want to slow down , but you're finding hard with all the pressures of this strange time? Or maybe you're dealing with a health issue and would like to stregthen your mind to support your body.
How this course can help.
The Mindfulness Based Stress Reduction Course (MBSR) is a world renowned 8 week course and is the most researched mindfulness course globally , with evidence supporting its effectiveness in helping participants cope better with stress, anxiety, depression, chronic pain and deal generally with the ups and downs of life.
Mindfulness helps you gain a new perspective on things. It helps us break the ingrained habits we've formed over years of living on autopilot and allows us to step out of autopilot, to live a life of choice, to respond rather than react and to BE.
Learn and experience the power of mindfulness and meditation. Bring more balance, calm and resilience into your life. Enhance your own well-being and learn one of the most valuable life skills there is....
About the course
The course combines modern neuroscience and ancient meditation practice. I teach mindfulness in a light-hearted, engaging and practical way, with compassion at its core and so it is easily accessible and applicable to daily life.
The course is 8 weeks long and starts: April 19th - June 7th - Wednesdays @ 7.15-9.30pm.
Each session is 2hrs 15mins and builds your understanding of mindfulness week on week within a supportive and community. By the end of the course you will have developed a life skill to enhance your sense of wellbeing and create a greater sense of balance in your life
Investment - £210
You will learn the essential principles of mindfulness and simple techniques to build your personal practice, so that mindfulness becomes part of your life well beyond the course.
About me
In 2007 I was assaulted and suffered from PTSD. Prior to this I'd never really heard of mindfulness, never meditated and although I thought I had been happy, I realise now that my life was based on reacting to what life gave me, rather than being proactive and seeking out what I wanted. I wasn't living a particularly conscious life.
Through therapy I discovered mindfulness and positive psychology and a new chapter in my life began.
Having experienced the transformative effects of mindfulness in my recovery, I developed a passion for wellbeing with mindfulness at the core. I took an MBSR course several years ago and subsequently decided I wanted to teach it and share its transformational benefits with others.
Mindfulness has helped me live a more conscious, happy and fulfilled life and enabled me to deal much more effectively with the challenges that life throws at us.
Included in the price:
All meditation recordings to support your home practice
A detailed e-course pack and additional resources are provided each week to support your learning
A half day (3.5hr) silent home retreat in week 6 (optional but highly recommended!)
You will have a 30-45 minute pre-course call with me
Following the course you will get free access to the MBSR Alumni Facebook group, giving you additional resources, discounts to future courses and classes and the support of a like-minded mindful community.
You can find full details of the course and book here:
You can also contact me through my website for further details and to book:
Add your Kingston event for FREE here!
Nub It