Draw specialists Kingstonian are held against 10-man Bognor Regis
---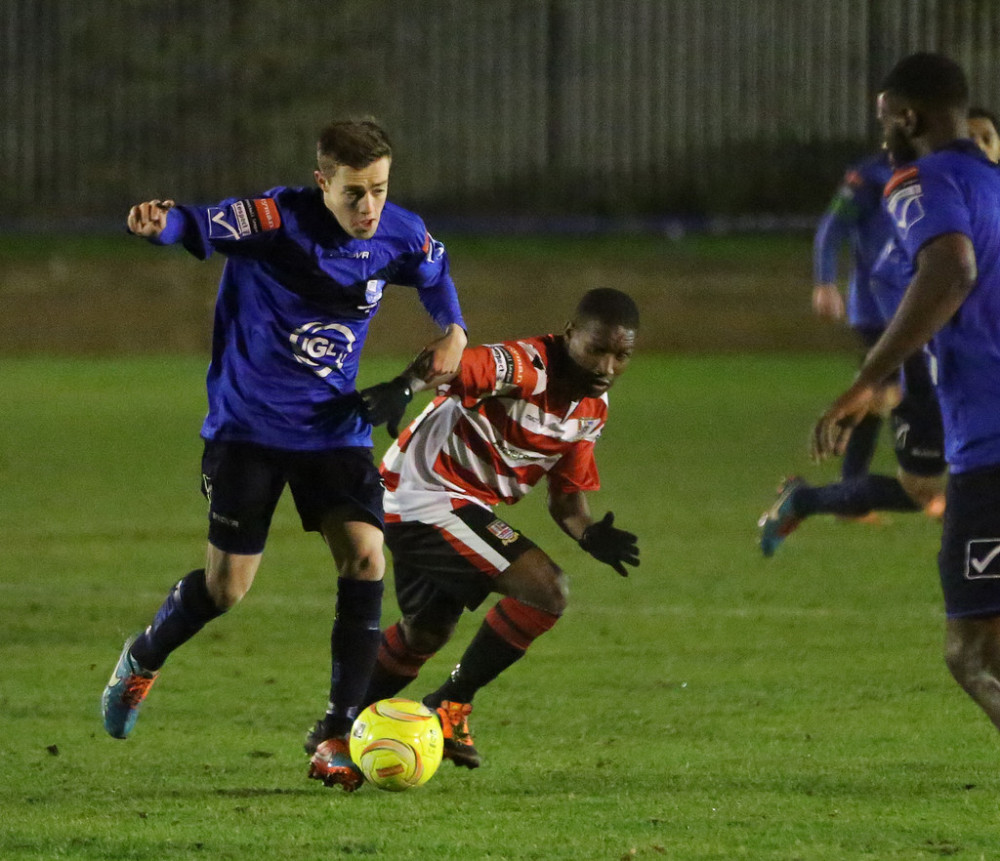 Kingstonian are held to their seventh draw of the season. Photo: Martin Addison.
Kingstonian FC were held to yet another draw, 2-2, by ten-man Bognor Regis Town in the Isthmian League Premier Division.
Bognor Regis led at half-time through a freak goal from Isaac Olayinan, before Kingstonian turned the game around with goals from Tyrese Owen and Ben Ward-Cochrane 60 seconds apart.
Leon Baker was then dismissed for the Rocks, but Sam de St. Croix levelled it up just over ten minutes from time.
The K's fifth draw from seven games leaves them in 15th but already seven points off the pace in the Isthmian League Premier Division.
Bognor Regis started the quicker of the two teams, dominating the first half and took the lead when Kingstonian failed to fully clear a ball into the box, before Olayinan seemed to try and whip a cross back into the centre and miscued it, but it fortuitous caught out Mac Chisolm and looped over him and into the net.
The Rocks would have expected to be further ahead at the half-time whistle, but went into the dressing rooms with just the one goal advantage and that is where the game swung on its axis.
A frantic one-minute period on the hour-mark saw the score line flip as first Owen struck and before anyone could fully reset Ward-Cochrane gave the Ks the lead.
The lunacy was to continue as on 65 minutes Baker saw red for a pair of yellow cards on his debut picked up two minutes apart from each other, it seemed that Bognor Regis had spectacularly blown up in the space of five minutes.
The good luck wasn't to last for the Ks as just over ten minutes from time Bognor were level as de St Croix fired home to restore parity.
In stoppage time the game seemed to implode as Corey Parchment, Kenny Beaney, and Owen all entered the referee's notebook across the seven minutes that were added on as both teams grew frustrated with the officiating.
Ending on level terms is a familiar feeling for Hayden Bird's men and they will be hoping to turn these single points into three-point hauls starting with Saturday's trip to face Bowers and Pitsea.