Berrylands residents divided over low-traffic neighbourhood
By Charlotte Lillywhite - Local Democracy Reporter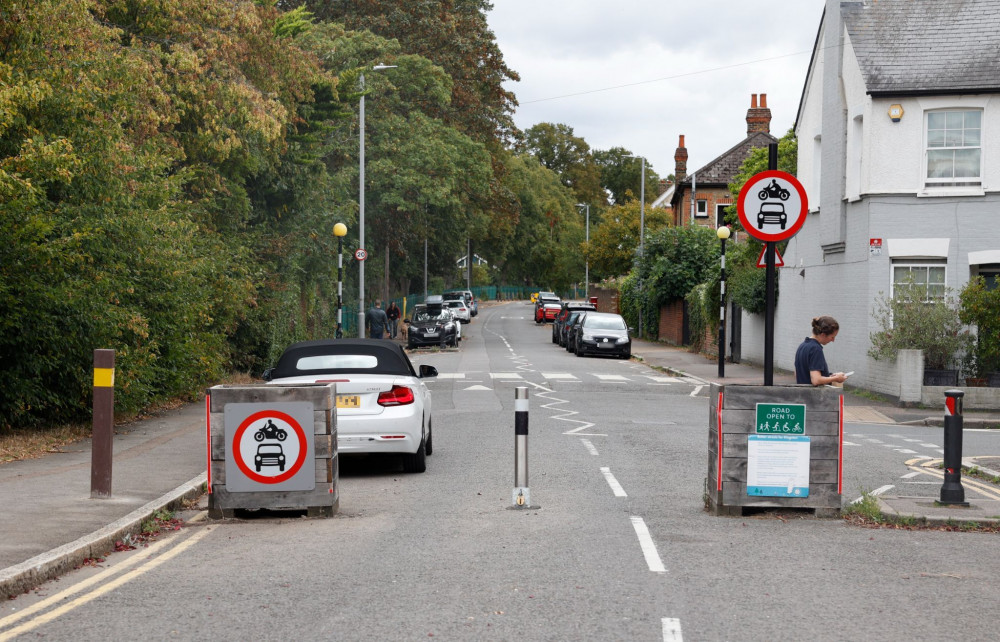 The barrier at the south end of King Charles Road. (Credit: Facundo Arrizabalaga/MyLondon)
Residents of a South London low-traffic neighbourhood (LTN) say the scheme has divided neighbours as rat-running drivers continue to avoid a road so congested businesses are "losing customers".
Kingston Council closed King Charles Road, in Berrylands, to through-traffic as a temporary measure in 2020 and made it permanent in July 2021.
More than 640 people have now signed a petition demanding the barrier is ripped out.
The petition says drivers previously used King Charles Road to avoid congestion on major route Ewell Road, before joining it further up. But it says the purpose of the LTN, to keep traffic on Ewell Road, has "failed" as drivers who used King Charles Road as a rat-run are now finding routes through other residential roads.
The petition, which has been signed by 648 people, claims congestion, pollution, noise and safety difficulties have increased over a greater area as a result.
But 188 residents have now signed a counter-petition demanding the barrier at the south end of King Charles Road is kept. It says the scheme "vastly improves" the neighbourhood and makes it safer. It claims tearing out the barrier would reintroduce the rat-run, along with associated pollution and traffic.
The council told the Local Democracy Reporting Service (LDRS) it is aware of the petitions and it is likely to be considered at a future neighbourhood committee.
Residents' responses to an earlier council consultation about the LTN were also split – with 46.5% voting in favour of making it permanent and 48.8% against, out of more than 120 respondents.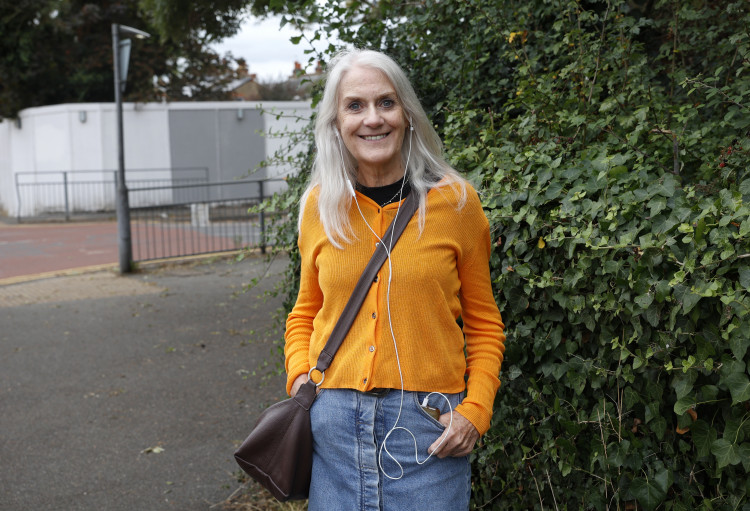 Carol Peters, 62, in Berrylands. (Credit: Facundo Arrizabalaga/MyLondon)
Carol Peters, 62, lives on the road where the petition supporting the LTN was set up. She said it has "made the area feel quieter and safer" and created more space for the community to gather as the barrier at the south end of King Charles Road is close to parks, a playground and a café.
Ms Peters said there was "very speedy traffic zooming down" King Charles Road before the LTN was introduced, which resulted in "noise and environmental pollution". But she said the scheme had "divided people" and "created contention" between residents.
Regarding traffic on Ewell Road since the LTN, she said: "It's probably heavier but I think that's the price to pay – that people have to accept that, for the greater good, they have to queue up on that road to avoid residential areas being impacted by pollution."
A 55-year-old resident, who wished to remain anonymous, said he felt the LTN had displaced traffic onto other roads. He said it has "caused so much aggro" for residents and that he felt their lives would be made easier if it was scrapped.
He said: "It's a daft idea, it really is a crazy idea having that put there in the first place. It's confusing people, just annoying people, having a road blocked off – this is a road."
Elizabeth, who did not wish to give her surname, said the LTN makes getting to work or home more inconvenient. She said: "It has been a bit of a pain for me going on visits or getting home from work at the end of the day. I think it probably has pushed traffic onto other roads."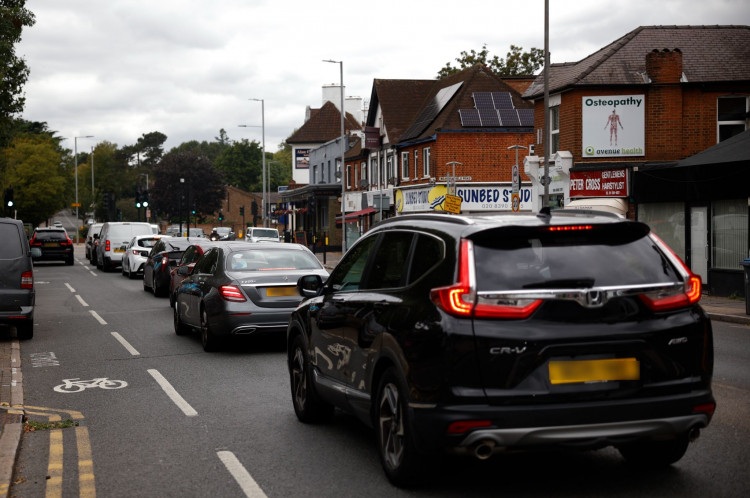 Traffic on Ewell Road.(Credit: Facundo Arrizabalaga/MyLondon)
Another resident, who wished to remain anonymous, has lived on King Charles Road for more than 20 years and slammed the LTN as a "waste of money and time". Although she said her road is now quieter, she claimed it has "caused more problems" overall.
She said the corner where her road meets Hollyfield Road has become "more problematic" as "people aren't as careful" which has resulted in "so many near misses".
She told the LDRS: "The children… rush down, often without their parents, and they don't tend to stop and the traffic coming down doesn't look left anymore and they don't tend to stop. There's been lots of mishaps just on that corner." She added: "The positives [are] it's quieter. The negatives, in being quieter, people are less mindful of how they use the road."
The resident argued the LTN is "not necessary" as she claimed King Charles Road was only congested twice a day before – once in the mornings, and again in the evenings. She said: "Considering there's fewer cars or vehicles, it's actually not safer."
For businesses on the road that rat-running drivers try to avoid, traffic is congested to the point one worker claimed they are losing trade.
Moji Gina, 32, works at Go Sip coffee shop on Ewell Road and said: "We just see cars, no people walking. We see too much traffic, but no people."
He told the LDRS: "When they see there is too much traffic here, they don't come because they prefer to find another road. I'm losing my customers because they don't want to be on this road."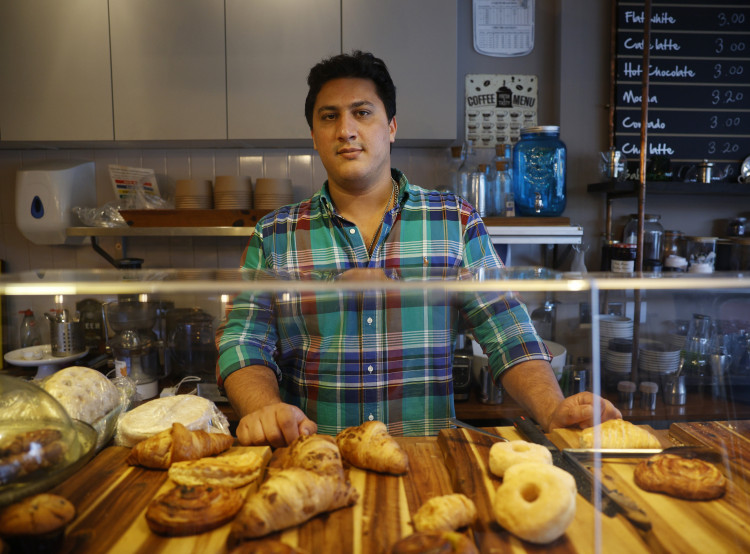 Moji Gina, 32, at Go Sip coffee shop on Ewell Road. (Credit: Facundo Arrizabalaga/MyLondon)
Mr Gina added: "I don't see my regular customers. Sometimes when they come, I ask them why they don't come – they say [it's] because of the traffic."
He also said customers can't park on the road due to a lack of spaces, with existing spaces filled by commuters. He said: "They park here in the morning and they are not my customers, they leave and they will come back after 6pm when they've finished work."
Mr Gina said the traffic also impacts his commute. He lives in Epsom and said it should take him around 35 minutes to get into work, but it can take more than one hour because of the congestion. He said he sometimes prefers to walk to Tolworth to take the bus home to avoid traffic on Ewell Road.
Mahmut Sark works at Feedwell Café on Ewell Road and also described it as "very busy" with traffic. The 51-year-old said he had been working there for over 25 years and that it has always experienced a high volume of vehicles. "It's still the same apart from some bicycle lanes," he said. He added that he takes an alternative route when driving to the A3 to avoid congestion in the area.
A Kingston Council spokesperson said people can visit the council's website for more background on low traffic neighbourhoods.
They said: "We are aware of the petitions for and against the King Charles Road (KCR) LTN and they are being dealt with in accordance with the council's petition scheme. It is likely that the petitions will be taken into consideration at a future Surbiton neighbourhood committee and will be dealt with appropriately."
The spokesperson added: "We are currently seeking residents' views on travel in the Berrylands area – until September 30, 2023. Although the LTN is not directly within the scope of this activity, all residents are being invited to feedback on a range of improvement proposals that could be made for the area."
They said more information on the proposals is also available on the council's website.