This Shing Night - Kingston Choral Society Summer Concert
---
St Andrews Church, Maple Road, Surbiton,KT6 4DS
UNTIL Saturday 24th June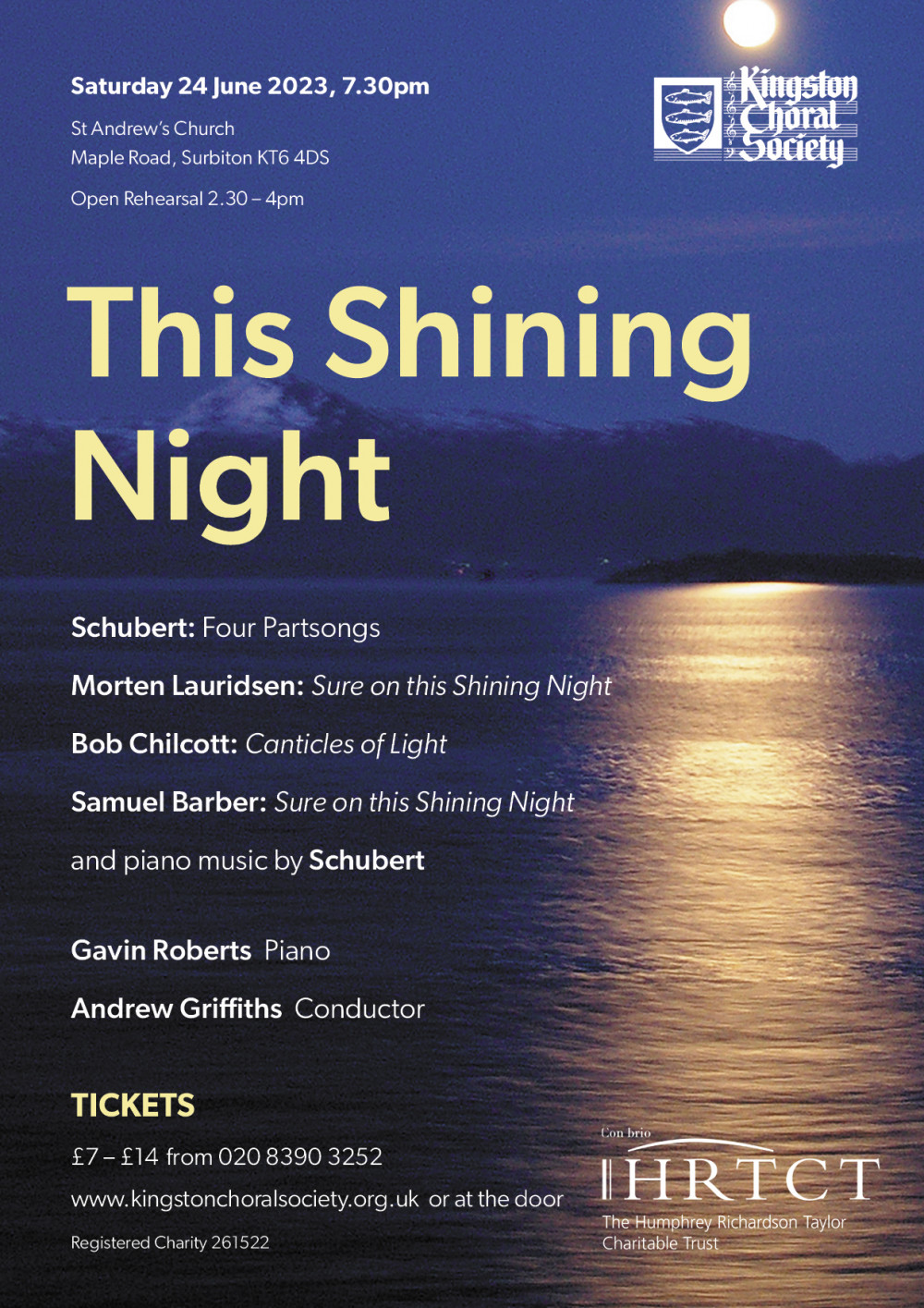 KCS Promises a Shining Night
On 24 June, 7.30pm, Kingston Choral Society (KCS) returns to St Andrew's Church, Surbiton, KT6 4DS to present a midsummer concert celebrating and reflecting on the beauty and consolation of light.
The concert features two musical adaptations of text from a poem by James Agee. US composers Samuel Barber and Morten Lauridsen both named their beautiful songs Sure on this Shining Night. Bob Chilcott's triptych Canticles of Light completes the first half. With its opening of tolling bells, this piece is darker in character. Parts one and two are hauntingly lovely prayers for comfort through the night. Brightness returns in part three of the, as a hymn to morning and renewal.
After the interval the choir and musicians will celebrate the songs and piano music of Schubert.
In a real treat for the audience, the highly acclaimed KCS regular accompanist, Gavin Roberts, will be joined by their multi—talented Musical Director, Andrew Griffiths, for Schubert piano duets.
The choir will then return for the finale. The spirited Four Part Songs are among the best of Schubert's lesser-known repertory for mixed voices. Light – both literal in the 'splendid rays' of the sun – and figurative, as the joys of life, are again a central motif.
Be sure to join Kingston Choral Society for what will be a sparkling midsummer occasion.
Venue: St Andrew's Church, Maple Road, Surbiton, KT6 4DS
Date: Saturday 24 June, 7.30pm. Doors open 6.45pm. Open rehearsal 2.30pm
Programme:
Samuel Barber – Sure on this Shining Night
Morten Lauridsen – Sure on this shining Night
Bob Chilcott – Canticles of Light
Schubert – Piano pieces
Schubert – Four Part Songs: Lebenslust. An die Sonne, Schicksalslenker & Die Tanz
For tickets go to http://kingstonchoralsociety.org.uk/kcs/?event=sure-on-this-shining-night
Further information: For more information about the choir and the concert, visit www.kingstonchoralsociety.org.uk
Kingston Choral Society is a registered charity. Charity number: 261522
Contact: [email protected]
Kingston Choral Society is grateful for the financial support of the Humphrey Taylor Richardson Charitable Trust.
Add your Kingston event for FREE here!
Nub It