Man seriously hurt as London Fire Brigade tackles another spate of London e-bike fires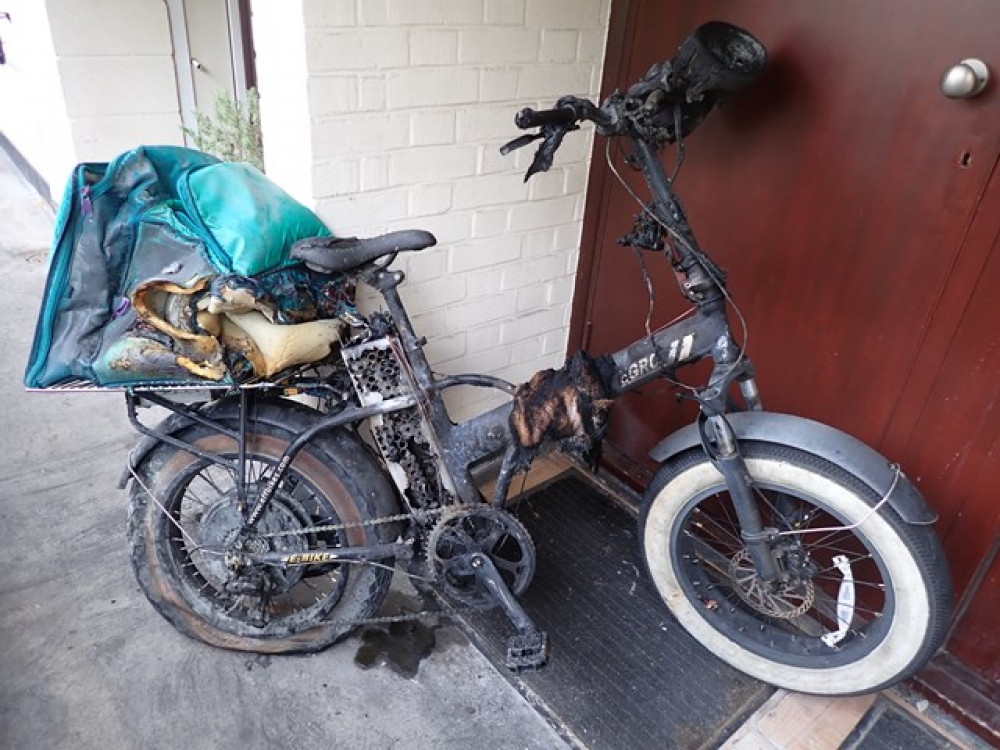 E-bike fire New Orleans Walk. (Photo: London Fire Brigade)
A man has suffered "life-changing" injuries after he tried to tackle an e-bike fire, inside a flat on New Orleans Walk in Highgate on 12 September.
An e-bike caught alight inside a bedroom and its owner tried to put the fire out with an extinguisher. He sustained burns to several parts of his body as a result before firefighters attended and safely put out the blaze.
Deputy Commissioner Dom Ellis said: "This incident, and the severe injuries sustained by this e-bike owner, highlights why you should never tackle a lithium battery fire. Our advice is to get out and call 999."
The fire is the latest in a series of e-bike and e-scooter fires in September. The Brigade's investigation into this fire found the e-bike was on charge when it caught alight and that the charger had been purchased from an online marketplace just a day earlier. It is extremely important to always use the correct charger and to buy it from a reputable seller, otherwise the risk of fire is much greater.
This comes after the London Fire Brigade's recent warning that there have already been more e-bike and e-scooter battery fires in 2023 than during the whole of 2022. The Brigade has been running its #ChargeSafe campaign, which aims to highlight the fire risks associated with lithium batteries commonly used with e-bikes and e-scooters.
DC Ellis added: "We strongly recommend calling us immediately if there is a fire, but particularly if it involves your e-bike or e-scooter.
"Fires involving lithium batteries, which power these vehicles, can be ferocious, producing jets of flame. The blaze is also hot enough to melt through metal. This type of fire produces a highly flammable, explosive and toxic vapour cloud which should never be inhaled. The fire can also be extremely challenging to put out."
The London Assembly Fire, Resilience and Emergency Planning Committee yesterday (18 September) wrote to the Government raising "serious concerns" over the regulation of these vehicles and called for the Department for Business and Trade to outline what action it is taking to address the issue.The Brigade also urges:
Never block an escape route with an e-bike or e-scooter
Never charge the vehicle unattended or whilst you are asleep
Never tamper or modify the battery
Always get a professional to carry out a conversion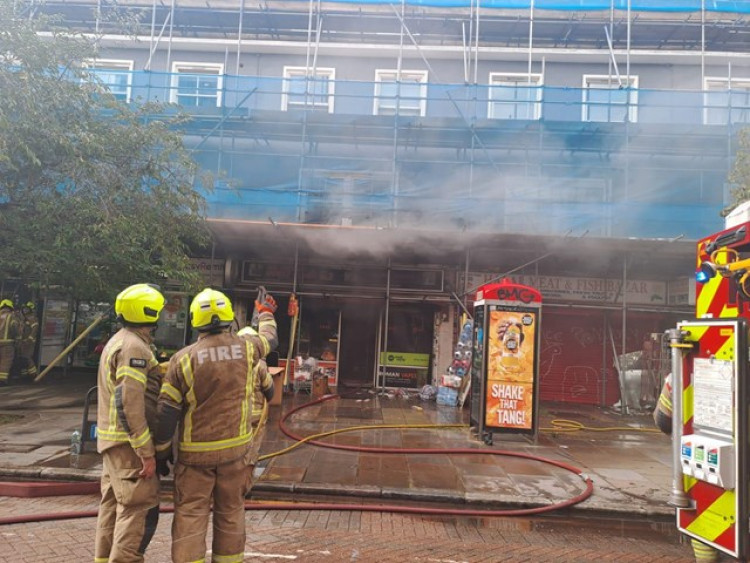 Firefighters tackle an e-bike incident on Roman Road. (Photo: London Fire Brigade)
This incident is among a spate of e-bike fires in London over the last week or so. On 13 September, most of a shop on Roman Road in Bow was damaged after an e-bike battery failed. Fortunately, no one was hurt, but 40 firefighters were needed to tackle the blaze.
The previous weekend, a total of 80 firefighters responded to two separate fires that are believed to have been caused by the failure of a lithium battery in an e-bike. Most of a third-floor flat was damaged after an e-bike caught fire on Kemble Street in Holborn on 9 September whilst a fire spread from an e-bike that was on charge in a garden on Tovil Close in Penge to a block of flats the following morning.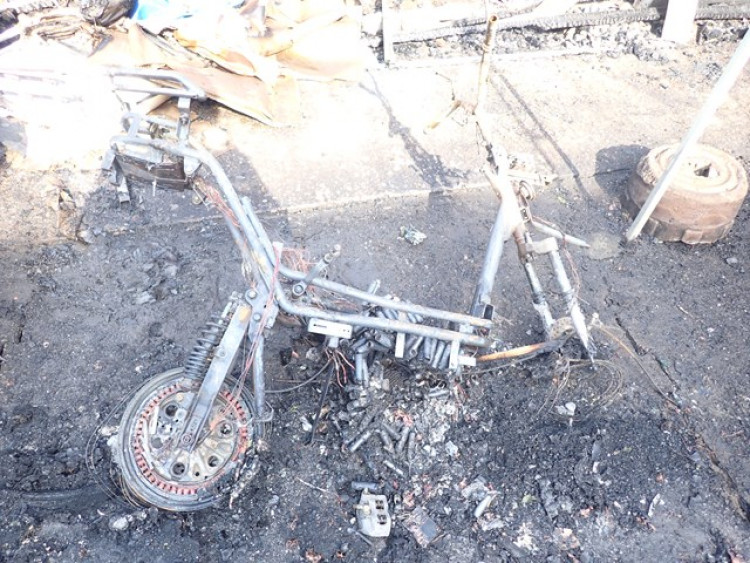 Remains of an e-bike which set alight whilst charging, Penge. (Photo: London Fire Brigade)
E-bike and e-scooter fires are London's fastest growing fire trend. There have been at least 137 of these fires this year, of which at least 115 have involved an e-bike. Sadly, three people have died and more than 50 people have been injured.
Following the death of a man in Shadwell in March, the Coroner wrote to the Office for Product Safety Standards (OPSS) asking for further safety standards to be introduced for e-bikes and scooters. It's a positive step that the OPSS has recently published information for consumers to raise awareness around the safe purchasing, use and charging of e-bikes and e-scooters, and that the Home Office is including messaging for these fires as part of the ongoing 'Fire Kills' campaign.
DC Ellis said: "We recognise the many benefits E-bikes bring to travel in our city, but the stark reality is that some of these vehicles are proving to be incredibly dangerous, particularly if they have been modified with second-hand products or if batteries are used with the wrong chargers.
"We fear we will continue to see a high level of these fires unless urgent research takes place into the causes of these battery fires. Proper regulation is also required to help prevent people unknowingly purchasing dangerous products, such as batteries and conversion kits, from online marketplaces."
Never block your escape route with anything, including e-bikes and e-scooters. Store them somewhere away from a main through route. Our advice is to store these items in a safe external location if possible, such as a garage or a shed.
Do not attempt to modify or tamper with your battery. Always follow the manufacturer's instructions.
Converting pedal bikes into e-bikes using DIY kits bought online can be very dangerous. They pose a higher risk of fire. Get a professional to carry out the conversion and make sure to buy a battery from a reputable seller and that it is not second-hand.
Check your battery and charger meets UK safety standards. We have particular concern where batteries have been purchased from online marketplaces and when they've been sourced on the internet, which may not meet the correct safety standards.
Watch out for signs that the battery or charger aren't working as they should – e.g. if the battery is hot to the touch or has changed shape.
Always use the correct charger and buy an official one from a reputable seller.
Let the battery cool before charging. Batteries can get warm during their use and it is advisable to allow them to cool down before attempting to re-charge as they could be more susceptible to failure if overheated. If you are charging batteries indoors, please follow our advice on safe charging.
Unplug your charger once it's finished charging. Always follow manufacturers' instructions when charging and we would advise not to leave it unattended or while people are asleep.
Fit alarms where you charge. Ensure you have smoke alarms fitted in areas where e-bikes or e-scooters are being charged and make sure they are tested regularly. You can quickly and easily check your home by visiting our free online home fire safety checker tool