Kingston council faces calls to scrap low-traffic neighbourhood in Berrylands
By Charlotte Lillywhite - Local Democracy Reporter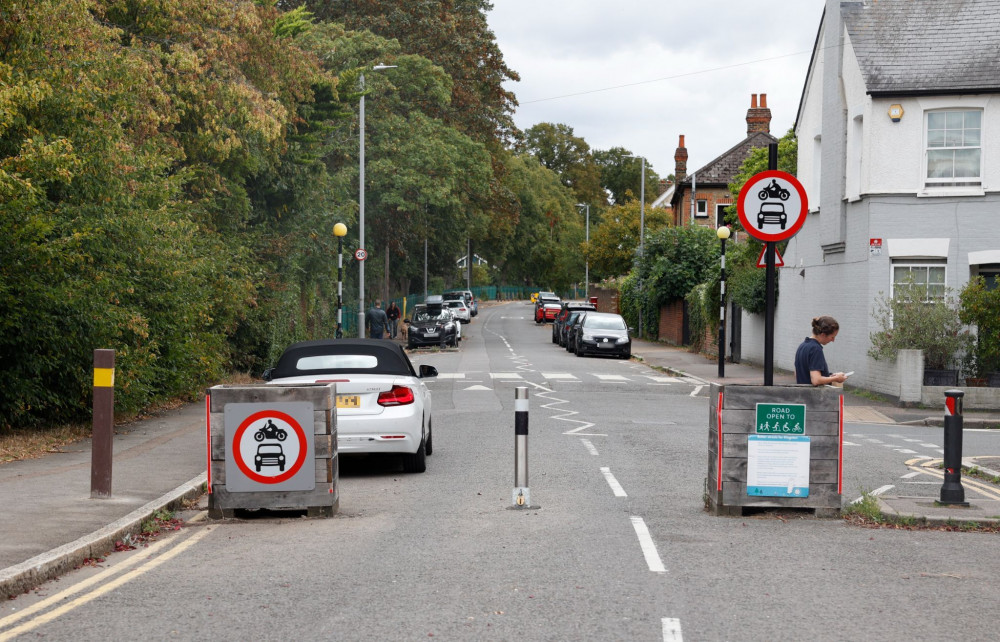 The barrier at the south end of King Charles Road. (Photo: Facundo Arrizabalaga/MyLondon)
Kingston council is facing growing calls to scrap a controversial low-traffic neighbourhood scheme that has divided locals.
A total of 922 residents signed an online petition to remove the barrier at the south end of King Charles Road in Berrylands, which closes it to through traffic, while a counter-petition demanding it is kept gained 743 signatures.
The petitions were presented to Kingston Council's Surbiton neighbourhood committee on November 16. Graham Hare, who started the petition to remove the barrier, said it had displaced rat-running traffic onto other local roads.
He slammed the committee's decision to make the scheme permanent in July 2021 as 'scandalous'. A council report at the time showed 55.7% of respondents to a survey who lived in the Surbiton neighbourhood indicated they did not want it to be made permanent, out of 203 respondents.
Mr Hare said: "At that meeting, it was resolved that the scheme be monitored with additional traffic and air quality data being collected and an update report be brought to the committee for consideration after 12 months. That never happened, and here we are over a year later."
He argued King Charles Road had 'never been an accident blackspot' and claimed it had seen no change in traffic incidents since the scheme, but that there had been five accidents on nearby Raeburn Avenue.
He said: "Cut-through traffic has been displaced through the rest of Berrylands, resulting in increased traffic volumes, pollution and noise for the much, much wider Berrylands community and that includes roads that have schools and bus routes."
Mr Hare suggested any safety concerns on King Charles Road could be addressed by adding a speed camera and pedestrian light, instead of the barrier.
But Dr Elizabeth McGill, representing the petition to keep the barrier, said King Charles Road was plagued by high levels of air pollution before the scheme was introduced due to the large number of cars that used it.
She claimed data from Imperial College London in 2019 showed the road was in the "top 1per cent of all UK postcodes for levels of pollution".
She said: "I think everybody can agree that nobody should be exposed to levels of pollution like that, that in the face of such levels of pollution it's legitimate to take action and that these levels cannot be allowed to return.
"In addition, King Charles Road was notorious for vehicles speeding downhill and that does cause injury to people and property and, speaking to my fellow residents, I've heard countless stories of how before the modal filter was installed, parents would drive their children to school despite school just being a few short blocks away and residents didn't utilise the parks to the extent that they would like to because of fear of crossing King Charles Road."
The local said the barrier was well-placed because it had reduced traffic close to two parks, a playground and the site of a future school. She added: "There are visibly more pedestrians and cyclists using the area, the air is cleaner, local residents feel safer and children are thriving in an environment that supports them."
Dr McGill urged the council to keep the barrier and put in place further measures to address any traffic displacement onto local roads.
A council report said the online petition opposing the barrier had 922 signatures on the authority's website and a paper version had 1,029 signatures, while the online petition supporting the scheme had 743 signatures.
Council officers are set to carry out further surveys and put together a report on the scheme for the committee to discuss in February 2024, when the residents behind the petitions will also be able to speak in more detail.
New kingston Jobs Section Launched!!
Vacancies updated hourly!!
Click here: kingston jobs